Just continue to make more of Koumori's wacky escapades around Japan please, and thanks.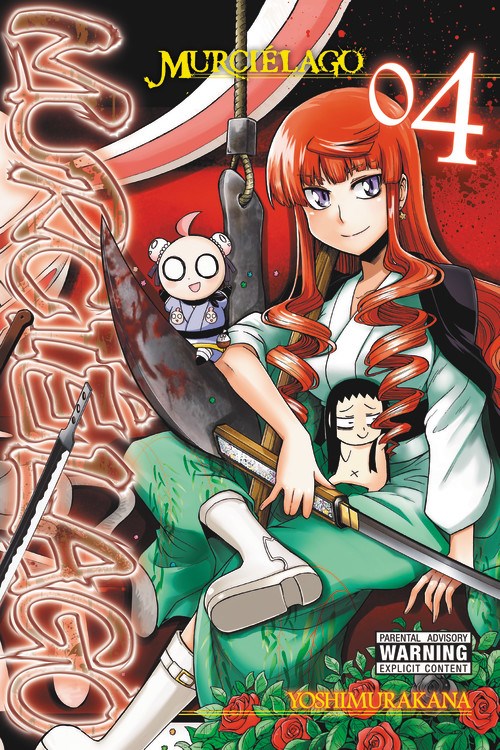 Title: Murciélago
Genre: Action, Yuri, Comedy
Publisher: Square Enix (JP), Yen Press (US)
Story/Artist: Yoshimurakana
Serialized in: Young Gangan
Translation: Christine Dashiell
Original Release Date: November 7, 2017
A review copy was provided by Yen Press.
Kuroko Koumori is an extremely dangerous lady that can kill essentially everyone with little effort. Throughout the first three volumes of Murcielago, Koumori has faced some trouble, but nothing proved to be a threat. However, her one weakness throughout the series so far has been girls.
So it's not surprising her lust for them puts her in a position that could get her killed.
Murcielago volume 4 picks up where volume 3 dropped us off at — Koumori is asked to check out Virginal Rose, a place where girls have chosen to stay out of the outside world for various reasons, and get former teen idol Nanami out of there. That actually is the problem — they are all girls, and Koumori's desire to have them intensifies when she meets Goldmarie, the head of the group. And once the two make love, this is where our main protagonist killer… gets herself in some trouble.
The good news is Chiyo's there to save her!
… Wait, what? Yes, Chiyo, who is either in love with Kuroko or just wants her around, drags poor Hinako with her to the group's location. Not only does this serve to reveal Chiyo's past but also Hinako's oddly cute stealth skills as she sneaks around the area. The volume in general, however, brings forth the true purpose of Virginal Rose — and it is sick as hell. And it reminds me of an episode of Daredevil S2 which involves people and meat hooks.
That alone tells you that the organization is not as pure as it seems, but that was easy to diagnose. A girl who had something horrible happen to her runs away from her family, goes to a place that looks to take care of people… in manga, that generally means bad things and that there's something to hide. So it is not surprising that Virginal Rose would essentially turn out to be like a cult.
But I wouldn't say it is. As it turns out, the girls in there really did need saving, and they did what they were told. None of them had any idea of what would happen after they "graduated" from the place, which makes the main leader in all of this extremely sinister. Her motivations are explained, and that comes with a past that included assault and a brother who wanted revenge. However, the key to her plan involves violence, and the targets are the girls who "graduate" from the group. Considering this led to taking advantage of one girl who changed her attitude for the better since joining, then that's awful. Koumori definitely needs to get Nanami out of there before it's too late for her.
Koumori, however, is just in pleasureland, and seeing her in this state is pretty odd. It's true that her going for the girls is a problem, but the main twist in this one doesn't feel as convincing as it should be. Maybe there needed to be an extra detail to showcase where her mental state is, but her falling so hard for this organization, even with how it was explained, fell a bit short.
But thankfully, everything else about Murcielago is, well, fantastic. From Chiyo charging in alone to Hinako turning herself into a ninja for some reason to pretty much the violence (yep, deaths are still gruesome) to the tough girl at Virginal Rose who faces off against Koumori and loses in one panel, it's still a mad, hilarious romp that's still great to read. It does tack on what happened in volume 3, and no police stuff is here to ruin the flow. It's just Koumori, the ladies of Virginal Rose, Chiyo, and the ditzy Hinako doing what they do best.
Well, somewhat. Anyways, more of Koumori's wacky escapades around Japan please.