Murciélago volume 3 manages to remain entertaining, and doesn't show signs of slowing down yet.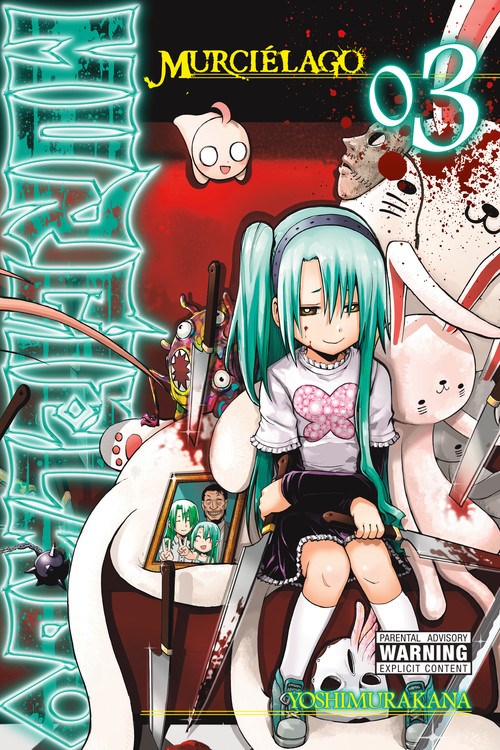 Title: Murciélago
Genre: Action, Yuri, Comedy
Publisher: Square Enix (JP), Yen Press (US)
Story/Artist: Yoshimurakana
Serialized in: Young Gangan
Translation: Christine Dashiell
Original Release Date: August 22, 2017
A review copy was provided by Yen Press.
Murciélago volume 3 does not feature any yuri in the main story. (There is a side story with it though). That's probably because a major plot line now involves Kuroko Koumori, and while she may not care who it is, it definitely will be something to look out for as the series continues.
Also this volume featured a 9 year old slicing up people with a knife while wearing a rabbit mask. So…action was definitely a major thing here.
Last time we left off with Kuroko and Hinako, they were ordered to take care of Rinko. Kuroko ends up finding her dad, who happens to be the dude skinning the faces off of people. Hinako, however, ends up finding out that Rinko is also a killer too, which leaves her in a dire predicament — how can she stop her from doing as she pleases while still being all innocent? Well, that solution might just involve stealing a dude's motorcycle and driving around an amusement park to find Rinko.
Murciélago volume 3 is essentially non-stop action for a good few chapters. Kuroko finds herself struggling against the skin collector, while Rinko's desire to kill is awakened the more she sees families having a good time. How this problem was solved was violent, but it again was solved in the most wacky way possible. Whether you can stomach it is another thing, as it's pretty ruthless. It all has been drawn well though, which makes the read quick and not feel like it's dragging on.
This volume also establishes A) there's someone out there who could be a threat to Kuroko B) The police might just turn out to be enablers and C) Kimihara's gonna go rogue at this pace. As the abnormal threats to society increase, it all centers on the existence of Kuroko, and this has some people wondering if she's the cause of all this. It's been established that she was assigned to do this or she's dead, but considering the safety of the people is in question, how far can the police go to cover up these awful cases? Based on the amount of foreshadowing involving Kimihara (maybe too much of it), I imagine she'll be going after Kuroko soon enough.
If you were anticipating some more girl on girl action in this volume, well, you'll have to look elsewhere. It only happens towards the end as a special chapter. Although, there is a tease in the main chapter of Kuroko submitting to her weakness of girls after she learns a former idol has gone into a cult. Ok, it's a religious group, but probably a cult that's a front for something sinister. What that is we'll have to check the next volume. But Murciélago volume 3 manages to still remain supremely entertaining, and doesn't show signs of stopping yet.