Between the characters, some of the jokes, and knowing what needs to happen next, Chihayafuru continues to be a fantastic read so far.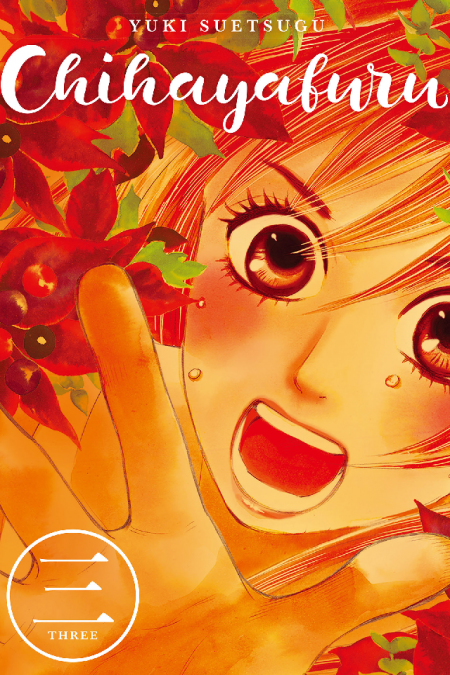 Title: Chihayafuru
Genre: Sports, Drama, Romance
Publisher: Kodansha (JP), Kodansha Comics (US)
Creator: Yuki Suetsugu
Serialized in: Be Love
Translation: Ko Ransom
Release Date: June 13, 2017
When explaining why Chihayafuru remains a terrific read, the first thing to start with is its competitive aspect. This is similar to Hikaru no Go in that regard. That manga used Go, which is a strategy board game, as one of the rallying points for its main characters Hikaru and Fujiwara-no-Sai. That also of course used a supernatural element, but as the manga progressed, it slowly shed that label and dove straight into the game of Go, and how Hikaru's game grew.
In Chihayafuru volume 3, we finally dive into competitive karuta. Before that though, the karuta club needs one more member, and Chihaya's identified Tsutomu, a smart kid that's dubbed "Desk-kun" for his anti-social nature and lack of getting out of his seat. After a bit of a trial for on the club, he joins it. Now with the club officially recognized, Chihaya's set on the club going to Nationals. They have a mini-retreat to help their new members Tsutomu and Kana understand the game, then compete in the Tokyo Qualifiers to be the school in their prefecture to go to Nationals. With five-time and reigning prefecture champ Hokuou Academy looming, however, it won't be easy.
Well, in general, none of their matches are easy. Even in their "easy" matches, the cracks in their newly formed team start to show. Admittedly, the cracks showed in their retreat! From Chihaya's karuta mindset to Nishida's attitude to getting Kana and Tsutomu to learn karuta, it's actually a big challenge controlling all of those personalities. What's underrated is how Suetsugu presents the characters; how they're drawn, the emotional state they're in, and how Chihaya reacts to it contributes heavily to how great a read it is.
Chihayafuru volume 3 so far is where the most action, or plot lines, develop. The anime version of this volume is episodes 6-10, with maybe half of episode 11 included. It does seem to make one change — it gives extra attention to Nishida, who has a small segment in his karuta match in the manga, but that's fleshed out in the anime. It bounces around from getting Tsutomu to join, to their retreat, and to qualifiers, which ends with a cliffhanger.
I mentioned earlier that the team's not gonna have an easy time of it. It's a case where you have three strong players, and they just dominate their opponent. The top three for Mizusawa obviously will beat their opponents. They know the game more than Kana and Tsutomu. However, this is where teamwork, trust, and time plays a factor in what happens regarding Tsutomu. It's a case where for Chihaya and her one track mind, she has to be careful. Remember back when she was a kid and got Wataya in trouble because of her mouth? Of course, it's not just her fault that drives Tsutomu's emotions. It's an assortment of issues that ultimately challenge the team, and also challenges Chihaya.
Somehow, something like that can seem overwrought and done poorly. But I can't wait to find out what happens next. You have to find out what happens to these characters when faced with a challenge they didn't expect. And that's a credit to the story, the artist, and the world that's been created. Chihayafuru continues to be a fantastic read so far, and it doesn't appear it'll slow down anytime soon.