If you are a fan of characters getting smacked and monsters terrifying a spineless human being, then A Terrified Teacher at Ghoul School should work out well.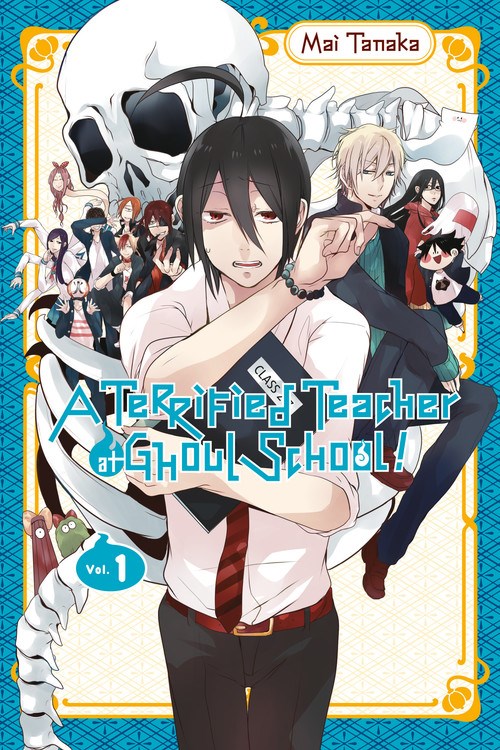 Title: A Terrified Teacher at Ghoul School (Yokai Gakko no Sensei Hajimemashita!)
Genre: Comedy, Supernatural
Publisher: Square Enix (JP), Yen Press (US)
Creator: Mai Tanaka
Serialized in: GFantasy
Translation: Amanda Haley
Release Date: December 19, 2017
A review copy was provided by Yen Press.
Comedy manga can be hard to judge. You never know which one will tickle your funny bone or disgust your brain at how lame it is. So explaining A Terrified Teacher at Ghoul School's comedy will depend wholly on comedies you've liked before.
For me, this makes a GTO joke at the end of one of its chapters, and that turned out to be good enough for me.
Translated by Amanda Haley (Baka & Test, GTO: Paradise Lost) and lettered by Lys Blakeslee (K-ON!, Haven't You Heard? I'm Sakamoto), A Terrified Teacher at Ghoul School is Mai Tanaka's first serialization. This started in 2014 for Square Enix's GFantasy magazine, and it is still running today. In one sentence, the manga's about a wimpy, weak-willed human tasked with teaching delinquent high school ghouls.
The longer version is Haruaki Abe is a teacher that's failed actually making it through his job without being bullied by his own students — that even extends to grade school kids. Now he's been chosen to teach at Hyakki Academy. He fails to realize that it's a school full of monsters, and happens to have students good at pranking people. How will a spineless human like him survive in a school with monsters like a tanuki, a yakubyougami, and a zashiki-warashi? Well for starters, bribing him with sailor uniforms will help. He also will have to tap into his power he inherited from his family, which dealt with youkai for ages.
A Terrified Teacher at Ghoul School starts off slow. There's attempts to be creative (one scene had the sound effects and text switched for laughs), but the timing wasn't quite right. It was amusing to see just how pathetic Haruaki was though. Then it gets to a part where the depravity of Haruaki is so sickening it's hilarious. It's a moment where you look back, stare out at the window, and go, "…There's a sailor uniform for dogs?"
Yes, it gets that bad.
But it's that type of destructive humor that ends up working as the manga progresses. The stories revolve around a few characters outside of Haruaki — Mikoto Sano the yakubyougami that's cool and distant; Mamekichi the tanuki who uses his abilities to transform a lot, for example — and the hilariousness works out well. One story involves the zashiki-warashi that's a shut-in, Beniko, and her lack of experiencing reality. As in, wow come back into the real world please! The other involves Haruaki's colleagues, each with their distinct personalities, for better or worse. And it all works out great.
The art is neat. Most comedies don't need to be drawn amazingly since that can actually hinder the jokes, but Tanaka draws the monsters very well. Tanaka also draws the main character hiding underneath the lectern all squished up nicely. You still have panels where the characters look poorly drawn, but it's for exaggerated effect. There's no way I need an expert design to convey the terror and awe of your classmate hiding some ten eyed monster behind a door. Nope. Don't need it.
Anyways, if you are a fan of characters either getting smacked or saying stupid things, then A Terrified Teacher at Ghoul School should work out well. The only real question mark is how long can it sustain itself? What can it do to have these characters evolve? And how will Haruaki regain the trust of the girls after everyone found out about his kink? Well, I'm just gonna have to keep reading to find out.