Krystallina wonders what it means now that some Del Rey titles have appeared digitally.
How many of you remember Del Rey Manga? Launched in 2004, the company debuted with just four titles (including Negima! and Tsubasa: RESERVoir CHRoNiCLE). Del Rey quickly became a force to be reckoned with as it started publishing series like Fairy Tail, Suzuka, and Shugo Chara! In 2010, the U.S. branch of the Japanese company Kodansha gradually took over Del Rey. In doing so, many series were dropped. These titles languished on fan shelves, doomed to be unfinished forever.
However, what's this? A spark of hope?
Sudden Resurrection
As reported by Anime News Network, several volumes of Alive, Nodame Cantabile, Princess Resurrection, and School Rumble are due to be released on the iTunes store on July 26th. All four series were left incomplete when Del Rey became defunct: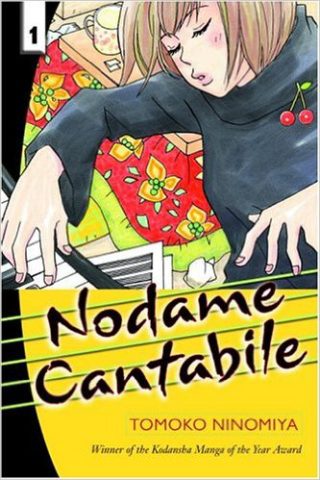 Alive – 8 published out of 21
Nodame Cantabile – 16 published out of 25
Princess Resurrection – 13 published out of 20
School Rumble – 16 published out of 22
Only a fraction of the English volumes are due out on iTunes:
Alive – 2 volumes
Nodame Cantabile – 10 volumes
Princess Resurrection – 4 volumes
School Rumble – 13 volumes
Pricing Cantabile
These e-books retail for $7.99 a volume. School Rumble is also set for release on Kindle, with two volumes a week being released starting July 5th. The cost is higher at $10.99 a volume.
The iTunes ebooks' pricing is in line with other Kodansha Advanced Media LLC's (parent/distributor of Kodansha Comics) manga pricing. I have no idea why the Kindle versions of School Rumble are so much more, especially since Amazon's prices for other Kodansha Comics series (Say I Love You., Maga-Tsuki, Fairy Tail) are $6.99, below iTunes' prices. Many of the volumes for Alive, Nodame Cantabile, Princess Resurrection, and School Rumble can be found cheaper used, so some fans might find it cheaper to buy a used copy than pick up a digital version, especially since Kodansha Comics isn't currently listing all the English-language volumes on iTunes.
Hope Alive?
As of this writing, Kodansha Comics has not released any statement about these four manga. It does beg the question, "Why now?" It's been six years, and not even the entire English versions are debuting on iTunes. Considering Kodansha Comics hasn't even licensed all of the bestselling Princess Jellyfish and has issued warnings about Vinland Saga, suddenly releasing old Del Rey titles is quite a shock. Is there a chance of these series finally being finished?
In e-book format, absolutely. The digital market was much smaller back in 2010, and e-books are much cheaper to release. Companies don't have to worry about printing costs, shipping, or unsold stock. These are older series, so this probably means translators and letterers will have to work from the Japanese printed versions instead of digital versions like most modern manga. This also makes the volumes more expensive than current series. Once translated, not much else is needed to be done. Publishers just need to get the books approved and listed on digital stores. Why list only a few volumes of a series that's never going to be completed?
Unfortunately, this wouldn't be the first time this has happened. Viz Media has licensed many old TOKYOPOP manga and released them in digital format under the Viz Select imprint. AiON, for instance, has only two English volumes out of its 11 available. Viz Media has not translated anything; they just posted the two TOKYOPOP versions online. So it isn't unheard of for a company to post out-of-print volumes and not continue the series.
In print format, I would not expect Alive or any of the other three to continue. Nodame Cantabile and School Rumble have had 16 volumes published in English, so a lot of people (like myself) are only interested in the unpublished issues. With a new, never-been-licensed series, the potential audience is much bigger than something that has been released before. Even if Kodansha Comics were to publish them in omnibus format, that would still be five or six thick volumes (at a higher than average MSRP) to release with reduced returns. Add in the fact that later volumes almost always sell less than early ones, and I can't really blame them for not taking the risk.
Future Rumble
Nodame Cantabile was a rare josei series to be licensed, and I found School Rumble entertaining. I was disappointed when Kodansha Comics did not finish these even in omnibus format. This news shocked me, and I hope to hear that they are testing the market for the never-been-published volumes. Several other Del Rey titles were also left incomplete. Could the final two volumes of Papillon get a release? Could completed series like ES: Eternal Sabbath come back in digital format? Perhaps this isn't a test just for Alive and the other three but Del Rey's back catalog as a whole.
However, I wouldn't be surprised if this was just a way to try to garner some no-risk income. Kodansha Comics puts it up online, and if people buy it, well, the books were already translated, so it's easy money. I would love for fans to give some of these digital manga a try and, hopefully, voice their support for continuing the series. The best way to get their attention, however, is to throw money their way.
So, will you be buying Alive, Nodame Cantabile, Princess Resurrection, or School Rumble? Do you think Kodansha Comics will finishe these series? Are there any other Del Rey manga titles you want to see released digitally?