Since they were still free, Justin continues his romp through Media Do's roster of manga, for better or worse.
How to Create a God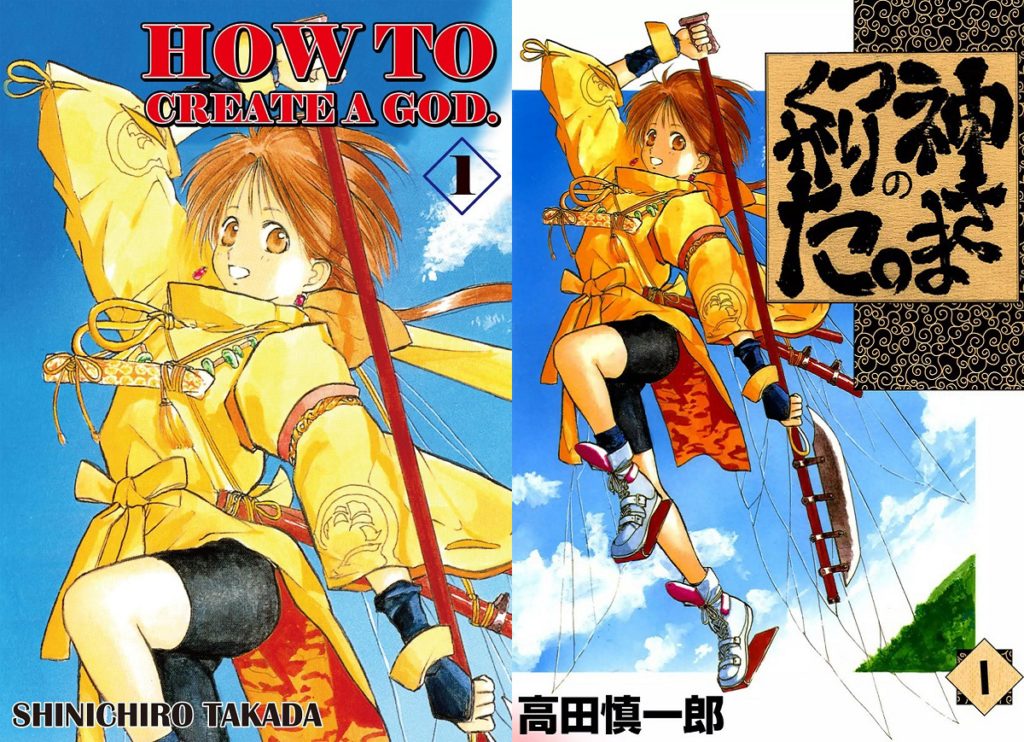 Title: How to Create a God (Kami-sama no Tsukurikata)
Published: 1995, by Enix
Author: Shinichiro Takada
Serialized in: GFantasy
Translation: Kent Ragan/Momosuke Inc
Genre: Action, Supernatural
Demographic: Shounen
Koharu has, since her birth, been tabbed the living god destined to defeat the raging god Yusemi. She, however, wants to meet a boy. She's been surrounded by no one but woman, has not experienced anything like school, or, well, anything a 15-year old normally experiences. She wants to leave, but is stopped every time. When she overhears a conversation about how long it might take for her to defeat Yusemi however, she resolutely decides to escape, and does.
There's a lot of places How to Create a God can go. Will it turn into a full fledged comedy? Will Koharu meet her destiny? How will she react to what the real world is like? There's definitely potential for this one, which means I'd love to know more about where this manga will go. The summary already lets us know she does meet a boy, but it looks like she brings some semblance of trouble to him as well. But, as this is a 14 volume series, it had to have done enough to be decent. Based on the first 20 something pages, with its comedic aspect and drawings, I'm curious to know how it'll go for sure.
The localization of this is hard to say. It feels fine on the surface, but feels a bit dry in some respects. Like a key moment is when Yatsutose, someone who is watching over Koharu, shouts, "Miss Kohaku. Miss Kohaku. Miss Kohaku." as she's trying to find her whereabouts. Shouldn't it be "Miss Kohaku!" for that? It's those little things that can transform a manga, and kind of reveal the personality of a character. So when you do get a line where Yatsutose speaks, and you see an exclamation mark for a similar scene, it feels a bit inconsistent.
Love Me, My Knight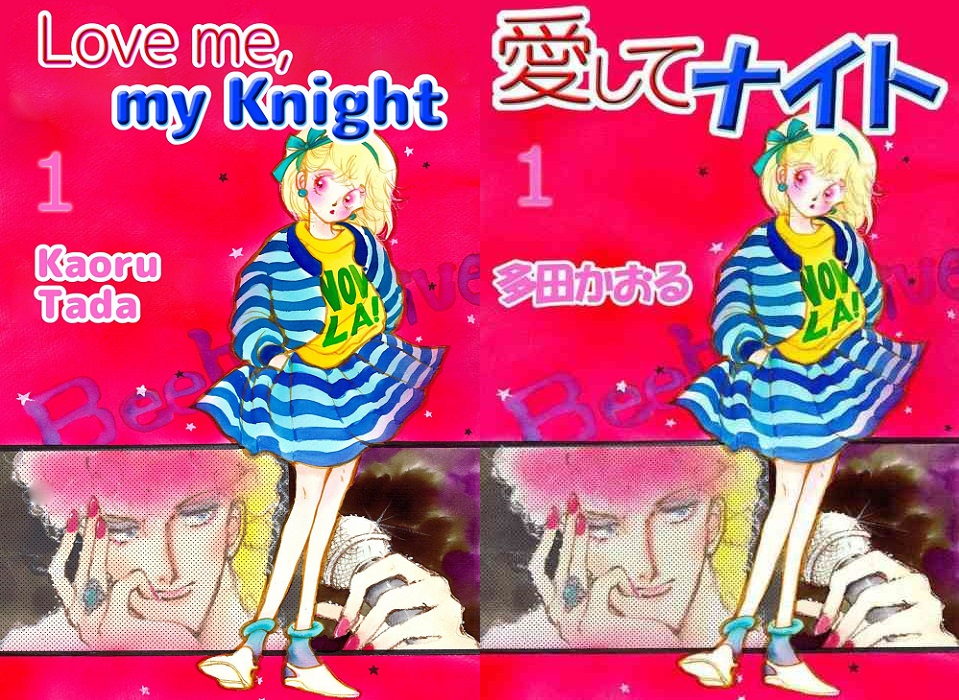 Title: Love Me, my Knight (Aishite Knight)
Published: 1981, by Shueisha
Author: Kaoru Tada
Serialized in: Bessatsu Margaret
Translation: Momosuke Inc
Genre: Comedy, Drama, Romance
Demographic: Shoujo
Love me, My knight so far is the longest first free chapter I've read. At 49 pages (of content), you'll definitely know whether or not you'll find the first serialized work of the author of Itazura na Kiss appealing or not. I admit why there can be some fascination with it. Yakko is a girl who's not very good at making okonomiyaki at an okonomiyaki restaurant. But one day she meets Goh, sleeping soundly in her class…until he wakes up and realizes he shouldn't be there. Yakko doesn't think they'll ever meet again, until they do. This eventually sets Yakko to discover one of her regular customers and Goh are actually popular rock band members. She also learns that regular customer, Satomi, has fallen in love with her.
The manga's first chapter is built on misunderstandings — for example, Satomi telling Yakko when they first met that he works at a gay bar (it was a joke, but Yakko believed him). And the idea of wondering how Yakko reacts to being told she's loved is interesting, considering she might like Goh better. But while the first chapter held some intrigue, it didn't really hook me in that well. It's drawn very well, and the comedy aspect is neat. But it's not super funny, and nothing draws me to go back and read it.
The localization of it seems passable, but you can be rest assured there are mistakes in this chapter. That's disappointing, but apparently that's the price for reading old material it seems.
The Watch Cats of Ginza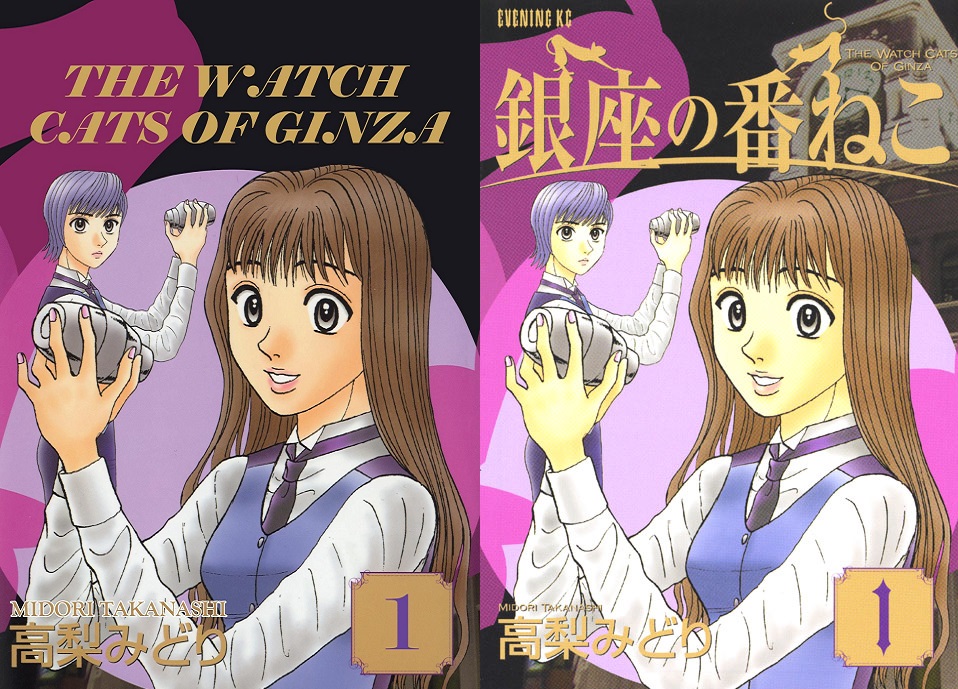 Title: The Watch Cats of Ginza (Ginza no Banneko)
Published: 2005, by Kodansha
Author: Midori Takanashi
Serialized in: Evening
Translation: Matt Hodge/Momosuke Inc
Genre: Drinks, Slice of Life
Demographic: Seinen
Satisfying my desire of having a drinking manga in the vein of Drops of God, The Watch Cats of Ginza stars Suzu "Mikke" Miyake and Shoko Amemiya. Both of them believed they'd own their own bar, but soon learn they may have been tricked. Now that they've spent all their savings and have no where else to go, their only recourse is to work together. This is not what Shoko wants, who demands Suzu go back home. Suzu doesn't give up without a fight, so the owner of the bar challenges her to make a drink. Shoko tells her to make a drink that represents Ginza. In other words, someone's stubbornness wins out.
Based on the summary, it's pretty clear Suzu does enough. But now that they'll be running the bar, what will they do? Attend to people's drinking needs? Listen to sob stories? Work together? Who knows. But I'd like to think it'd be informative. This went into some pretty big detail regarding drinks. I'd love to keep reading about that, and the dynamic between the two characters.
There are some issues with it — the art is merely passable. It gets the job done, but it's not a looker. At least that's a minor issue compared to the localization, which sucks. "Heh, heh…please just see me off with laughter, vfellas!"
"Because from now, I taking this high-class ginza by storm with my cocktail bar!" "How much rennovation money did you put into this?" That sure seems like a great editing, or lack of editing, job. Just like in Cash Boy, there was a line repeated twice in a row. Make that two of them! I can't imagine how someone thought this would be fit to publish like that.
It makes me worry if the manga I'm reading is translated right. That's not a good thing if you ask me.