This volume of Yowamushi Pedal is a bit of a mixed bag.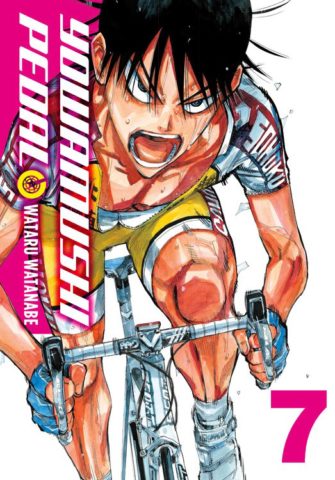 Title: Yowamushi Pedal
Genre: Sports
Publisher: Akita Shounen (JP), Yen Press (US)
Creator: Wataru Watanabe
Serialized in: Weekly Shounen Champion
Translation: Su Mon Han
Original Release Date: December 19, 2017
Review copy provided by Yen Press.
I've said this before, and I'll say it again: it's a good thing Yen Press releases Yowamushi Pedal in omnibuses. Often one of the original Japanese volumes ends up pulling along the other, a situation not unlike how the bike teams operate in Yowamushi Pedal.
Case in point: the opening. Sohoku's Kinjou and Hakone's Fukutomi battle to finish first on the opening day of Inter-high, but Kyoto-Fushimi's Midousuji suddenly starts gunning for the lead. After laying the groundwork for an existential crisis for Imaizumi (which is revisited later in the volume and likely in the next omnibus), readers are "treated" to page after page of three stressed, angry-looking young men competing for first. And I'm sorry, considering none of them are going to be auditioning for the Japan High School Cycling Club Hottie of the Year, it's as if the author is stringing together a bunch of emoticons and kaomoji for the last few hundred meters of the race.
Even disregarding the visuals, I kept thinking, "The author's going to cheap out, isn't he? He's going the cheap route, right?" Kinjou, Fukutomi, and Midousuji all want the glory for themselves and/or their team, and one Internet cookie to whoever guesses who wins: the kind leader of the protagonist's club, his biggest rival who regrets interfering with their previous face-off, or the creepy, haughty one who looks like an unholy combination between Koro-sensei and L?
If you guessed a three-way tie, I owe you one cookie.
Instead of the drama of two (or at least one) of these athletes facing the fact their effort came up short, we get… "Eh, there's tomorrow."
Nothing like watching the first part of a hard-fought race to end with a fizz and not a bang. All the internal conflict is passed to Imaizumi, who is utterfly frustrated that Midousuji passed him so easily. But don't worry if that's not enough for you — "Old Man" Tadokoro feels ill, and Makishima wonders if his fellow rider can and should race. Another Internet cookie if you can guess how well someone who threw up the day before and had to be escorted back by his friend did the next day. I love Tadokoro's passion to continue the race, and I also love Makishima's struggle between following Tadokoro's wishes and doing what he personally wants to do as Tadokoro's close friend and rival.
In fact, I'm finding I like the characters more so than the actual story. Onoda is fun when he convinces "old man" Tadokoro to sing along to his favorite anime song, but it's eye-rolling how he is portrayed once again as some kind of bicycle deity who will once again overcome nearly a hundred people — this time while having a passenger. There's a chance they won't catch up with their teammates, but I'd bet double or nothing on those cookies that they will. Even the whole Tadokoro almost collapsing storyline feels like it's a tacked-on excuse for Onoda to shine considering there isn't much climbing to do on Day 2 of the race.
Yowamushi Pedal Volume 7 is a mixed bag. This is a sports manga, and the sports part feels flatter than the straight-away roads they must ride on. On the other hand, it is rare to see club members doing everything to support the ones who ended up taking their spots on the team, and these moments keep the volume from being an utter disappointment.