A strong volume of Inter-High battles has one big issue involving its main character that holds it back from being pretty great.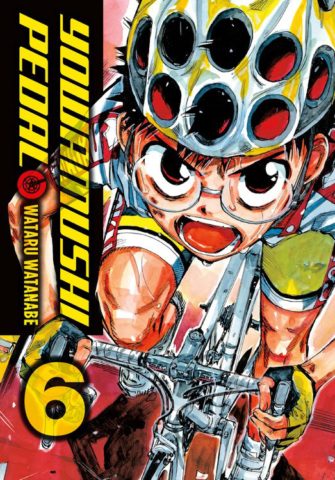 Title: Yowamushi Pedal
Genre: Sports
Publisher: Akita Shounen (JP), Yen Press (US)
Story/Artist: Wataru Watanabe
Serialized in: Shuukan Shounen Champion
Translation: Su Mon Han
Original Release Date: August 22, 2017
Review copy provided by Yen Press.
The Inter-high race continues, and with the steep hill section next, it's Onoda's and Makimura's time to shine. Unlike how Naruko and Tadokoro both raced for the lead, the two climbers are given separate missions: Makimura to try to take the section's finish line, Onoda to lead his team up the hill. Well, that plan quickly dissolves when Onoda somehow crashes without the rest of his team knowing.
Oops.The first half of the omnibus focuses on Onoda's attempts to catch up with this team. After the accident, he finds himself in last place, so he has to overcome 100 riders if he wants to reunite with the rest of Sohoku. His team initially believes their super rookie is out of the race. It's Makishima — who insists he doesn't "do the clingy friendship thing" — that first believes Onoda will catch up to them.
But his callous statement is again proven to be a lie when we see his relationship with Hakone's Toudou. Toudou, as a fellow climber, has been looking forward to a final showdown with his rival, and he is angry and frustrated over Makimura's refusal to challenge him. We also see how important this challenge is to Makimura, but he puts his team before himself.
It's this more subtle friendship that made the second half of the volume more engaging than Onoda's story. Readers don't actually get to see Onoda's accident, instead only seeing Onoda staring up at the sky. The slowness of him getting up (not the mention the fact he got into the accident in the first place) just hammers that once again that Onoda is amazing. I'm hoping to see the protagonist be something more than just this amazing, anxious-to-support-his-team newbie.
The biggest aspect of this volume that bothered me was the dialogue. It's just plain repetitive.
While Onoda is trying to catch up, he keeps singing his favorite anime's theme song which seems to have only about two or three lines total. Don't worry though; it will feel even shorter. "YOU ARE THE PRINCESS! YOU ARE THE PRINCESS!" His singing is only broken up by each rider going, "Who was that? Is he singing?" Later, it's the repeated cries of "Makimura!" that is irritating. I know some people dislike extended inner monologues, but they provide some much-needed breaks here.
The art is still at the same level as the previous volumes. Watanabe's style is definitely full of high-energy, but most of these guys aren't going to be competing with the men of other popular sports manga in a beauty pageant. And while a lot of the pages are crammed with pedaling after pedaling, I like when Watanabe takes a break and includes some larger spreads. There's a two-page of Makishima telling his team to keep looking forward. The inclusion of him casually looking back without his hands on the handlebars matches his aura perfectly and provides a striking change to the normally edgy style.
Yowamushi Pedal Volume 6 continues the high-stakes Inter-high race. I felt like Onoda already faced enough challenge just by entering his first real race, and the whole "move up from last place" was forced and contrived. The Makishima arc was much stronger than the opening, and I hope the ending with Sohoku's Aces stay on this path.