Even with the influx of sports manga lately, Yowamushi Pedal should find a way onto your shelves.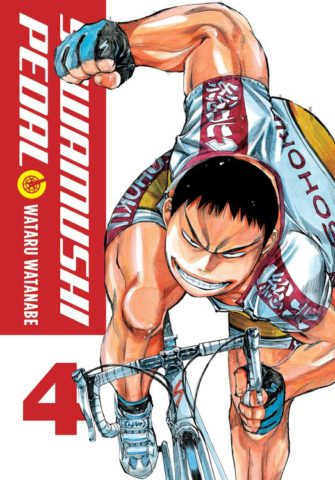 Title: Yowamushi Pedal
Genre: Sports
Publisher: Akita Shounen (JP), Yen Press (US)
Story/Artist: Wataru Watanabe
Serialized in: Shuukan Shounen Champion
Translation: Su Mon Han
Original Release Date: December 20, 2016
Review copy provided by Yen Press.
In many ways, Yowamushi Pedal is a typical sports manga: a team of atheletes work together to take the crown. Yet it has this charm that makes it stand out from the field.
Case in point: Tadokoro. Sure, on the cover, he looks as if he's ready to punch you in the face and will have a good time doing it. Yet he actually is a nice guy, training out his underclassmen and even trying to help Makishima learn how to carry on a conversation with Onoda. He may seem strict, but he truly shares in the others' victories and defeats. Tadokoro is rapidly becoming one of my favorite fat plump big guys in manga.
In Yowamushi Pedal Volume 3, the first-years and the second-years were competing for spots at Inter-High. The curly-haired second-year, Teshima, was in the midst of blocking the underclassmen, but Imaizumi and Naruko placed their bets on Onoda. Quite frankly, I was rooting for the hardworking Teshima and Aoyagi. I mean, we already know the younger three are all prodigies, and the pair really wanted to race once with their dear senpai.
After that's resolved at the start of Volume 4, Onoda starts to wonder if he's worthy of being on the team. What snaps him out of his funk isn't some loud scolding but a moving scene in which Kinjou shows him what being a member of the Sohoku Bicycle Club means. As they say, actions are louder than words, and it's this sort of scene that makes Yowamushi Pedal so wonderful.
I wasn't quite as interested when the story went to check in on Hakone, the reigning champs, and Manami's attempts to be the first first-year on the team ever. We then go back and see a race between Sohoku and Hakone. The result was certainly surprising, and I find myself looking forward to the now-captains' rematch rather than Onoda and Manami's reunion.
The manga's biggest weakness is still its art. Many times, art in long-running manga is significantly weaker — almost awful — than the later volumes. I hope it does improve because right now it's still a strange combination of typical shounen sports, old-fashioned 70s/90s manga, boys' love, and doujinshi. (Makishima also looks as if he stepped out of a Tim Burton flick.) The art has a sketch-like vibe to it. While some sketching looks great, too much and it looks messy. It also still feels like Watanabe is more comfortable drawing the backgrounds than the characters. The bikes and backgrounds seem picture perfect, but Onoda has exactly one shocked expression that is used constantly. I'm hoping Watanabe finds his groove, as while Yowamushi Pedal is still easy to read, it's definitely below the high standard of the main story.
Even with the influx of sports manga lately, Yowamushi Pedal should find a way onto your shelves. Both the main characters and the author himself have a purehearted passion for bicycle racing that shines on every page. Even if you don't go on bike rides, take Yowamushi Pedal for a spin.