Sekirei is a bit more interesting than most harems of its type, but its dated feel, bland male lead, and action sequences leave a bit to be desired.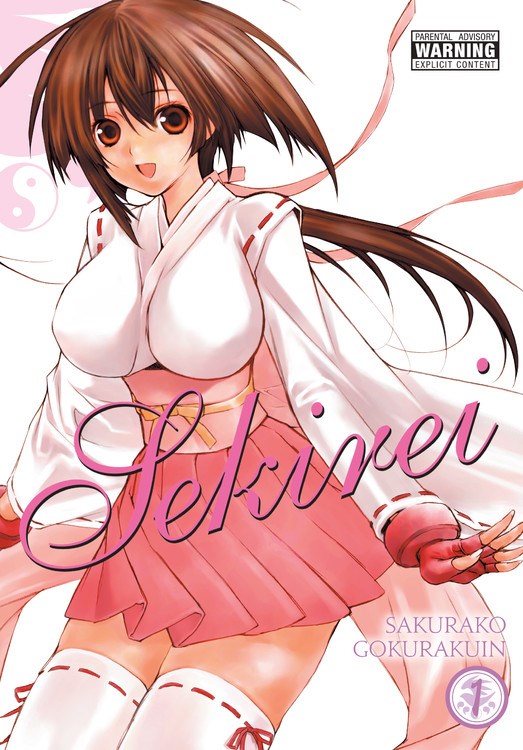 Title: Sekirei
Genre: Harem, Ecchi, Fantasy, Action, Comedy
Publisher: Square Enix (JP), Yen Press (US)
Author: Sakurako Gokurakuin
Serialized in: Young Gangan
Translation: Caleb D. Cook
Original Digital Release Date: November 24, 2015 (Volume 1), January 26, 2016 (Volume 2)
Original Physical Release Date: July 25, 2017
A review copy was provided by Yen Press.
While reading about Minato's luckless tale, the female lead, Musubi, felt like she was useless, and needed to do something. So she became tempted to take a bath to be useful to the readers.
And with that, Sekirei has established itself as a take it or leave it fanservice romp.
Reading Sekirei made me feel like it's super dated in aspects, from character actions to a flip phone appearance. Well, that's because it is! It's a 2004 work that's now in print in 2017. It's been put out digitally since 2015, but Yen Press got enough feedback to release it in omnibus format.
Sekirei is unoriginal in its basic plot — blandish male character Minato Sahashi failed his college placement exam for the second straight year. At a crossroads in his life, a mysterious girl falls on top of him from the sky, and after carrying Minato away, she says her name is Musubi, a Sekirei. For Minato, he has zero idea what that is — until she kisses him. This awakens her wings, and gets him to meet Minaka, the mastermind behind a project where Sekirei must fight to the bitter end. If they're the last one standing, they'll hold the fate of the world in their hands.
Seems a bit much for a 19-year-old to deal with doesn't it?
What does make Sekirei a bit original is its constant pandering to the audience that likes panties, boobs, and butts — and its relaxed tone. It's that combination that makes me appreciate that it's not super serious, but also some of it is really dumb. Needless to say, you're not gonna want to read this in public (it's shrink wrapped for a reason!). Don't even open the page at work because it features a mostly nude Musubi when you do. In general, she (and other Sekirei) find some way to lose their clothes very quickly, through sheer ignorance or though battles.
The character interactions are hit and miss. Musubi is not socially aware of normal customs in the real world due to how she was made. So any embarrassing situation doesn't feel super stupid, just a, "Okay, I'll roll with it". But that's not to say it doesn't overdo it — do I seriously need to see her run into anything and boom, we get a shot of her panties at almost every page? Sakurako Gokurakuin does find times to make fun of doing that, even when the situation doesn't call for it. The art style embraces the silliness, which has moments where the characters are either chibified or their eyes are puzzled by the situation. Almost as if this manga doesn't know what it wants to be.
This is essentially what I wonder about it. This volume bends backwards to establish that you shouldn't take Sekirei seriously. But based on its premise, I don't think that's going to last. If so, the battles will have to be drawn far more crisply and set up better, as none of the fights were all that entertaining. Well, not counting the fights the Landlady of the house Musubi and Minato are staying at had.
Sekirei is more interesting than most harems of its type, but honestly, this felt too much like a blast from the past. If you can deal with the boobs and butts on display and how the characters act in those situations, this could be worth your time. If not, then steer clear since this omnibus feels way longer than it should be.