With one major anime company announcing they're phasing out DVD releases, Krystallina wonders how do we prefer our anime and manga releases.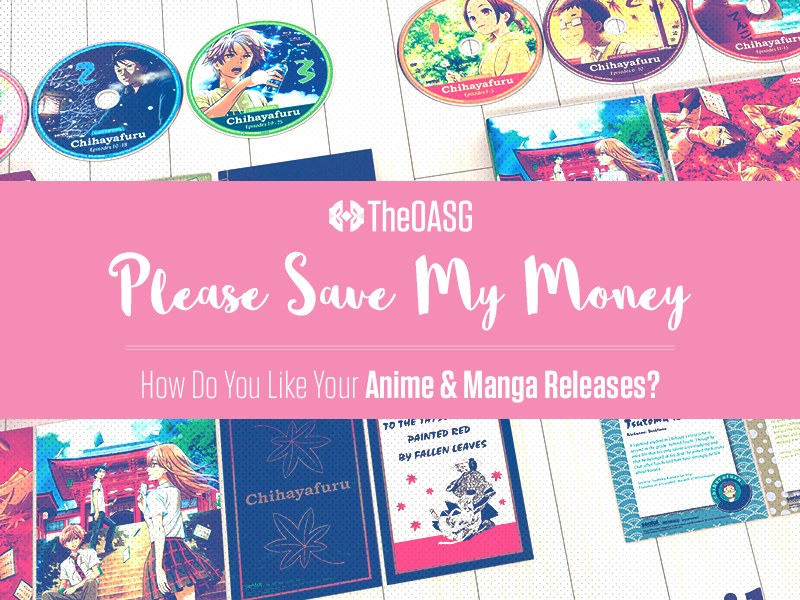 Back during the anime/manga boom of the 2000s, prices were simple: $10 got you a manga, and $30 got you one disc.
However, over the years, as new publishers have sprung up and the market has faced expansions and contractions, companies have been trying different ways to release products. And now that a major anime publisher has announced they're fading out DVD releases and manga licensors debate releasing their digital-only licenses, what type of release do you prefer?
Well, let's take a look at all the various anime and manga releases price points and formats there are. I've included some example series, their price range, and one positive and negative. Please note I am excluding any re-releases and anime less than 1 cour. Some of my opinions can also be applied to other groups, but it's just to give you an idea. Digital versions are also excluded.
Manga
Standard Size – Boruto (VIZ Media), Waiting for Spring (Kodansha Comics), School-Live! (Yen Press)
MSRP: $9.99 to $13.00
+ Cheapest and most common format
– Series can be common and generic
Smaller Size – The Ancient Magus' Bride (Seven Seas Entertainment), Nichijou: My Ordinary Life (Vertical, Inc.)
MSRP: $10.95 to $12.99
+ Can license more niche titles
– Looks and/or feels less impressive
Oversized Format – Kiniro Mosaic (Yen Press), Tokyo Ghoul (VIZ Media), Descending Stories: Showa Genroku Rakugo Shinju (Kodansha Comics)
MSRP: $12.99 to $17.00
+ Easier to read thanks to larger trim size
– Often doesn't fit nice on shelves
English Omnibus – Orange (Seven Seas Entertainment), Kuroko's Basketball (VIZ Media)
MSRP: $14.99 to $19.99
+ Get through the series faster
– Tend to be limited to just re-releases and rescues rather than currently-running series
Standard Special Editions – Attack on Titan (Kodansha Comics), Kamisama Kiss (VIZ Media)
MSRP: $17.99 to $19.99
+ Have bonus items more in line with Japanese special editions
– Pretty rare
Oversized/Deluxe Omnibus – Princess Jellyfish (Kodansha Comics), Servant x Service (Yen Press)
MSRP: $19.99 to $24.95
+ Can license riskier titles
– Less comfortable to hold
Anime
DVD Subbed Only – Yowamushi Pedal (Eastern Star), Arakawa Under the Bridge (NIS America)
MSRP: $39.95 to $69.99
+ Most common format and audio
– Tend to look and feel like a budget release
Blu-ray Subbed Only – The World is Still Beautiful (Sentai Filmworks), The Good Witch of the West (Maiden Japan)
MSRP: $49.95 to $79.99
+ Give less popular titles a chance
– Not much advantage if already available for streaming
Combo Packs Subbed Only – Hi-sCool! Seha Girls (Eastern Star), Cute High Earth Defense Club LOVE! (Ponycan), Ground Control to Psychoelectric Girl (NIS America)
MSRP: $49.95 to $89.98
+ Don't have to choose between high-definition Blu-ray and the very popular DVD format
– Availability may be limited
Blu-ray/DVD Combo Packs – The Seven Deadly Sins (FUNimation), Sailor Moon (VIZ Media)
MSRP: $49.98 to $79.99
+ A version for everyone
– Blu-ray fans may be spending more for a DVD version they'll never watch
Half-Seasons/Single Disks – Blue Exorcist: Kyoto Saga (Aniplex of America)
MSRP: $69.98 to $99.98
+ Very nice releases
– Expensive
Combo Packs Premium/Limited Editions – Chihayafuru (Sentai Filmworks), Mob Psycho 100 (FUNimation), Mobile Suit Gundam Wing (Sunrise Inc.)
MSRP: $79.95 to $299.99
+ Some beautiful, amazing box sets
– May sell out quickly, but hard to determine quality until it's released
Personally, for manga, I like the traditional manga individual volumes even though omnibuses tend to be cheaper (and can often include more bonuses as a result). For anime, most of the series I buy I can find streaming; if I like it enough to own a copy, I just want the Blu-rays. I know some people are still into VHS tapes, but Blu-rays have been around since about the time of the PlayStation 3. Enough years have passed for the PlayStation 4 to have undergone a revision and receive a premium model. Either watch on a Blu-ray player or just stream something on your phone/tablet.
So, out of all of these, which do you prefer? Do you like the cheap options or the more premium versions? Are oversized volumes nice or unnecessary? Dubs a must-have or just a bonus? Feel free to say why below!