Plum's not crazy, her new sibling is!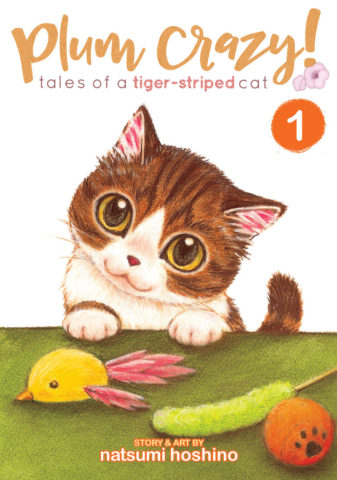 Title: Plum Crazy! Tales Of A Tiger-Striped Cat (Kijitora Neko no Koume-san)
Genre: Slice of Life, Comedy
Publisher: Shonen Gahosha (JP), Seven Seas (US)
Artist/Writer: Natsumi Hoshino
Serialized in: Neko Panchi
Translation: Nan Rymer
Original Release Date: July 4, 2017
A review copy was provided by Seven Seas.
Plum isn't a very crazy kitty, but the new kitten she's brought home is! Plum found Snowball shivering and alone outside and, in a magnanimous gesture, brought Snowball home to her family — but they might love Snowball more than her! Life has gotten a lot crazier for Plum with this new intruder around, but maybe she can remain top cat after all?
Plum Crazy! is a charming manga for both fans of slice of life stories and animal-lovers alike. Plum is a sweetly adorable cat and, while a bit mischievous on her own (like all cats are), Plum is feeling sorely put-upon lately by her new sibling. Not that Plum says so in so many words — Plum is a plain old speechless kitty — but her owners (high-schooler Taku and his mother) seem to be able to perfectly read her mind and narrate for the reader just what Plum is thinking. Plum does have some anthropomorphic traits, but they're just mostly expressed through human-like body language and actions. It's not nearly enough to break the suspension of disbelief because let's be honest, who hasn't ascribed human emotions and motivations to their pets before?

There were a few stories that were unlikely enough to make me roll my eyes, like the time Plum sneakily follows Taku to school, but by and large I was thoroughly charmed by her stories. A large part of this is thanks to Natsumi Hoshino's art. It's not overly detailed and the character designs oddly enough look like they belong in a manga from 1998, not 2008; but, all of the kitties are lively rendered and, much like human characters, will switch into a chibi form when the humor requires it. In short; it's adorable.
Every manga-reading cat-lover should pick up this series. It's just like your favorite cat videos: charming, adorable, and never boring no matter how many times you read it! The story is also perfectly appropriate for younger fans and is sure to become a fast favorite of cat-lovers everywhere.