One fan finds out what it's really like to work in the industry.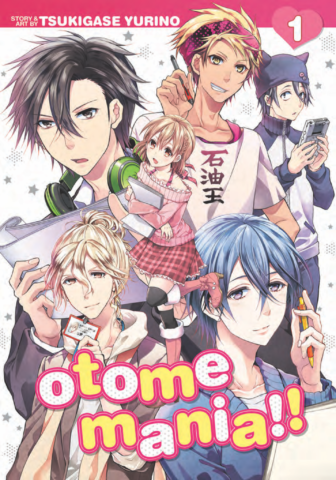 Title: Otome Mania!!
Genre: Reverse harem
Publisher: ASCII Media Works (JP), Seven Seas (US)
Artist/Writer: Tsukigase Yurino
Serialized in: Sylph
Translation: Angela Liu
Adaptation: Rebecca Scoble
Original Release Date: June 20th, 2017
Review copy provided by Seven Seas.
Reading this came at the perfect time. I have been working on a guide for an otome game (Hakuoki: Kyoto Winds), and I also just wrote about the issues with Taisho x Alice. So, as an otome game (visual novels for girls) fan, I had to check out Otome Mania!! What got me even more excited was the fact that it was a Sylph manga (aka the home of many manga adaptations of otome games, the last missing Aya Shouoto manga, and more). I believe this marks the first time a Sylph manga has made it to the U.S., so I was doubly excited. Plus, look at this back cover: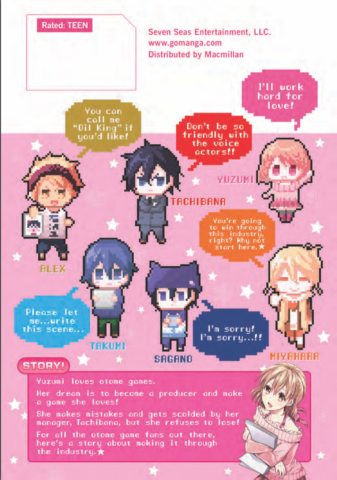 Is that not adorable?
I was so ready to see an inside look at the world of otome games. Unfortunately, I was left disappointed.
As you might gather, Otome Mania!! is both an inside look at the making of an otome game (well, more like visual novels in general) and has the heroine living out an otome game. Yuzumi dreams of one day producing otome games, and she's just been hired as the newest (and only female) employee at an otome game company. She is still inexperienced and has the tenancy to view games from the viewpoint of a fan, not a professional. Although Yuzumi is constantly being scolded and corrected by her direct superior, she quickly finds herself in charge of a new otome game app and needs to be supported by her fellow workers.
At the very beginning of the volume, Yuzumi has only been working for a week. After getting permission to submit a game proposal, the volume then goes through the six months or so until the app's release. I really wish the author hadn't rushed through the development process. Yes, Yuzumi's first game is an app with only three routes, not a full-length big budget game, but I wish we could have seen more of the decision-making progress. She submits a poor proposal that doesn't include any of the details a good proposal should have (flow chart, character profiles, etc.), because you know why? No one told her how to make one. Yes, she probably should have know that before being hired as a game planner, but basically everyone covers her butt some way or another. I would have liked Otome Mania!! to show her struggling to find ways for the game to have a bad ending or deciding where to put the CGs. She finally has to make a major decision when deciding what kind of gimmick (i.e. unique feature) to include in the app, but this comes at the final chapter of the volume.
While it does seem like I'm ragging on the heroine, I do think a lot of readers will see themselves in her. I know it would be hard to control myself if I got to see one of my favorite voice actors working, and getting access to releases in advance would be awesome. It's also tough to be the newbie employee, and every employee has been embarrassed at one time for not doing a proper report or project. We all have a little Yuzumi inside of us.
As for the other employees of Trick Star, they seem to be divided into "main guys" (ones who would get a route) and supporting guys (men who don't get a route). It kind of reminds me of the anime version of Uta no Prince-sama where a different guy takes center stage in each chapter (and hints at his developing an interest in her). The manga also hints at a big showdown with an all-male rival development team. Between the two companies and the various people Trick Star hires, there is a lot of name dropping. Considering Otome Mania!! is only two volumes long, I have a feeling a lot of them are going to end up as page wasters. The ones that have fully been introduced can simply be defined by their character type: the tsundere, the outgoing foreigner, the shy one, etc. I'm also not feeling a strong romantic connection between any of them and Yuzumi.
In fitting with the theme, the art looks like it came from an otome game. It has a bit of a Norn9: Var Commons flavor to it, but we see a lot of classic design elements: a bandana, heroine with short hair, and a cat hat. It's nice, but I wouldn't call it unique by any stretch of the imagination.
Overall, otome game fans will no doubt get a bigger kick out of Otome Mania!! versus a typical reverse harem series, but the manga's center falls flat. Even most of the "romance" just comes from the protagonist comparing the guys (or their voices) to games.