The main couple plods along; is it enough to carry this series until the end?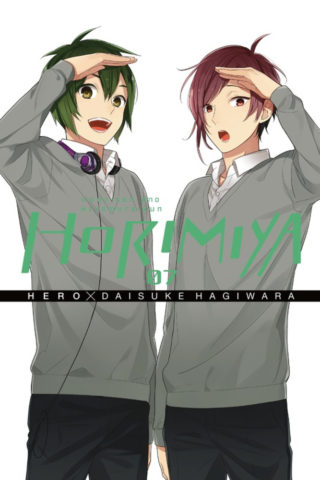 Title: Horimiya
Genre: Drama, Slice of Life
Publisher: Square Enix (JP), Yen Press (U.S.)
Creators: Hero (Story), Daisuke Hagiwara (Artist)
Translator: Taylor Engle
Original Release Date: April 18, 2017
Review copy provided by Yen Press.
Hori and Miyamura have settled into a rhythm. The two of them trust each other and aren't constantly worried about being abandoned, although Hori is looking for ways to spice it up!
The romantic progress for the side characters has slowed to a crawl however. There are still a couple of love triangles going on, none of which look like they'll be resumed in the near future. Hori's friend Yuki even has Tooru, another friend of Hori's who still has a bit of a crush on her, pretend to be her boyfriend to get out of a confession; that always goes down well in rom-coms. As an aside, the guy she's turned to now, Yanagi (who also makes an appearance on the cover) does seem like a rather nice guy so I wouldn't mind if he becomes a reoccurring side character (although I would mind if it was only to further this love triangle!). Quite honestly the majority of this volume was clichéd plot lines but thankfully most of them built upon previous gags which made them more palatable. That being said, isn't this the third time already that we've had a "some of the characters had exercising and do everything to get out of it" story? And the "some of the characters are so bad at cooking they couldn't possibly be real people" is one that has long exasperated me as well. But, if you aren't immediately turned off by those vignettes, they're fine, just, blandly fine.
The one part of this volume that felt a bit off to me was that, well, it appears that Hori's kink is getting yelled at/stepped on by etc Miyamura. I feel a bit uncomfortable about this for two reasons, one being that Miyamura seems uncomfortable about doing it (which is part of the gag) and the other part is because it sounds abusive. It's not, and the knowledge that it's not is the punchline to the gags about it, but I want even fictional characters to have consent before they start doing those things (remember, they have already had sex!).
Horimiya seems content to trundle along for the meantime, even as its love triangles continue to spin their wheels, and it still remains one of my favorite teenage rom-coms. But, you know Horimiya, I could like you even more if you were a bit more inventive in future volumes!