It's not perfect, but Taki's desperate search is enough to make up for the weaker parts in your name's second volume.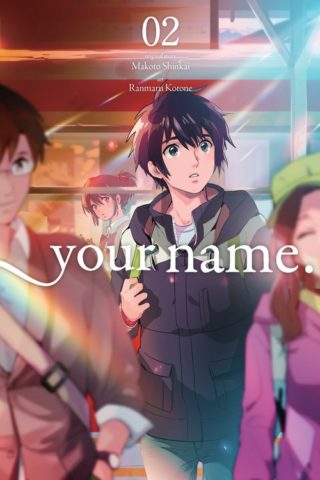 Title: your name. (Kimi no Na wa.)
Genre: Gender bender, supernatural
Publisher: Media Factory (JP), Yen Press (US)
Artist: Ranmaru Kotone
Original Story: Makoto Shinkai
Serialized in: Comic Alive
Translation: Taylor Engel
Original Release Date: November 21, 2017
Review copy provided by Yen Press
If you've managed to make it this long avoiding spoilers for the movie, then you probably don't want to continue this review. This second volume covers a bulk of the story, including revealing the big twist and starts the final events of the film.
So after the body-swapping suddenly stops, Taki's friends and family notices his sudden melancholy. After Taki's attempts to call Mitsuha go unanswered, he sets out on a journey with a couple of his friends to track her down. Their reunion (or first meeting, depending on how you look at it) isn't as easy as he hopes, and the manga is full of Taki's longing. So many of these moments are an emotional gut-check, and it's no surprise that this search takes up so much of the story. This starts the emotional whiplash after having to watch Taki feel up Mitsuha every morning when they switched. For me, this switch from gender bender hijinks to romantic drama is the best part of your name.
But I was a little less impressed with showing what happens after the next supernatural incident. It's only a small fraction of the overall volume, but it's enough to make even those who haven't experienced your name. in another form to go, "Okay, so THAT is how everything is going to be solved." I would have rather those 20 pages or so instead have spent more time on Taki's depression and search and save a little more mystery for next time. Some people may think it's overkill to spend an entire volume on wanting to meet someone again, but the whole volume flies by incredibly fast. I wanted to see a little more of Taki acting like a zombie or robot, building up to Taki's decision to hop on a train for five hours and play detective despite his companions thinking he's off his rocker.
The art style on its own isn't terribly impressive, but some of the visuals are incredibly moving. Mitsuha's life is shown as a flashback, highlighting how fast life can go by. Another section is six pages where the only dialogue is Taki crying out Mitsuha's name, and it is a beautiful testament to your name.'s theme of "musubi" (bonds). Kotone definitely prefers thick lines, and this leads to some difficulty in drawing the braided cords the characters wear. Taki's looks like a watch band instead of a threaded bracelet. It's a key item, and while some cords are drawn in more detail, I wish Taki's didn't look so plastic-y.
The second volume of the your name. manga is arguably the most critical volume of the series, skipping a lot of the gender bender misadventures and the ending (which is entertaining but somewhat predictable). It's not perfect, but Taki's desperate search is enough to make up for the weaker parts.