Both the story and the characters can improve and grow, but this first volume doesn't provide a very good hook to make the readers come back and see how everything progresses.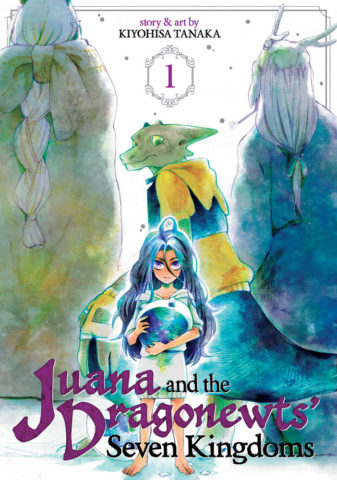 Title: Juana and the Dragonewts' Seven Kingdoms (Ryuu no Nanakuni to Minashigo no Juana)
Genre: Fantasy, Adventure
Publisher: Mag Garden Corporation (JP), Seven Seas (US)
Creator: Kiyohisa Tanaka
Serialized in: Alterna pixiv
Translation: Adrienne Beck
Original Release Date: January 16, 2018
A review copy was provided by Seven Seas
Sometime in Earth's future, humans are a thing of the mythical past and now many other strange animals have become the sentient rulers of the world. Guardune (dragonnewt) Nid is more interested in this distant past than his life in this current world and Nid loves to go scavenging in old places, looking for never-before-seen artifacts of this strange past. But Nid never expected to find a living fossil, the newly hatched (?!) Muerande (human) Juana! With few answers about Juana's existence to be found at home, Nid and Juana are off on journey to see if they can find any additional information on the Muerande and figure out how Juana came to be.
Nid's world seems like a fascinating one, but we've barely seen much of one kingdom, much less the seven promised in the title. That feeling sums up the entire first volume of Juana and the Dragonewts' Seven Kingdoms: it seems like it has potential but isn't quite there yet.
Nid himself is a very good example of this. As the point of view character in a world quite unlike modern-day Earth, his reactions and insights into the Guardunes' society should be interesting. Instead, Nid himself is rather estranged from society and uncomfortable about it. While he's excited and motivated to go out and go exploring outdoors, he lives a much more reclusive life underground where Guardune life is centered so he's actually not a great point-of-view character. Additionally, Nid just doesn't come across as a particularly interesting or sympathetic lead character yet. He's young, shy, doesn't really seem motivated by anything, and he makes several obviously-dumb choices — like being too trusting of characters who clearly want to buy Juana to display in a circus — in this volume that are more likely to leave the reader rolling their eyes at Nid rather than sympathizing with him.
Juana seems like a potentially much more interesting character, but since she's young, new to this world, and Nid can't speak her language (Juana seems to speak Spanish, which is left untranslated for the reader to make it clear that Nid, not Juana, is the character the audience should empathize with), all of this leaves her feeling a bit more like a pet than a full character at this point. Hopefully as the story progresses she'll be able to take a larger role in the journey she and Nid are undertaking instead of existing merely as a walking, talking MacGuffin.
Juana and the Dragonewts' Seven Kingdoms shows promise of being an interesting adventure story, but this first volume doesn't deliver fully on this. The characters are far from being fleshed out and the story is surprisingly uninterested in fleshing out this future Earth and instead opts to focus more on Nid's insecurities and inexperience. There is always room for both the story and the characters to improve and grow of course but I'm afraid that this first volume doesn't provide a very good hook to make the readers come back and see how the story progresses.