Where do kids these days get these wacky ideas?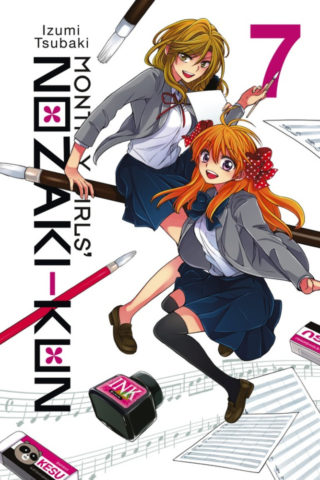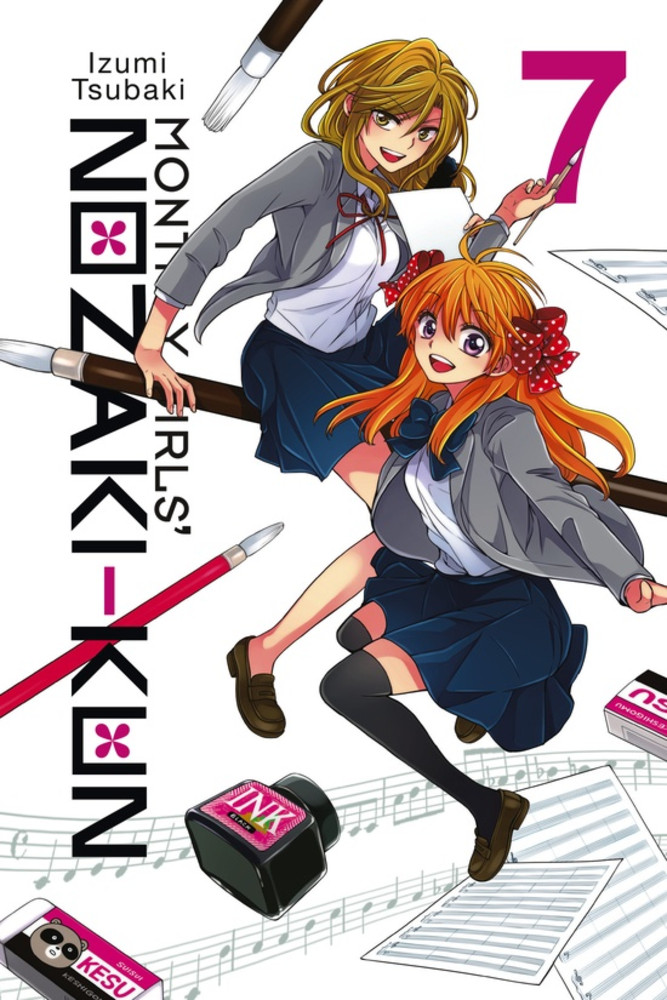 Title: Monthly Girls' Nozaki-kun (Gekkan Shojo Nozaki-kun)
Genre: Comedy
Publisher: Square Enix (JP), Yen Press (US)
Artist/Writer: Izumi Tsubaki
Serialized in: Gangan Online
Translation: Leighann Harvey
Original Release Date: May 23, 2017
A review copy was provided by Yen Press.
Monthly Girls' Nozaki-kun volume 7 was originally published in Japan 2015, well into the smartphone era, but alas, Nozaki and the gang are from a manga that started in 2012, haven't gone up a year in school yet, and thus are stuck with flip phones.
So when Nozaki decides to modernize his manga-with-a-manga "Let's Fall in Love" it takes him and Sakura an entire chapter of experimenting with phones, "apps", and tin-cans for him to be satisfied with his research. It's a testimony to Nozaki-kun's oddball nature that this isn't the weirdest chapter yet.
Indeed, none of these chapters were the weirdest Nozaki-kun has ever been (which is quite a high bar to clear after all) but don't be alarmed, this volume had tons of entertaining shenanigans! From some rather intense Kokkuri-san games (similar to an Ouija Board), to the seductive appeal of Kashima's legs, to some of the trials and tribulations of Nozaki's manga coworkers, this volume delivered quite a few laughs. Personally I think my favorite gag involved Nozaki asking the Kokkuri-san board what should happen next in "Let's Fall in Love" and Kashima, who still doesn't know that Nozaki is the manga-ka, reading the next issue and believing that Kokkuri-san actually works!
Nozaki-kun's appeal continues to lie in how many different gags it can string together (coherently!) in a single chapter and that it's relatively good at not replaying the same joke over and over. For instance, it's been a running joke for several volumes now that Seo and Waka would kinda work well as a couple. This gets brought up twice in this volume alone, the first time with Hori finally connecting the dots with how Nozaki has inserted them into "Let's Fall In Love!" (I'm surprised it took Hori so long), which led to more jokes that spiraled off and grew into their own thing entirely. The second instance is with Waka's basketball team deciding that the best way to distract Seo would be to try and set her up with a boyfriend (long story) and lookee here, Waka looks like just the poor sap for this! The jokes only continue on and on from there, the humor truly feels like a rambly conversation between friends which helps to nail the goofy high schooler mentality of the characters.
Monthly Girls' Nozaki-kun continues to be a fantastic comedy with the perfect mix of the familiar and the unexpectedly bizarre that makes each volume a complete hoot. There seems to be no topic too mundane for Nozaki-kun and no idea too outlandish to fit into a manga! Even after seven volumes the story continues to be hilarious and unexpected every step of the way and I can only hope it will continue that way.