Nozaki's life continues to inspire his manga, or is it the other way around?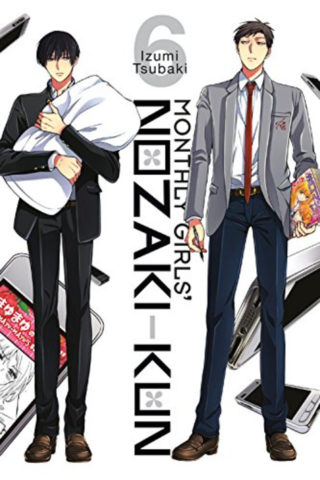 Title: Monthly Girls' Nozaki-kun (Gekkan Shojo Nozaki-kun)
Genre: Comedy
Publisher: Square Enix (JP), Yen Press (US)
Artist/Writer: Izumi Tsubaki
Serialized in: Gangan Online
Translation: Leighann Harvey
Original Release Date: February 21, 2017
A review copy was provided by Yen Press.
The life of a serialized manga-ka is tough; you can never stop thinking of story ideas! So once again, Nozaki and everyone else is back for another round of adventures, strange moments, and general romantic comedy — all in the name of research, of course!
I don't care how often it happens, "Nozaki and the gang play a video game badly" is one of my favorite Nozaki-kun plot lines. This time it's the original trio of Nozaki, Mikorin, and Chiyo playing an old-school, text only murder-mystery game. Much like the dating sim and otome dating sim stories before them, this game appears to be a bit of an odd game in and of itself but it's the character's doofy reactions, especially Nozaki's insistence on making everything fit into shoujo stereotypes, that really sells the humor.
As always, Nozaki is only doing this to get inspiration for his manga and "playing an old school horror game to get ideas for the horror-themed issue" is by far the least wacky of his ploys. There's a failed "test of courage" at the school and plenty of meta-moments where the cast comes off as accidentally genre savvy. On the topic of accidental genre-savviness, fans will recall that friend of the cast, Yukari, is the college-student manga-ka whose manga is always filled with tanuki. Like Nozaki, her research and discussions end up being incredibly weird, so much so that her classmates are all 100% sure she works as a stripper and are all trying to be sympathetic and understanding. This in and of itself is amusing considering just how blasé nearly every side character is in this universe about everything going on or everything they think is going on. There's both explicit snarking from the characters about their situations and also a lot in-universe conversations, like the idea of what constitutes a "plain, shoujo romantic lead," that feels like the story is about to knock over the fourth wall.
All in all this is another wonderfully entertaining volume of Nozaki-kun and fans of every character should be well-pleased. The only major downside to this volume is that it comes with a bonus, making-of section of the Mikorin figure that was included in the Japanese special edition and I want one — make it happen Yen Press!