This volume may mark the end of a good thing.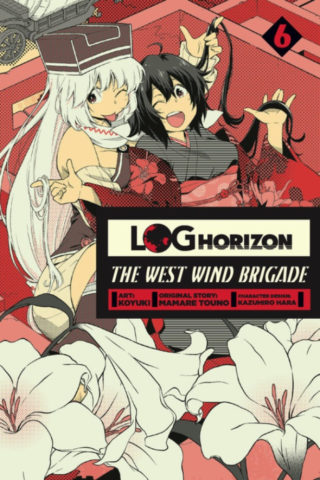 Title: Log Horizon: The West Wind Brigade
Genre: Fantasy, Action
Publisher: Kadokawa Corporation (JP), Yen Press (US)
Creators: Mamare Touno (Original Story), Koyuki (Artist), Kazuhiro Hara (Character Design)
Translator: Taylor Engel
Original Release Date: August 22, 2017
A review copy was provided by Yen Press.
Volume 6 of Log Horizon: The West Wind Brigade continues to retell the story of Log Horizon through the specific viewpoint of characters in the West Wind Brigade guild in Akiba. They are one of the guilds in Akiba's governing organization, the Round Table, and the WWB has a few more Round Table duties than usual thanks to the main plot. With some of their members being sent afield to help supervise a training camp for low-level players, and the rest of the guild covering for absent members of the Round Table who are off negotiating with noble, non-player characters (People of the Land) it's not surprisingly that they're having some difficulty keeping everything together!
Alas, The West Wind Brigade has to go and make a perfectly fine plot set-up dirty and gross and frankly this is where the series and I must part ways. I've noted before that this series takes a pretty loose approach to "consistent characterization" and plenty of side-characters act completely different from their incarnations in the main series. Again, I believe the blame for this lies with Koyuki; whenever a character acts "out of character" they act rather gross and perverted which doesn't occur very much in the main story (Naotsugu's constant panty jokes strike a completely different note) and they also feel completely different from the writing in Mamare Touno's other work, Maoyu.
Volume 6 is where things hit a tipping point for me and it's not surprising that my troubles lie with Kurinon (who has been rather unpleasant in the other volumes as well). Her schtick (in The West Wind Brigade, she's only ever appeared in the background of the main series) is that unlike the other guild members she's actually a lesbian and has no interest in guild leader Soujirou; she's here to try and make some of his followers her own! There is an element of humor to that idea, of course if you like women you're going to try and go where they are to pick them up, but Kurinon constantly comes off as sleazy and openly hostile to Soujirou which made her an unpleasant character to start with.
The bulk of this volume involves the WWB taking care of the majority of the Round Table's duties while other members are out of town and Kurinon generally sabotaging everything. She pits all of the girls who like Soujirou against each other to sow trouble, convinces all of the shops in town to give the girl's discounts (swearing that this will make the Round Table support the stores), and then straight up kidnaps many of the girls in the WWB against their will to create her own private harem. The West Wind Brigade has had several sleazy plotlines before, such as the "build a bathhouse with peeping holes in it" gag from a volume or two back, but these plots feel completely mean-spirited without even a bit of humor in the situation.
While The West Wind Brigade had promise when it began as a way to see the story of Log Horizon through a different set of eyes, ultimately it has fallen flat on its face. The girls of the WWB are barely fleshed out, there are rarely any new scenes in the story, and there just isn't anything new in general being contributed to the story. When the series began I said that fans of Log Horizon would probably enjoy it but now I must rescind that statement; this series is both boring and mean-spirited and leaves nothing to be enjoyed when it's all said and done.