The expanded cast of characters and adorable art help strengthen the latest volume of Kiss and White Lily.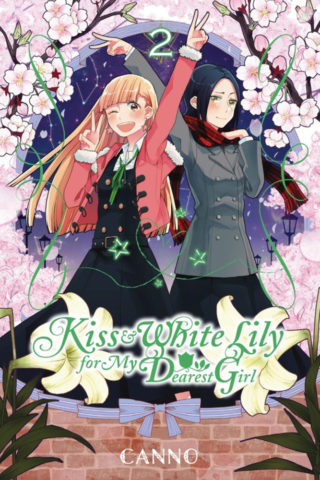 Title: Kisses and White Lily for My Dearest Girl (Ano Ko ni Kiss to Shirayuri wo)
Genre: Yuri
Publisher: Kadokawa (JP), Yen Press (US)
Artist/Writer: Canno
Serialized in: Comic Alive
Translation: Jocelyne Allen
Original Release Date: May 23, 2017
A review copy was provided by Yen Press.
Kiss and White Lily for My Dearest Girl is developing a rather large ensemble cast by only its second volume. Moe and Mizuki barely show up at all and the main couple, Ayaka and Yurine, have their only significant appearance in a side story.
But just because the couples in this volume are new doesn't mean that the characters are! Yurine goes shopping with two of her classmates, Ai Uehara and Chiharu Kusakabe, as they look for the perfect good-luck charm to give Chiharu's exam-taker roommate. Those two and Chiharu's roommate, Maya Hoshino, are the focus of the first half of the volume as all three of them grapple with Maya's impending graduation and how that will upend their relationships.
I feel that Canno has made a smart move by having such a large cast of characters to bounce back and forth between. There is only so far that an author can take a high school romance (unless they are very dedicated to creating a complex, realistic romance, which is deeper than this manga aims) so having a large cast lets you focus on many different relationships to help fill out the time. That may sound as if I'm accusing this volume of being filler but I'm not; Ayaka and Yurine have such different personalities that I won't really buy into their romance unless I see them both change over a long period of time and having multiple couples is an excellent way to gain that time. It works well in My Little Monster and Horimiya and it works well here as well.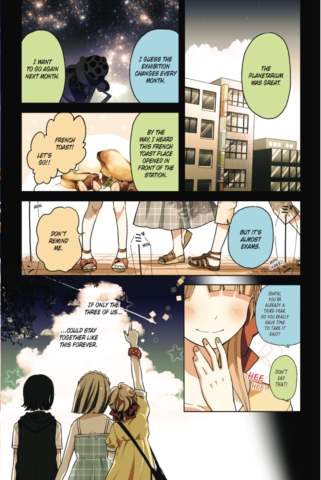 The series greatest strength is also the variety of relationships Canno presents. Some relationships remain friendships and do not become romantic and, while the story presents this as a sad thing for the rejected character, it's not a tragic event, merely sad for the confessor. This story values both romances and friendships which is what you want in a realistic drama, no matter the genders involved, and it also gives the series a greater longevity by promising a chance for relationships to change. After all, if all of the relationships started and ended as romances there wouldn't be nearly the tension or the stakes!
Finally, Canno's art continues to be candy-coated adorable. I am starting to have some trouble keeping the expanding cast straight in my head since everyone wears the same uniform and that Canno likes to introduce even more characters in the bonus pages between chapters does not help, but I honestly don't mind re-reading bits and pieces of Kiss and White Lily to make sure I have everything straight.