Krystallina checks if HIDIVE is worth your time and cash in this week's Please Save My Money column.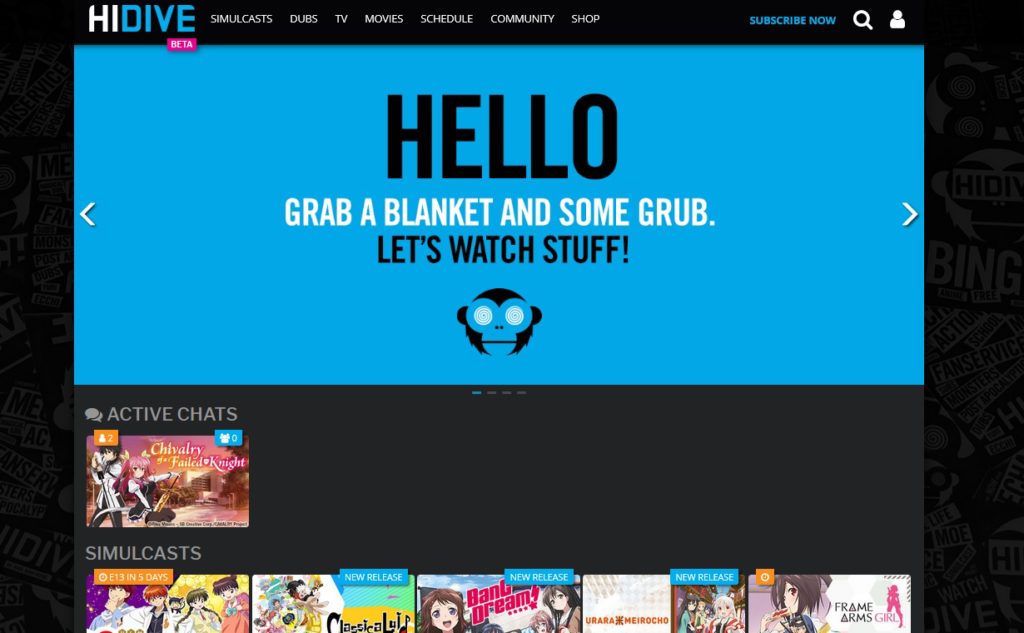 Where do you stream your anime?
Chances are you answered "Crunchyroll" or "FUNimation". Maybe some of you thought of Anime Strike or Daisuki.
Did anybody choose Anime Network? Or HIDIVE?
Oh, the latter doesn't ring a bell? Well, there's a good reason for that: it's a brand new site.
Anime Network
First, let's talk about Anime Network (aka The Anime Network). You may recall Anime Network from the day when it broadcasted anime 24/7, allowing viewers to watch much of parent company A.D. Vision's catalog. It later started streaming episodes online.
Unfortunately, a few years after its debut, Anime Network ended its TV channel and became a video on demand (VOD) service, available on many television providers including DirecTV and Time-Warner Cable. After AD Vision closed its doors, Anime Network continued independently, focusing on Section23/Sentai Filmworks series. It had its VOD division along with its streaming website.
That is, until this month.
HIDIVE
On June 20, 2017, the following notice was posted on Anime Network's website:
"Anime Network TV Acquires Anime Network Online Domain

Anime Network, Inc., the premiere provider of anime programming, announced today that it acquired www.theanimenetwork.com top level domain (TLD) from Anime Network Online (ANO). ANO previously operated an online streaming service under Anime Network-licensed branding. Anime Network will transition the TLD toward services and information solely in support of its cable television and SVOD initiatives. Anime Network's all HD SVOD offering is available to over 200 million households throughout North America."
They also posted a more in-depth article, describing the breakup and the announcement of HIDIVE. While HIDIVE mostly is streaming Section23 anime, the site is not affiliated with them. According to Anime News Network, HIDIVE "will be open to titles from other publishers". The site include simulcasts, past shows, and dubs. They also have a list of exclusives, of which Anime News Network does a better job of detailing than HIDIVE's own exclusives section. The list includes Beyond the Boundary OVA, Corpse Party, Hakuoki (TV and movies), Legend of the Galactic Heroes, and RIN-NE 3. HIDIVE also includes some added features like customizable subtitles and live chats.
Anime on HIDIVE are available to be watched without a subscription. However, like most sites, ads are shown and other limitations (no simulcasts, no dubs, SD only) are enforced. Subscribing removes these restrictions and gives members bonuses like parental controls and uncensored editions. The full breakdown of benefits can be viewed below: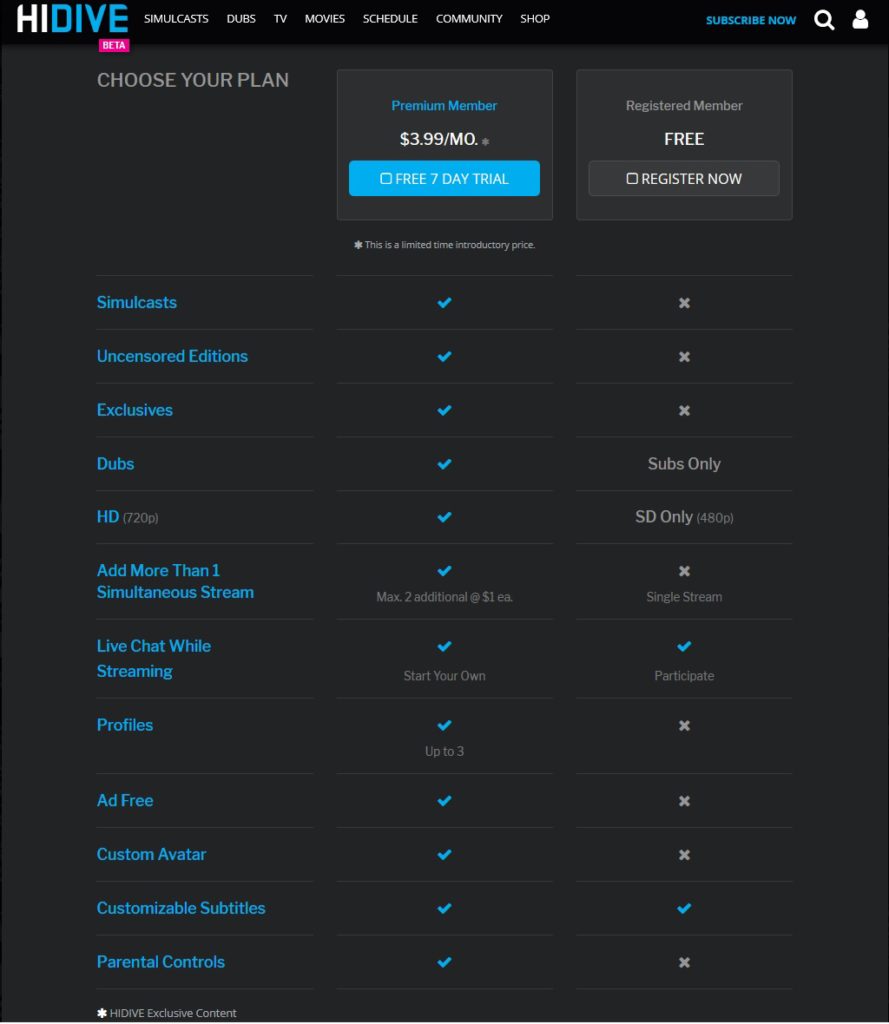 As you can see, currently membership is $3.99 per month. I could not find any info on how long this introductory price will last. I also do not know if there will be a discounted annual membership.
Is There Room for Another Anime Streaming Site?
When Crunchyroll and FUNimation partnered, many people assumed these two would dominate the anime license game. They arguably have the biggest name recognition, but Netflix and Anime Strike certainly are certainly not ready to just wait around and pick up the slack.
Anime Network has managed to survive several ups and downs, and while some subscribers are frustrated that their plan is changing, at least both aspects of Anime Network will survive in some format. All in all, one of three things is likely to happen, all of which are self-explanatory:
Not much changes. HIDIVE has acquired most of Anime Network's online sites, and the VOD is not likely to change much in the near future.
Costs to license anime start to go up. Everyone keeps competing with the other sites to grab the big hits of the season, and eventually subscription prices have to rise to offset the winning bid prices.
Competition improves the anime market. Perhaps some sites start going after older or lesser known works to pad their catalog, and streaming sites start lowering their prices to fend off their rivals.
Again, these may appear obvious, but HIDIVE's openness to other licensors' works is particularly interesting. Lots of Section23/Sentai Filmworks' catalog has gone to Amazon's Anime Strike in recent months, so I'm sure fans will be monitoring if HIDIVE goes after typical Sentai anime releases or if Anime Strike will continue in hopes of being the new go-to anime streaming site. If comments to Amazon picking up series like Welcome to the Ballroom are any indication, Anime Strike still has a ways to go.
HIDIVE also currently has a lot of OVAs that were previously only available on DVDs and Blu-rays. Will more of these direct-to-home-video releases — some available on U.S. discs, some ont — find their way legally onto the Internet? Maybe HIDIVE can pick up that Christmas episode of Uta no Prince-sama I've been hoping for…?
Final Thoughts
All in all, I think a lot of HIDIVE's success will depend on its cost and selection. Right now, $3.99 a month is an excellent price, but I imagine it will be closer to Anime Network Online's $6.99 a month after the introductory offer has expired. Having their own exclusives shows a nice spin on Anime Network's old online catalog.
If HIDIVE can nab more exclusives, the combination of subs and dubs will probably fill a void that many have been missing lately. Of course, another factor is the quality of their video player, and the fact the site went down on the first or second day shows a lot of people are interested. Despite the news that Anime Network Online has been spun off, hopefully HIDIVE can surpass its predecessor without leading to rising subscription costs. Amazon Strike's $5 a month on top of the $99 Prime membership is more than enough, thank you very much.