Still a humorous and cute series, even if nothing quite changes volume to volume.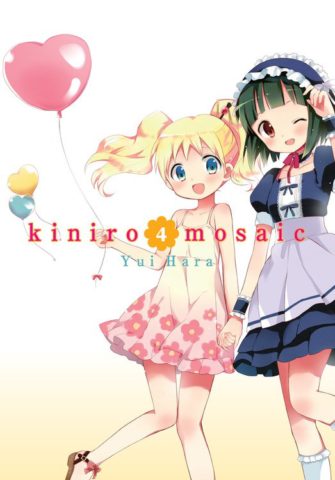 Title: Kiniro Mosaic
Genre: Slice of Life
Publisher: Houbunsha (JP), Yen Press (US)
Creator: Yui Hara
Serialized in: Manga Time Kirara Max
Translation: Amanda Haley
Original Release Date: September 19, 2017
Review copy provided by Yen Press.
In all my previous reviews of Kiniro Mosaic, I gush about Karen. She's still as charming and random as ever (and still the best girl), but she's far from the only source of humor in the series. Volume 4 is perhaps the strongest example of how everyone plays the straight man and the fool at some point, especially when the idiots go so far off base that you just have to laugh out loud. Nothing like finding out the loincloth Alice drew is actually supposed to be a bikini or Aya discovering Shinobu imagines her as some sort of occultist who summons people through magic circles.
Kiniro Mosaic Volume 4 is set around summer break, and the much of the manga is spent on going to the beach and the girls' separation anxiety as the British girls head back home for a visit. Considering Alice and Shinobu try to communicate telepathically in school and Alice needs a Shinobu pillow just to get through the school day, you can imagine how they cope for that week. Spoiler alert: stand-ins.
While the Shinobu and Alice stand-ins are pretty funny, I found the everyday school life of the beginning of the volume more enjoyable. My favorite storyline of this volume was Alice trying to become rich by trading up her Japanese dolls for other items like in a Japanese folktale. Will she manage to obtain her valuable treasure, or will everyone offer her junk in exchange? When the story is set at school or around town like this, other characters like the two teachers and Shinobu's sister get to make an appearance. But when the girls go to the beach or go home, they only interact with their friends. Having the extended cast around just adds a bit more variety versus the usual Aya hiding her crush on Youko or Shinobu/Alice doting on each other. Episodes like a photograph competition going off-track wouldn't have been as much fun with just the main five.
So, if extended cast is good, adding new characters will make the series even more fun, right? Well, I was a little disappointed in the new characters introduced in this volume. Youko's younger siblings make their debut, but they only appear in one chapter. They're even more mischievous than Isami, and they already know Aya has an interest in their older sister. They even manage to trick Karen and the others into coming over, but we never actually get to see everyone spending the day together. Considering they told Alice and Shinobu Youko suddenly became multilingual, Karen Youko became a legendary hero, and Aya that Youko's getting married, I think the girls would have had an… interesting day, and I wish we could have seen it.
Meanwhile, a former classmate of Karen's is also introduced. I was a bit surprised since a running joke was everyone wondering if Karen had made friends in her class the previous school year considering she kept running to Alice. Since she's very shy and humble, Honoka admires her outgoing (and sometimes outrageous) friend. She doesn't reappear much, and I see her playing the role of never-takes-off-in-popularity sixth ranger in the style of Kaorin from Azumanga Daioh. They both are quiet girls who admire one of the main cast members, although arguably Kaorin's interest is more romantic than Honoka's. Still, with escapades like Aya trying to keep Shinobu from failing her tests to everyone trying to investigate Shinobu to a photography contest getting off track, when everyone's hanging around school and around town, it's just more fun.
Thankfully, the manga ends on a strong note with a nice side story about Alice and Karen. Considering much emphasis is placed on the connection between Alice and Shinobu, I really enjoyed seeing the friendship between the two English girls.
The art is virtually unchanged, so there's not a lot I can say that hasn't been said before. This is a cute 4-koma, and Hara continues the fluffy, cheerful visuals. The translation and adaptation is just as strong as ever. I've always found Amanda Haley's work on Kiniro Mosaic to be well done, but I was very happy to see that the "Shino-bu" pun was kept this time around.
All in all, Kiniro Mosaic continues to be an adorable manga, but I hope the next round of new characters actually get some regular pagetime. Otherwise, the main cast is quirky enough to keep the smiles on readers' faces.