This is a manga about a guy having to grope some young ladies. That's really all it is.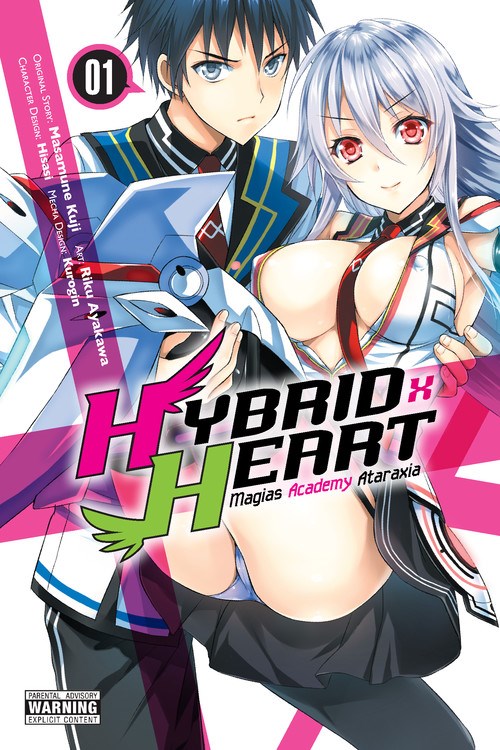 Title: Hybrid x Heart: Magias Academy Ataraxia
Genre: Ecchi, Fantasy, Sci-Fi
Publisher: Kadokawa (JP), Yen Press (US)
Original Creator: Masamune Kuji
Artists: Riku Ayakawa, Hisasi (Character Design), Kurogin (Mecha Design)
Serialized in: Comp Ace
Translation: Caleb Cook
Original Release Date: October 31, 2017
A review copy was provided by Yen Press.
Hybrid x Heart: Magias Academy Ataraxia is a manga starring a young man groping and fondling girls around his age. In many ways, this would be a hentai. Instead, there's a point to this. It's not quite a good point, but for some, that's more than enough.
Based off a light novel series by Masamune Kuji, Hybrid x Heart: Magias Academy Ataraxia became a manga in 2015. A year ago most people might have heard of this series when FUNimation began streaming it. Yen Press, in line with publishing manga of this type like High School DxD and Trinity Seven, licensed this, and assigned veteran translator Caleb Cook and veteran Phil Christie to bring us this lovely story involving a kid who's kind of returning home.
See, Kizuna Hida is a Heart Hybrid Gear, and as the very first one he was considered special by his mom — found a girl with better HHG and promptly tossed Kizuna to the side. Now Kizuna has been told by his sister to come back to Academy Ataraxia. Why, when he's an inferior HHG? Before we discover that, he meets up with one of the HHG, Aine Chidorigafuchi, and gets embroiled in a battle to protect the area. After a series of battles that leaves Aine wounded, Kizuna's sister contacts him and tells him, "First, grope Aine's chest." Doing all of that ends up increasing Aine's powers, which then leads to the reveal — and the reason he's at the academy — that his ability is to replenish the energy of all the girls by turning them on.
The only way that this doesn't turn into a hentai is essentially author's discretion. After all, the very start of the manga has Kizuna groping Aine's breasts. The story is essentially an excuse to have the unwilling main character cop many feels. No matter how you look at it, managing to convince an audience that getting the girls all hot and bothered is a thing is pretty dumb. Which is why something like this would only be better if it was willing to go ridiculous, and that it's not as serious as it comes across.
Well, no, it is a matter of life or death. Invaders from another world have taken over the Earth, and that means it's doing its best to be serious. It's pretty stupid. For something like this, just be dumb intentionally, not the other way.
Now, is it entertaining? Occasionally. The way Riku Ayakawa has adapted the characters from the light novel is actually good. It is drawn to excite so I can't fault that. There were a few moments that proved funny. But Hybrid x Heart: Magias Academy Ataraxia doesn't lend itself to have much staying power as it goes on. After you get past all the characters falling for Kizuna and wanting to get groped, what do you have left? A story involving invaders that have to be defeated. Just go read Freezing for at least better action and some semblance of a story.