It's easy to be cynical about the main couple, but they're too cute to stay that way for long.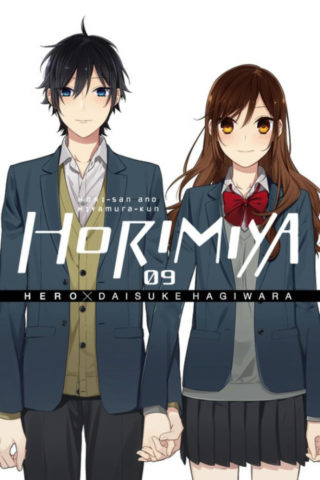 Title: Horimiya
Genre: Drama, Slice of Life
Publisher: Square Enix (JP), Yen Press (U.S.)
Creators: Hero (Story), Daisuke Hagiwara (Artist)
Serialized in: GFantasy
Translator: Taylor Engle
Original Release Date: October 31, 2017
Review copy provided by Yen Press.
With the changing, chilly weather it makes perfect sense that Horimiya volume 9 opens with Miyamura, Hori, and the rest of Hori's family falling asleep under a kotatsu. In fact, this volume spends the first 26 pages making kotatsu-related jokes and it's remarkable how it doesn't feel like the story is struggling for material! They're all genuinely funny jokes that perfectly match the "every day, but with teenage minds" tone that defines all of Horimiya's humor. And dang it, these gags make me want a kotatsu for my own life even more!
While the specific jokes in this volume aren't the same jokes that were in the previous eight volumes, by and large volume 9 feels much like the preceding ones. Hori's family still loves Miyamura and wants him to become a part of the family already. Everyone's character quirks (such as Miyamura's lack of skills for any kind of academia) are still present, and Hori and Miyamura's friend group is still wrapped up in multiple, interlocking love triangles.
There actually is a tiny bit of progress on that front however; Hori's friends Yuki and Tooru had been "dating" so that Yuki wouldn't have to deal with turning down a different guy who had a crush on her — but both of them secretly want this dating to become "real." Yuki has some hangups about dating, and despite her bubbly personality she puts herself down more than she realizes. It seems that by the end Yuki and Tooru have come to more of an understanding, especially as Tooru turns down another friend who confesses to him. In short: everyone has made their romantic situation much more complicated than it needs to be, but that's what teenagers are wont to do so there's not much help from it!
Just before this volume ends however, there is a bit of a romantic shift in Hori and Miyamura's relationship. As the two of them walk together on Christmas Eve through the snow, Hori says that even once they graduate high school she still wants them to stay together. And then, rather impulsively, Miyamura proposes that they get married!
On the one hand, it's hard not to feel a little cynical about Hori and Miyamura's relationship. They might be total lovebirds for each other but it's still the first serious relationship that either of them have been in. Even though they started out as friends and then gradually grew their way to a romantic relationship there's still plenty they don't know about, which could come up in the future.
On the other hand, these two kids are just so cute together. They are comfortable and free around each other in a way that they aren't with anyone else, even with the rest of their families, and it truly seems like they have clicked on a deeper level. I doubt that the wedding bells are anywhere near in Hori and Miyamura's future (as I believe they still have over a year of high school left) but now that the idea is out there it'll be interesting to see how this affects their still-growing relationship.