The plot of He's My Only Vampire has always been a little messy, but the story's weaknesses are in full bloom in this volume.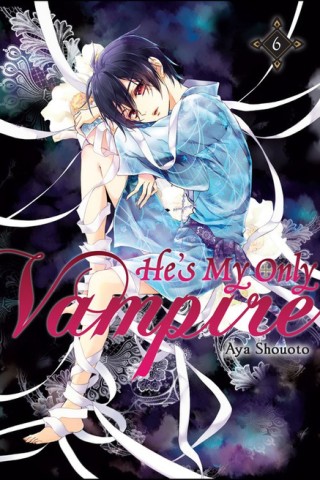 Title: He's My Only Vampire (Junketsu + Kareshi)
Genre: Supernatural
Publisher: Kodansha (JP), Yen Press (US)
Creators: Aya Shouoto
Translation: Su Mon Han
Release Date: March 22, 2016
Review copy provided by Yen Press
In the previous volume of He's My Only Vampire, Aki gained another STIGMA, Kana had been kidnapped, and she had regained most of her memories of her days with Eriya and Aki. As I am sure others would, I came into Volume 6 expecting Aki effectively declaring war on the Tsubakiin household and a lot of drama now that Kana had remembered everything.
If you hate knowing where a story is going to go, then do I have good news for you: this volume did not play out as I expected. The bad news? It really isn't that good.
The first chapter of this volume starts with Kana waking up. She learns a little bit more about Aki and Eriya from her appointed attendant, and then she tries to escape the mansion. Of course, Aki, Jin, and Swallow are busy trying to rescue Kana. Then, the kicker: Jin, narrating, notes it's been a month since the hot springs trip!
What?
Yes, there's no indication otherwise that a month has passed since Kana was spirited away. And that's the main problem I have with He's My Only Vampire: the manga just jumps around too much. One setting to another, flashback to present to back to flashback, one narrator to another… it's hard to keep up. The constant switching of scenes also leads to some major gaps in the story. (Big spoilers coming up.) Aki goes in and offers to make a deal with the Emperor's right hand man, Mishio, to save Kana. Oh, where's Kana? Ha ha, she's fine! She's been fine and working hard training! Anyways, it's time for the quintessential shoujo manga date scene. The next morning: who are you?
…
Really?
Evidently, the STIGMA of Lust had been removed over the course of a week. But how?! It's partly visible when he and Kana return home, and he wakes up a couple of mornings with his memories and the STIGMA gone. Mishio, meanwhile, was back at the mansion. He's so good with magic or whatever that the STIGMA can fly from one house to another? Aki knew exactly what day the extraction would finish? I don't know. Shouoto probably doesn't even know.
Meanwhile, of course, we have scenes from before the STIGMA removal during this time as well, including the Kana training sequence that should have been included several chapters ago. Amnesia Aki couldn't care less about his friends, but Team Kana is off to save the day. Because the last rescue mission was lame, we need another one. The end.
OK, maybe part of the problem is with me. Maybe I shouldn't have gone in expecting a rescue mission that would likely last most of this volume and perhaps into the next. But the story really just is all over the place. It's been hinted from the very beginning of the series Aki would lose his memories (or, more likely, disappear) eventually, but the way Shouoto chooses to present this has no impact. Kana's suffering mostly skipped in place of a relatively calm discussion at the kitchen table. Even when Kana laments not knowing Aki's true feelings for her, we go back to the date sequence instead of seeing her pain — and Aki's confusion — in the present moment. I mean, Aki wakes up with no memories of Kana, and he doesn't ask for an explanation about how he gained a thrall? Wouldn't that be something you'd like to know if you're a vampire who only gets one thrall for his or her entire life? Especially if you're still living at her house? Does Aki know he has one less STIGMA to collect? There's just too many things that don't make sense to me.
Well, at least Shouoto's art is gorgeous as always. As for the characters, the main guys still look like clones from her other series (Kiss of the Rose Princess and The Demon Prince of Momochi House), but with the men being so attractive, I doubt many people care. Aki in particular gets to play up all sides of his personality in this volume, from the cold leader of the vampire to the kind wannna-be lover. The succubus Eve also makes her return, and it's hard not to see her beauty leap from the pages. We also finally get to see someone besides Jin walking around with animal ears. When it comes to the artwork, the biting episodes are even more sensual this time around, but the racy scenes are still on the tamer side for an OT-rated series. I really liked the summoned zombie horde, but it's too bad the story cut it short. Really, I think the art is the best part of the volume.
The plot of He's My Only Vampire has always been a little messy, but the story's weaknesses are in full bloom in this volume. Dramatic rescue plots may be a bit cliche, but they are also highly captivating when done correctly. Here's hoping we get the better "save the hero" plotline next volume.