Vocaloid enthusiasts will rush to add Hatsune Miku: Future Delivery Volume 1 to their collection, though any manga reader looking for an intergalactic mystery should also consider doing the same.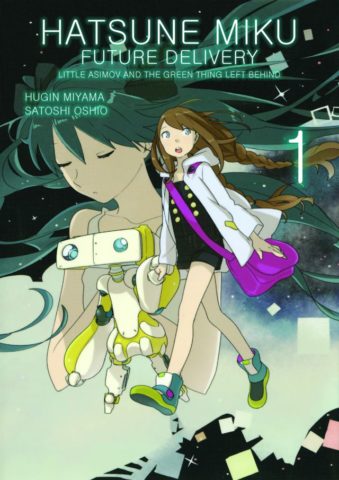 Title: Hatsune Miku: Future Delivery – Little Asimov and the Green Thing Left Behind (Mirai Delivery)
Genre: Sci-fi
Publisher: Kadokawa Shoten (JP), Dark Horse (US)
Artist: Hugin Miyama
Scenario: Satoshi Oshio
Serialized in: Comptiq
Translation: Michael Gombos
Original Release Date: November 14, 2017
Review copy provided by Dark Horse
In many of my various Vocaloid reviews here and on my own blog, I've bluntly said that they're only for Vocaloid fans.
Well, out of all the Hatsune Miku-related manga I've read, Hatsune Miku: Future Delivery is, without a doubt, the most general audience-friendly Vocaloid manga. You don't need to know who Miku or any of her friends are to enjoy the manga, and there aren't any in-jokes. In fact, you could replace the characters with brand new ones and the story would remain unchanged.
Set in the far future, a robot who works for a delivery service takes pity upon an amnesiac. Nicknaming her Asumi, Asimov agrees to help the young girl find a pig-tailed, green-haired girl, the only clue to Asumi's memories. Asimov and Asumi meet various young women who fit the description (including sharing the name "Miku"), and the pair get mixed up in various situations as they search for Asumi's Miku in hopes of regaining her memories.
As I mentioned, this manga is hardly just for Vocaloid fans. In fact, this is the type of storyline that could easily be made into an American miniseries or animated series. Asimov is a cute, helpful robot whose personality is a cross of BB-8's and Wall-E's. (He's, as valley girls would say, totes adorbs.) The planets range in themes from televised singing competitions to medieval knights fighting for glory. Hints as to Asumi's identity paint a deeper mystery. Again, all concepts that feel targeted for the masses, especially since there are no random negi spinning or road rollers.
But while much of the plot appears to be more movie-inclined, the episodic nature isn't. It's a bit like Tsubasa: RESERVoir CHRoNiCLE where the ones on a journey keep encountering different versions of characters, and the adventurers are sometimes are the ones helping out and sometimes the ones being helped out. But while one of the themes of Tsubasa: RESERVoir CHRoNiCLE was that the same bodies share the same soul, the Mikus are very different. One is an adult who is doing scientific research, another is an outgoing wannabe manga artist. The latter example is closer to the happy-go-lucky Miku that she's often portrayed as, but it's Asumi who generally takes on the role. Asimov also chimes in (and has his own backstory); either way, though, while Miku is the center of the action, this is very much the story of the non-Vocaloids.
Outside of a few tools gained along the way, once they've moved on to a new world, they've moved on. The world-hopping can feel incredibly unbalanced: a chapter is enough time when all that basically happens is a pep talk, but when the two are captured and a war is threatening to break out, the manga feels like it moves too fast. Even the bonus pages feel wasted since they provide a lot of unnecessary detail on each planet's culture and history. The bonus pages' introduction featuring jokes about Asimov's changing face were more entertaining.
Speaking of the art, it has a watercolor-like texture to it. This is plain to see in the opening color pages, but the softness can be felt even in the rest of the volume. The visuals are also straight out of the original music video, so if you've seen it, you know what to expect. The designs in black-and-white do tend to make the characters look more generic, as the guest characters are often unnamed and lack any of their usual defining characteristics. (Plus the art isn't as cutesy as most other Vocaloid manga.) The various Mikus are dressed differently in each world, but so far, the outfits aren't outlandish or anything since the worlds themselves are pretty realistic. Again, if I didn't know what Vocaloid was previously, I would have guessed this was a brand-new series.
I did notice a typo or two, and the medieval world has the characters speaking heavily in "ye"s and "verily"s. This is necessary for story purposes, and I'm glad the translator didn't punch up the dialogue just for the heck of it.
Vocaloid enthusiasts probably haven't been dissuaded by some of my negative reviews before, and I'm sure they'll rush to add Hatsune Miku: Future Delivery Volume 1 to their collection even though the titular character is not the heroine. However, any manga reader looking for an intergalactic mystery should also consider doing the same. Asimov proves that robots do have hearts, and from the clues I've picked up on, Asumi needs to remember her past ASAP. I'm looking forward to see if perhaps her Miku can provide the answers.