With little direction on what type of entertainment it wants to provide, Rin-Chan now! might just be for the fans right now.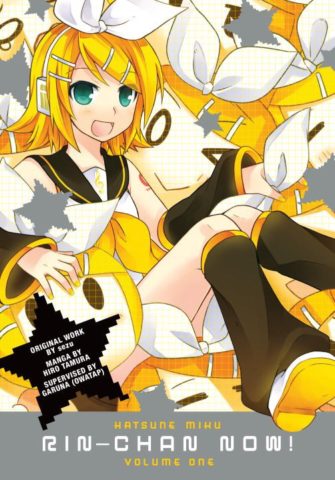 Title: Hatsune Miku: Rin-chan Now!
Genre: Comedy
Publisher: Ichijinsha (JP), Dark Horse (US)
Creators: sezu (original work), Hiro Tamura (manga), Garuna (Owatap) (supervisor)
Serialized in: Comic Rex
Original Release Date: April 18, 2017
Review copy provided by Dark Horse.
This may be Hatsune Miku: Rin-chan Now!, but here was me throughout the manga:
Miku now! Luka now!! Kaito Meiko Len-kyun now!!!
Now, some of you might not get that reference. Surprisingly, compared to the other Vocaloid manga, those of you who did not get the above joke do not have to go looking for something else to read.
That's good if you're not a huge Vocaloid fan or want to see Rin in a more down-to-earth, slice-of-life setting. However, if you want to see crazy adventures of a cyber idol and her friends (maybe in alternate universes) then you're going to be disappointed.
I'll give you one guess which group I fell into.
If you really don't understand the title, "Rin-chan Now!" is the name of a song by Hatsune Miku and Megurine Luka. The two talk about all the things they want to do to dote on and/or embarrass Rin. sezu wrote the lyrics while Owatap composed the melody. Tamura, as he explains in the final pages, drew the illustrations for the original PV.
Most of Rin-chan Now! is made up of short comics (ranging from one page to about five) where Rin spends her days with her producer/manager. (I'm not sure if he is supposed to be a fictional version of Tamura or sezu.) At the end of each chapter, the producer adds a final comment, sometimes touching, sometimes funny. A lot of the things the two do are directly inspired by the original song, like switching Rin's hairpiece. Others are strange adventures like where Rin is criminally (cRINinally?) prosecuted for being too cute. Rin is still a machine in these adventures, and it's made clear that Rins are mass produced for anyone to buy.
The last third or so is where the rest of the gang starts appearing. This is where Rin-chan Now! becomes more of an all-out comedy rather than a slice-of-life manga. Rin busts out her infamous road roller and drives it down the highways of Japan like it's perfectly normal. It's this kind of story that I wanted out of Rin-chan Now! instead of a glorified self-insert fanfic. At the same time, though, Rin and her manager are so cute together that it's hard to be too harsh. Poor Rin is moved to tears at the thought of being replaced with another Rin, and the manager always treats her well.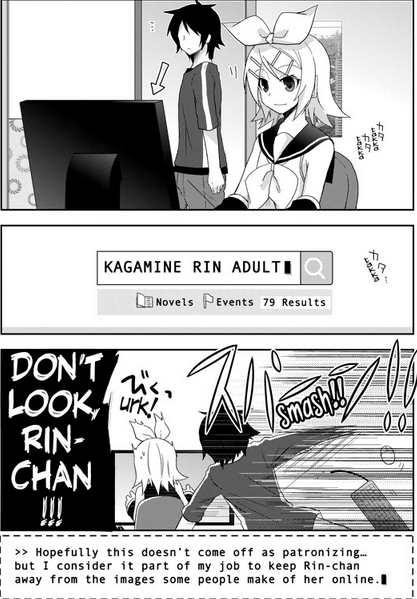 On the bright side, the art is probably the best I've seen in a Vocaloid manga. While Unofficial Hatsune Mix had some gorgeous color inserts, the actual manga often had off-model shots. While some of Rin-chan Now! is drawn by sezu, Tamura's Rin actually looks like Rin — and all the time! Meanwhile, while we do see the manager's head, his face is never seen. I guess this keeps the self-insertion-ness of the manga. Plus the manga doesn't have the translation issues of Unofficial Hatsune Mix.
All in all, I enjoyed Hatsune Miku: Rin-chan Now!, but I don't know who this manga is targeting. There aren't a lot of Vocaloid in-jokes, but it's also not a full-blown slice-of-life and sci-fi blend. Only the last third or so is real comedy, so I'm curious as to whether future volumes will follow this same format. That will probably help determine whether this series is more for a general audience or Vocaloid fans.