Is volume three of the collector's edition of the beloved shojo series Fruits Basket worth double-dipping?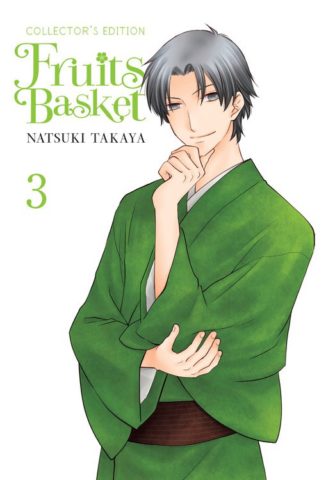 Title: Fruits Basket
Genre: Drama, supernatural
Publisher: Hakusensha (JP), Yen Press (US)
Artist/Writer: Natsuki Takaya
Serialized in: Hana to Yume
Translation: Sheldon Drzka
Original Release Date: July 26, 2016
Review copy provided by Yen Press.

I will be the first to admit I'm not really a Fruits Basket fan. If you've read my blog, you'll know I trudged through a reread last December, before Yen Press licensed Fruits Basket. Despite me being a big shoujo fan, this series never really impressed me. Part of it is due to it being hyped up, but part of it is me feeling the series just has some significant flaws.
But Fruits Basket has a devoted fanbase, and many others have been wanting a chance to experience the former bestseller for themselves. TOKYOPOP released this series back in the mid-to-late 2000s, and the company's closure meant that the series (as well as its hardcover rerelease) went out-of-print. In Japan, Fruits Basket was recently rereleased in a 2-in-1 format in honor of its sequel, Fruits Basket Another. Yen Press licensed this Collector's Edition, and this is the version being reviewed today.
As I said, I am not a huge Fruits Basket fan. In fact, it wouldn't make any of my top 10 lists. But if there is a high point of the series, this is it. The second half of this volume (a.k.a. volume 6) features one of the biggest, most dramatic twists in the series. It's a key point for both Tohru and Kyo, pulling Fruits Basket into the darkness.
But let's back up a bit. This volume opens with Tohru vacationing at a Sohma estate, and both Yuki and Kyo have been acting strange around Tohru. Over the course of almost 400 pages, a lot happens: we meet another member of the Zodiac, Kyo's true form is revealed, and Yuki decides to make progress. In between these major developments, readers are treated to some lighter fare. Kagura keeps trying to get Kyo to fall in love with her, Ayame crossdresses, and Kyo and Tohru think Jason is a kind of bear. However, the comedic highlight is a chapter featuring the Yuki Fan Club versus the Hanajima siblings. Let's just say the three club members aren't going to be the new Charlie's Angels anytime soon.
While the bulk of the original volume 6 is the shining point of this volume, the rest of the volume is strong as well. Fruits Basket is an emotional journey, and this volume deals it in spades. Kyo wants to be accepted, Kisa is bullied, and Ayame awkwardly tries to get closer to his brother.
But "emotion" doesn't just mean gut-wrenching drama. There is something for everyone. Romance? Tohru gets some cute moments with both Kyo and Yuki. Comedy? See above. Supernatural elements? Psychology? Check and check.
I never was a big fan of Takaya's art, but this volume is buoyed by the fact this is before the art shift. Takaya injured her drawing hand while working on Fruits Basket, and while I admire her dedication, the characters lose much of their visual appeal. You can see how much simpler Shigure and Kagura look on the front and back covers versus their appearance in the chapters. Of course, part of this is because the covers were drawn 15 years later, but Takaya's art, unfortunately, will never look like this again. Tohru's smile, the monster, Kisa's tears…Takaya does a good job of showing both hope and despair.
So if you haven't jumped on the Fruits Basket train, this is the part you don't want to miss.
But what if you've already jumped on the train? Like me, you may have wondered whether buying Yen Press' version is worth it if you've already own the TOKYOPOP volumes. Should you double-dip?
Of course, some of the differences are obvious: two-in-one versus singles, larger size, and color pages.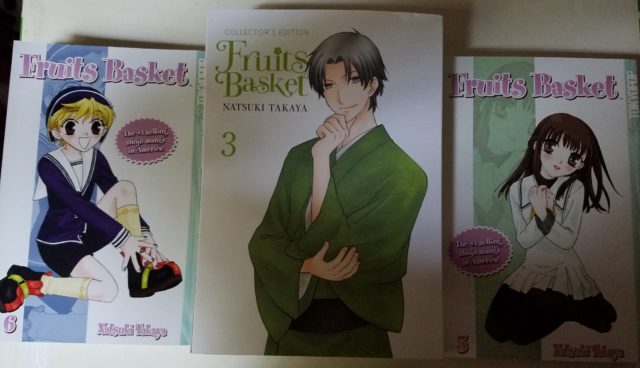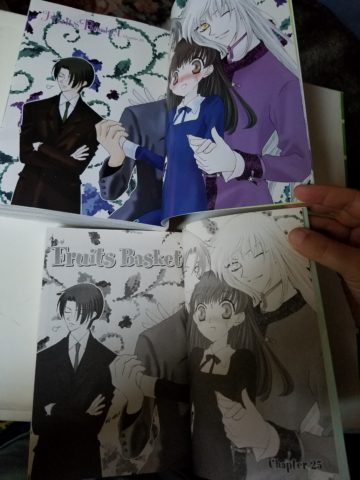 The covers of the Collector's version are like a faux dust jacket. I wish Yen Press would have made Fruits Basket a hardcover release. I know this would drive up the MSRP, but I don't care for the matte covers. One, I'm always worried about spines (although it seems pretty strong). Two, it seems like it would be damaged more easily, and I've had issues with the first volume's cover. Finally, hardcovers just seem more "collector's edition"-y.  The color pages include images from title pages, magazine covers, and the original version's covers. They are certainly nice, but if you already own the TOKYOPOP versions, you're probably better off importing Fruits Basket artbooks from Japan. The two would cost roughly the same amount as one volume of this Collector's Edition. I don't think there's any new art outside of the covers and the thank you page.
Inside, you'll find the translations are different as well. It's a bit disappointing because Fruits Basket is, in my opinion, TOKYOPOP's best work. However, while the translators each use different synonyms and organize their sentences differently, but the meaning is the same. The only major differences are the use of Japanese terms. TOKYOPOP's version uses "shishou" for Kazama; Yen Press' uses "master" and "teacher". Yen Press has Kyo sitting in seiza; TOKYOPOP says he's sitting straight. Yen Press includes translation notes while TOKYOPOP explains Japanese terms through footnotes and dialogue. As far as the text goes, this is not a worthy upgrade.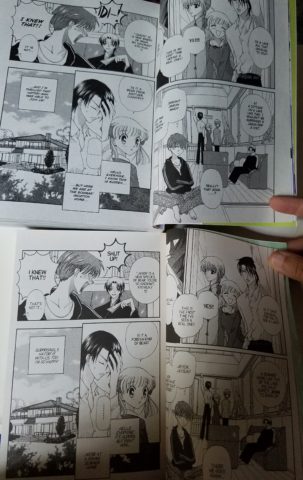 Takaya also took out her side columns and author's notes. These have been replaced with little pictures. I enjoyed her talks about her gaming habits, so I was sad to see them gone. (In the first volume of this edition, Takaya mentions they were out of date.) TOKYOPOP also included several pages of extras like what the zodiac signs mean, fan art, and other bonuses. These, as you might expect, are not included in the Collector's Edition. After the translation notes, there's a two-page preview of the next volume. Otherwise, it just ends.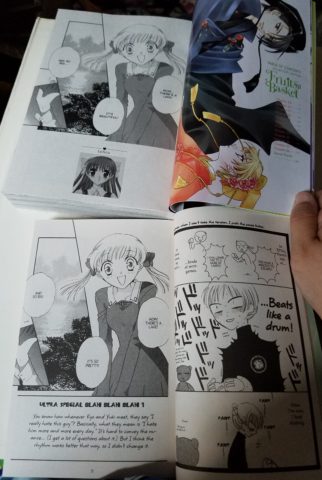 All in all, for new fans, this is probably the best volume of Fruits Basket you can buy. For fans who already own the original English release, unless you're a collector (get it?), double-dipping is not necessary.