Not even the extras are worth your time when it comes to reading the spinoff to The Devil is a Part Timer.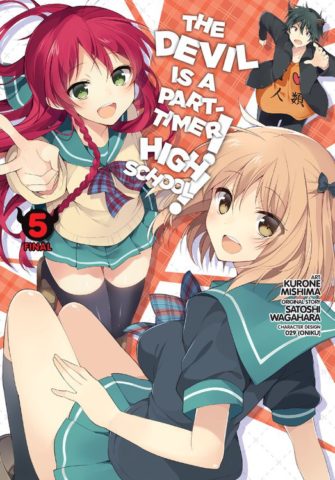 Title: The Devil is a Part-Timer! High School! (Hataraku Maou-sama! High School!)
Genre: Comedy
Publisher: ASCII Media Works (JP), Yen Press (US)
Story: Satoshi Wagahara
Artist: Akio Hiiragi
Character Designer: 029 (Oniku)
Serialized in: Dengeki Maoh
Translation: Kevin Gifford
Original Release Date: October 25, 2016
Review copy provided by Yen Press
I was never really impressed with High School!. While I adore the main The Devil is a Part-Timer! series, this spinoff just felt dull with its essentially abridged version of the tale. Despite this, the fourth volume was better than I was expected thanks to the Lucifer and Olba battle.
However, it's never a good sign when I start a volume off by having to double-check how the previous one ended. Especially when I had just finished marathoning the series two days ago.
Eeesh.
The Devil is a Part-Timer! High School! previously left off with wrapping up battle in the midst of the election speeches. As such, I expected this one to build towards the final results. Well, not only is the winner of the election spoiled on the back cover, the whole "election" is skipped! The opening chapter features Emi reminiscing about Maou's campaign speech as well as her sudden reunion with an old ally.
In short, we miss out on the Devil King versus the Hero rematch. Yay?
This is the final volume of The Devil is a Part-Timer! High School! The manga doesn't cover Maou and the gang's entire school lives and still leaves their future open. Basically, this volume proves it should have been called The Devil is a Part-Timer! Student Council President Election! Maou still has a rather tame goal, two girls have an interest in him, Alas Ramus' true form is still a mystery, and Lucifer still does nothing even after losing the election. It almost feels like one of those one-cour anime adaptations of still-running manga. There's more story to tell, but you will almost certainly never see it.
However, the problems with the story just get worse. This volume is very Emi-focused, which may be a big disappointment to some. She also becomes the textbook definition of tsundere in this volume. If you don't know what that means, all the anime-term encyclopedias out there should update to read:
Tsundere [tsɯndeɽe]: See The Devil is a Part-Timer! High School! Volume 5.
She says the opposite of what she's feeling. She runs away when talking to Maou. She blushes and angrily denies she has feelings for him. I think all Emi is missing is the popular "y-you idiot!" stammering. Emi always had these qualities (quite understandable considering her past), but I never felt like she was "just another tsundere". This volume reduces her to a rather bland heroine. Even what should be an emotional reunion just falls flat in favor of a pretty smile.
The only upside here is the bonus extras. First are the "The Devil ish a Kindergartner!" bonus 4-panel comics. Ashiya is little Maou's guardian and nursery school teacher, and he is even more doting than normal. Maou, Emi, and Chiho are all the same age as Alas Ramus, and their misadventures at daycare are pretty cute. Nothing like Emi breaking his horn as Chiho tries to replace it with a carrot!
I think I got more entertainment out of these comics than the whole High School! storyline. It's the sort of alternate universe tale I wanted to see. Even set in a high school, I wish High School! had accentuated the comedy, the absurdity of a Devil King happily hanging out at school instead of trying to force a bunch of plot points from the light novel series into five volumes. In addition, original light novel author Wagahara pens an epilogue. The highlight is a bunch of slams against Lucifer.
The extras prevented this volume of The Devil is a Part-Timer! High School! from completely leaving a bad taste in my mouth, but I cannot recommend it. Even without comparing it to the light novels or the original manga adaptation — which is nearly impossible to do — the manga skips the ultimate conflict and reduces the female lead to an overused character type.