From its characters to its narrative, Astra Lost in Space is one of the most enjoyable reads of 2017.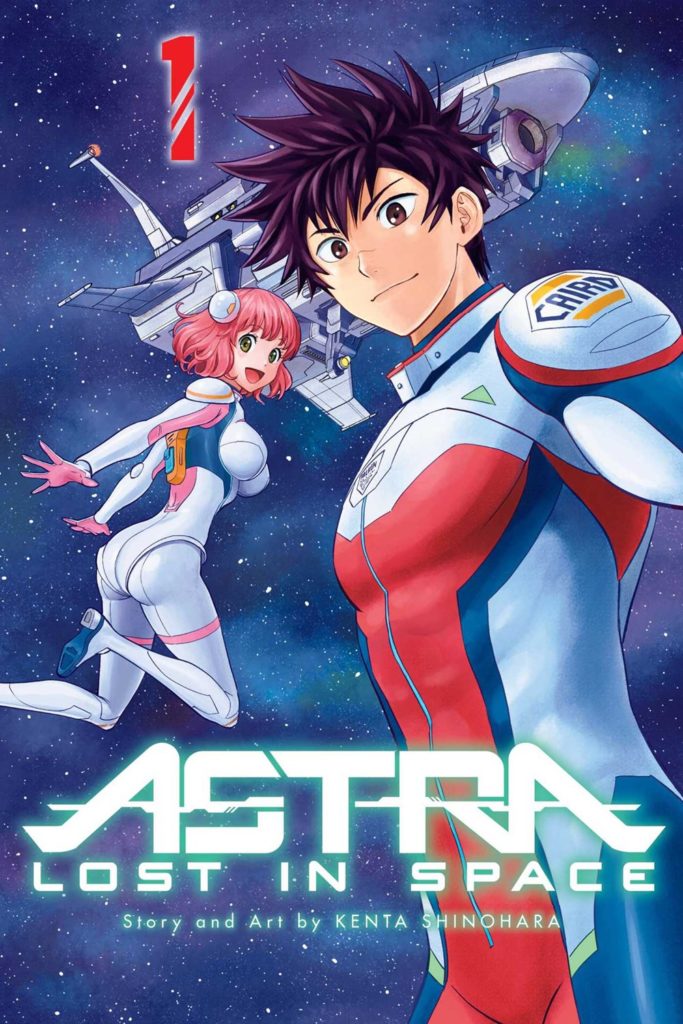 Title: Astra Lost in Space (Kanata no Astra)
Genre: Sci-Fi, Adventure, Comedy
Publisher: Shueisha (JP), VIZ Media (US)
Creator: Kenta Shinohara
Serialized in: Shonen Jump Plus
Translation: Adrienne Beck
Digital Release Date: October 24, 2017
Physical Release Date: December 5, 2017
Astra Lost in Space reminds me of The Martian. Well, The Martian + some kids just going on a road trip. Note that road trips generally involve a car, some money, and planning. The road trip in Kenta Shinohara's newest manga is not as elaborate, though there's a reason for that.
Serialized in Japan's Shounen Jump Plus, Shinohara follows up Sket Dance with a title that might be better. This manga is being localized by Marlene First (Editor of Haikyu!, Seraph of The End), Annaliese Christman (Letterer of My Monster Secret, World Trigger) and Adrienne Beck (Food Wars, Ancient Magus Bride). They are working on a title that involves a group of nine young kids taking a trip to Planet MCPA, where they would be on their own for five days without adult supervision. After getting dropped off there however, an orb sucked them straight into space. After finding a ship, they learn they're nowhere near home — they're over 5,000 light years away. Now they have to figure out a way to get back before dying in space.
Easily the weakest aspect of this manga is the comedy. Shinohara was an assistant to Hideaki Sorachi, who created Gintama. Unfortunately, I felt, and this is based on the anime, Sket Dance lacked the comedic timing or good jokes. In reading Astra Lost in Space and his manga for the first time, I have to say it's not great. The timing is either unnecessary or the dialogue just plain sucks. There are characters that contribute heavily to the standard comedy routines, and it doesn't always work. If Astra Lost in Space wanted to be a flat-out comedy than this would be an avoidable title.
But everything else about this manga is fantastic. The characters shine at almost every point. You have the female lead in Aries, who is cute and can remember things once but is very ditzy; Kanata, a motivated dude with the shounen style heart and the shounen style brain (is dumb); Zack, super smart, super oblivious; and a host of other characters that would take me a while to explain that manage to work with each other awkwardly. That's a good thing for this manga.
So what happens when you toss these different personalities into a situation like this? Well, you create a story of adventure and friendship. In this case, they are now extremely distant from their home planet. And while you know they're not going to give up, actually providing reasons why not to give up — for example, Kanata was part of a similar situation as a kid — works well. Explaining how they can "hop" back towards their home, as Aries explained it, is drawn really well, and I found it a nice touch. The motivations are good, and propelled by an unfamiliar situation, the personalities stand out.
Then it comes down to the survival aspects, where they have to find things to eat and ways to sustain themselves. That is shown off very well, like discovering something new in an unfamiliar place, and that sense of wonder and awe. It's not easy to capture it, but Shinohara does so extremely well. That's why turning the page to find out what happens next is exciting.
What also excites me is what's the truth behind the nine being sent off into space. It later is established that someone might have intentionally trashed the communications portion of the ship. Who could it be? Why would they do it? The possibilities are there for the story to go where it wants. It can turn into a space exploration trip or a mystery that will change how things proceed from here.
But the biggest thing is that it's fun. No, it didn't make me smile in laughter, but it made me smile because there's a sense of passion and adventure that's not always shown off well in manga. Astra Lost in Space executes that part to a tee, and I'm definitely looking forward to reading more of this when the next volume comes out.
(NOTE: There are free chapters of Astra Lost in Space on Viz's website.)