As relationships within the story finally come together, we get a much better volume of Anne Happy.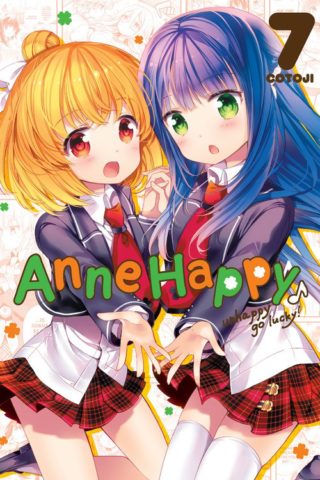 Title: Anne Happy
Genre: Comedy
Publisher: Houbunsha (JP), Yen Press (US)
Artist/Writer: Cotoji
Serialized in: Manga Time Kirara Forward
Translation: Amanda Haley
Original Release Date: November 14, 2017
Review copy provided by Yen Press
Anne Happy Volume 7 is essentially the Hibiki and Tsubaki show. Well, that's not entirely true. The others do get plenty of screentime, but the real developments lie in the aforementioned two. It's good because they really needed the development, bad because others like Botan just become one-joke wonders.
Almost the entire volume is dedicated to the sports festival. Considering the girls' luck, you can imagine it's not a smooth ride either before or during the competition. Botan keeps collapsing like a house of cards, Anne falls into holes, and Ruri is trying to keep everything and everyone from getting out of hand. So while the girls may be doing stretches or running a race, it's still very much business as usual. Especially since their competition features the best athletes from across the country! Kodaira also continues to keep surprising the girls, not even revealing what the final event of sports day is. (It's a combination scavenger hunt and obstacle course, but the volume ends before we see the end of it.)
The training and actual events contain a lot of the silly mishaps the manga has become known for. However, the story starts to take a step forward for Hibiki and Tsubaki. While Ren has had no problem accepting Anne and the others as friends, Hibiki has not. The self-proclaimed Ren's #1 fan though actually manages to thank Ruri for her cookies (in her own tsundere way of course). She even agrees to work with Ruri on sports day, even though it technically is for Ren's sake. But considering Hibiki has spent almost this entire series boasting and whining that Ren is getting along with the other girls, it's enormous progress.
Meanwhile, Tsubaki tries to summon up the courage to get close to her classmates. I know I've said before a lot of readers will really sympathize with her, and it's still true. Even though she knows Anne would warmly welcome her into her group of friends, Tsubaki still isn't comfortable with in-person conversations. A lot of us are more comfortable behind a screen than face-to-face conversations. The volume teases the blooming friendship between Anne and Tsubaki, but when push comes to shove, Tsubaki manages to ask Botan to be her partner. Again, another major development, but I couldn't help feeling like it was a bait-and-switch. Tsubaki's been watching all the others, but she's been trying to reach out to Anne most of all. At least the main five might officially become the main six. Finally!
Volume 7 also gives us a peek into the second year Happiness Class. We've know for a while there are other groups of unlucky students, but this is the first time I believe we've seen any. Unfortunately, we don't get to see them as anything other than friendly upperclassmen. I'm not sure whether this is supposed to mean the Happiness Class has helped them deal with their problems or if these two in particular don't have an easily identified oddity. I've mentioned before I'd like to see more of the other students' misfortunes, and it's still one of my biggest disappointments of the series.
Cotoji continues to throw in some blatant fanservice like Ren leaning over a lying-down Botan. (They were doing exercises.) The girls also don some very skimpy cheerleader uniforms made by, of all people, their teacher. Personally, I found the best part of the art to be some of the more comedic panels, like Tsubaki hiding a whole bunch of mini-Timothys under her dress like a secret agent or Hibiki's jealousy causing her and Anne to tumble like a ball.
I remember reading translation notes for this series before, but I don't remember them being placed on an illustration with a very busy dotted background. They're written in a small font, so not only are they easily missed, but they're hard to read. Luckily, there are only three of them, but I wish they were placed on one of the two previous pages where there was plenty of white space available.
If you've been following Anne Happy for a while now, you'll be glad to see the ties between the six girls strengthening. It's a lot of pure fun, and the final event should remind of what the so-called misfortunate girls have that their peers don't. Combined with Tsubaki's personal struggle, Anne Happy Volume 7 is vastly better than the previous volume.