Chances are fans of the video game series will get a kick out of this more than those unfamiliar to it.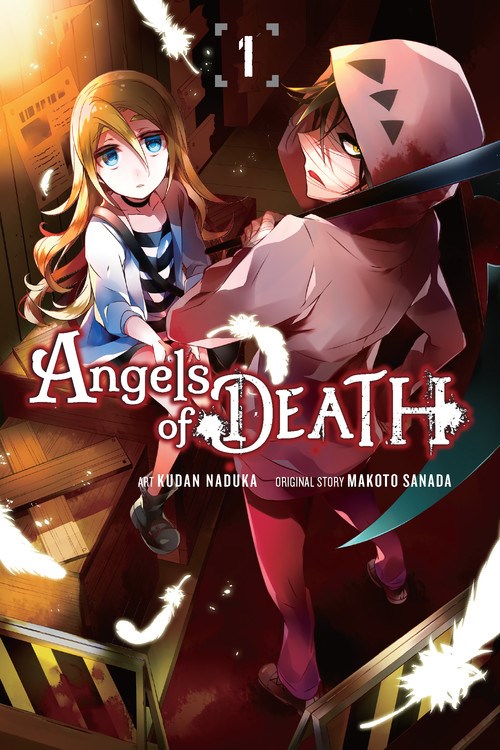 Title: Angels of Death (Satsuriku no Tenshi)
Genre: Horror, Adventure, Psychological
Publisher: Media Factory (JP), Yen Press (US)
Story/Artist: Makoto Sanada, Kudan Naduka
Serialized in: Comic Gene
Translation: Ko Ransom
Release Date: December 19, 2017
A review copy was provided by Yen Press.
Honestly, as I was reading Angels of Death, all of it seemed implausible. A 13-year old girl trapped alone in a hospital? Has to come across death a number of times? Ok, so manga can be weird, but this felt too unrealistic. Then I wondered why it felt like it was based off a video game.
Well, that's because it is!
Satsuriku no Tenshi, localized by Yen Press as Angels of Death, is based off a video game by Makoto Sanada. That was created using RPG Maker VX Ace engine, and was released for free in chapters from August 2015 to February 2016 in Japan. It eventually was released on Steam after AGM PLAYISM picked it up for commercial release. This is a title around Yen Press' wheelhouse, since they've brought over Corpse Party and Forbidden Scrollery (based on Touhou). Working on this title is Attack on Titan and Bakemonogatari (to name a few) translator Ko Ransom, and lettering it is Anthony Quintessenza, who's done works like Flowers of Evil and To The Abandoned Sacred Beasts.
The story revolves around 13-year old Rachel Gardner, who mysteriously wakes up alone in a room. She thought she was in the hospital since she was checked in for counseling — she saw a murder — but eventually learns that's no longer true. Well, she learns that after watching a bird get sliced up by a bandaged man wielding a scythe. She then meets a doctor whose name is Danny and soon learns Danny has an unhealthy obsession with eyes. After the terror of meeting those two, she wants to die. The bandaged man, who calls himself Zack, tells her he'll kill her once they escape whatever situation they're in.
Once this moment happened, I couldn't help but think back to The Ghost and the Lady. In that sense the two are the same — driven mad by family and peers, Florence Nightingale reached out to the ghost in Theatre Royal and asked to kill her. The ghost said he would, but only if she went into despair. In Angels of Death, Rachel experiences enough horrors to the point where she doesn't want to deal with it anymore. This leads to asking Zack, who states he just wants to kill things, to end her life. His problem is he doesn't want to kill her yet — he broke the game's rules. So he needs to escape, and he chooses to ask her to help him get out. Then he'll kill her.
Angels of Death has a few things going for it. It has unlikable characters and a story that's not terribly complex. In certain cases having characters you hate can make for an entertaining story (see: Gone Girl). Kudan Naduka's art isn't super great, but it's fine. For example there's one part where he draws Doctor Danny with two eyes in one socket, and it does look fairly creepy. And with the ideas being simple, it makes for a quick, breezy read.
The issues with Angels of Death prevent it from being a must-read whenever it comes out. The timing for every moment where the character's in trouble is off, and prevents me from taking any of it seriously. To be fair, sticking a 13-year old girl into this mess doesn't help either. Her sudden personality change was also hard to believe. In general, the narrative doesn't do a good job of establishing the necessary tension. The good news is there are production notes that elaborate on converting some game elements into the manga. The bad news is it doesn't seem to work all that well.
That said, this feels like those who are into the franchise would get a kick out of seeing more of this. They would have a better understanding of the situations and the characters, and appreciate seeing the game in manga form. But it's certainly possible to create a good manga based off a video game. I just don't think this is one of them.