This volume focuses on the 3B: babes, boobs, and...bugs. All three are bad, for very different reasons.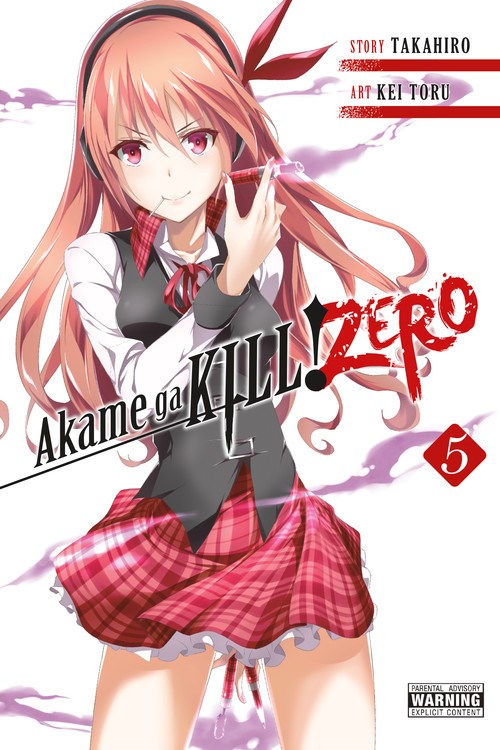 Title: Akame ga KILL! Zero
Genre: Action
Publisher: Square Enix (JP), Yen Press (US)
Artist: Kei Toru
Writer: Takahiro
Serialized in: Big Gangan
Translation: Christine Dashiell
Original Release Date: March 21, 2017
Review copy provided by Yen Press.
Part of me wonders if this is called Akame ga KILL! Zero because it has zero aspects of the original that I love.
Okay, that's an exaggeration. But if I had to give this volume a name, it would be Akame ga KILL! Zero 3B.
"What's 3B?"
Oh, thank you for asking! It's the three main things in Volume 5: babes, boobs, and bugs.
As for the latter, I hate bugs, so there definitely were a lot of shocking images in this volume. The Empire's latest enemy uses them as a weapon, and the insects prove to be more dangerous and annoying than their real-world counterparts, providing a real challenge to Akame's squad. It's these battles that show some of the gory, unabashed horrors of war that made Akame ga KILL! so well-received.
Had the entire manga been dedicated to this battle, I would have probably enjoyed it more. Unfortunately, the author and artist still think that Zero needs to sex it up in order to reach the seinen market. You really very quickly why Volume 5 is shrinkwrapped: a fully naked Gin asks Natala to take her first time. In addition, we meet an old man who still is a virgin, see some girl x girl smut, and watch as poor Chelsea is nearly drafted into a female orgy. I haven't checked in on Akame ga KILL! in a while, but I don't remember thinking, "Hmm, you know what this series needs? A crazed lesbian who wants to show everyone the 'true' way to love." Call me crazy, but this wasn't the type of action I signed up for. And sheesh, I'm starting to think Tsukushi should just go all out and make a towel her new uniform. How many times has she fought in something other than clothes?
I'm also finding Akame's random "people are unhappy" comments feeling like they're being forced in. Instead, it just seems random that Akame — who was last seen being confessed to by Green and saying she can only love her sister right now — is worried about a town we haven't seen her interact with. The scene would have had more impact if we had recently seen Akame walking around town and looking at the state of the world. I wish we could have seen a reason why Akame doesn't want to believe the villagers are all dissidents. Maybe actually show her actually overhearing or seeing how poor the people are? Instead, we need more proof that both Akame and Kurome are gluttons.
As for the art, obviously expect a lot of fanservice. If you want to see lots of focus on the female anatomy, you're going to be thrilled. The action scenes are a bit better than I remember, or perhaps it's because bugs eating someone from the inside has a lot of impact. The bugs also act much like a shadow-type weapon with how they change shape and can even create dark barriers. On the other hand, one of her allies has an extra set of arms, but her actual weapons (chakrams) look like dinner plates with holes. Not exactly a deadly-looking weapon…
All in all, Akame ga KILL! Zero continues to unimpress me. I thought we would get to see more of Akame's internal struggle between what the Empire has taught her and what she actually sees with her own eyes. Instead we just keep finding reasons for boobs.