So, the summer anime season's begun. Let's see what's actually interesting, and what's really not.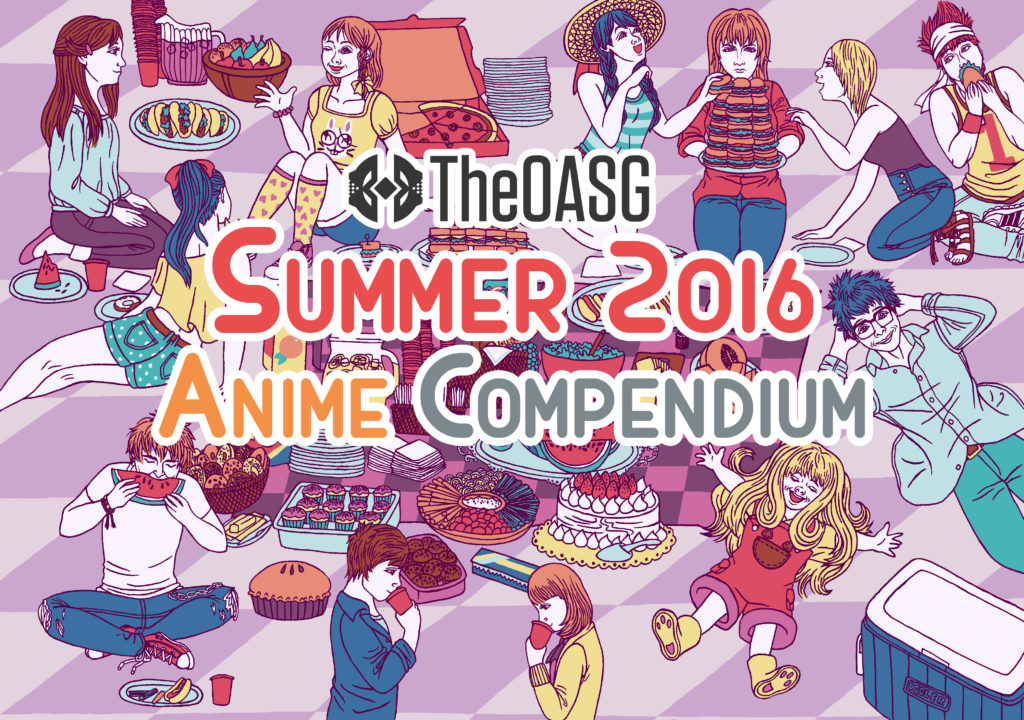 Hi! Welcome to the Summer 2016 Edition of the TheOASG Compendium!
…Wait you say? Something about a Spring Edition?
…Yeah, we forgot about it! Sorry! We'll try to be more mindful down the road. For now though, we have new anime that will make their debuts. Some will be remembered for greatness, others will be remembered for its ingloriousness. Then there will be the ones we simply won't remember. It is what it is. But here's our chance to acknowledge them.
So without further ado — and excluding the shorts — here's the new shows I'm looking forward to, from most to least.
---
1) 91 Days
Studio: Shuka
Director: Hiro Kaburaki
Series Composition: Taku Kishimoto
Synopsis: The time is 1920, five years after National Prohibition Law took place at a city called Lorel in the United States. Main character Avilo arrives to join the Vampiro family mafia undercover in order to seek revenge of killers who killed his parents and brother in this mafia. A Killing starts kills. Revenge starts new revenge. A story of vengeance and sorrow starts now.
Initial Report: You got the studio that adapted Durarara!!, for better or worse, working on this. You have the man who's worked on Bunny Drop, Silver Spoon, Haikyu, and Erased. It's streaming on Crunchyroll. The worst that could happen is that it's first episode is a tragic abomination. I'm not expecting it to be.
2) Mob Psycho 100
Studio: BONES
Director: Yuzuru Tachikawa
Series Composition: Hiroshi Seko
Original Creator: ONE
Synopsis: Kageyama Shigeo (a.k.a. "Mob") is a 8th grader with psychic abilities. He could bend spoons and lift objects with his mind from a young age, but he slowly began to withhold from using his abilities in public due to the negative attention he kept receiving. Now, the only thing he wants is to become friends with a girl in his class, Tsubomi. With his psychic "mentor" (who has no psychic powers), he continues his daily life, attempting to realize his purpose in life.
Initial Report: This will be the anime that's unpopular with the mainstream but those in the know realize it's so much better than One Punch Man.
To be fair though, I can't blame anyone who saw the trailer and SPAZZEDD THE HE–
3) Sweetness and Lightning
Studio: TMS
Director: Tarou Iwasaki
Series Composition: Mitsutaka Hirota
Original Creator: Gido Amagakure
Synopsis: Having lost his wife, math teacher Kouhei Inuzuka is doing his best to raise his young daughter Tsumugi as a single father. He's pretty bad at cooking and doesn't have a huge appetite to begin with, but chance brings his little family and one of his students, Kotori Iida, together for homemade adventures. With those three cooks in the kitchen, it's no wonder this dinner table drama is so delicious.
Initial Report: I've actually read this manga. It's pretty sweet. Kind of adorable. And might make you hungry. Just work on a food block where you have Food Wars then Sweetness & Lightning streaming on your PC. Don't need the Food Network anymore!
4) Orange
Studio: Telecom Animation Film
Director: Hiroshi Yamazaki
Script: Yuuko Kakihara
Original Creator: Ichigo Takano
Synopsis: One day, Naho Takamiya receives a letter written to herself from ten years in the future. As Naho reads on, the letter recites the exact events of the day, including the transfer of a new student into her class named Kakeru Naruse.
The Naho from ten years later repeatedly states that she has many regrets, and she wants to fix these by making sure the Naho from the past can make the right decisions—especially regarding Kakeru. What's more shocking is that she discovers that ten years later, Kakeru will no longer be with them. Future Naho asks her to watch over him closely.
Initial Report: Seven Seas is publishing this great manga. Crunchyroll has the manga online. I'm still weirded out that such a great manga could be named so poorly, but I think, based on its visuals, time traveling capabilities, and drama capabilities, this could be great.
5) Days
Studio: MAPPA
Director: Kounosuke Uda
Original Creator: Tsuyoshi Yasuda
Synopsis: The series is about two boys named Tsukushi and Jin. Tsukushi is a boy with no special talent or traits while Jin is considered a soccer genius. On one stormy night, Jin meets Tsukushi, and they get dragged into the world of soccer.
Initial Report: I'm selfishly putting this here for two three reasons: 1) MAPPA 2) It's sports, will support it and hope for the best 4) Kounosuke Uda directed Ginga e Kickoff. Ginga e Kickoff is a soccer anime (based off a novel) targeted for kids and was really good. This is a step up in class, but one I'm confident he can't do wrong.
6) Battery
Studio: Zero-G
Director, Script: Tomomi Mochizuka
Original Creator: Atsuko Asano
Synopsis: Meet Takumi Harada—not even in junior high and he's the best pitcher in the region, although he's frustrated and ready to give up, because he can't find a catcher who is good enough to keep up with how he pitches in this backwater town his family has just moved to. Then along comes a kid named Gou Nagakura…
Initial Report: I'm mostly just glad A) this is based off a completed work so B) I don't have to put myself in an Ace of Diamond situation. Ace of Diamond had some great moments, but overall was mostly mediocre. Otherwise, this premise reminds me of a manga Jump had serialized a long while ago. Battery is the non-shounen version of that.
7) Amanchu!
Studio: J.C Staff
Director: Junichi Satou, Kenichi Kasai
Series Composition: Hitomi Mieno
Original Creator: Kozue Amano
Synopsis: Hikari Kohinata is a cheerful 15-year-old girl who lives near the ocean and she spends much of her time diving as a result. On her first day of high school, she meets a teacher who also likes scuba diving. There's also a 16-year-old classmate, Futaba, who gets dragged along in Hikari's maelstrom as soon as they meet at school.
Initial Report: This is basically the Aria of my generation, since I didn't watch Aria when it aired eons ago. This is by the same creator, so I'm expecting to be the same. Also, I should note the MAL version implies there's going to be Yuri, which means nothing except that's going to turn some people off and turn some people on. They will also still watch it because it's relaxing. Yeah.
8) The Morose Mononokean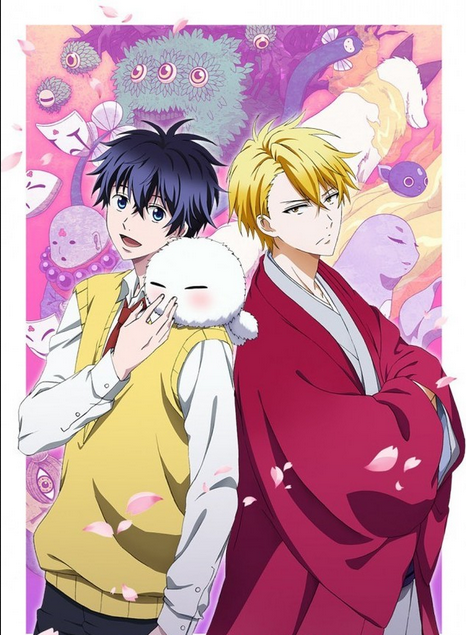 Studio: Pierrot Plus
Director: Akira Iwanaga
Series Composition: Takao Yoshioka
Original Creator: Kiri Wazawa
Synopsis: Ashiya has spent the first seven days of high school stuck in the infirmary because of a youkai attaching itself to him. He ends up asking the owner of a small tea room called the "Mononokean" for help. This is a tale involving the very morose owner of Mononokean guiding the youkai that happened to wander into this world go to the next world.
Initial Report: I don't know if this is actually good. I still remember when this was announced at AX last year and scratching my head. The premise seems ok. But honestly, I'm going by Helen, who likes this series a lot. If she happens to like a series, which is rare, then that means it's gotta be worth watching.
9) ReLIFE
Studio: TMS
Director: Satoru Kosaka
Series Composition: Kazuho Hyoudou
Original Creator: Sou Yayoi
Synopsis: The story follows Kaizaki Arata, a 27-year-old jobless man, who fails at every job interview he had after quitting his last company. His life changes after he met Yoake Ryou of the ReLife Research Institute, who offered him a drug that can change his appearance to 17-years-old and to become a subject in an experiment for one year. Thus, he begins his life as a high school student once more.
Initial Report: Same as above: if Helen likes this series, then I better check it out…with a twist! The premise reminds me a bit of Idol Dreams, which is what I read and liked a lot. After the whole turning back into dumb kids thing they're both completely different, but I guess that means it's gotta be good. I hope.
10) Hitori no Shita: The Outcast
Studio: Haoliners Animation League
Director: Xin Wang
Synopsis: One day, Zhang Chulan is attacked by zombies in a graveyard. In the midst of that situation, he saves the life of a girl, throwing the kitchen knife in his hand in order to kill the enemies. The girl tells Chulan, who is relieved, to face his hardships head on and leaves. However, Chulan later sees that girl again at his university. From that moment, Zhang Chulan's destiny begins to move. There will be strangers with special powers appearing one by one, with battles involving those abilities. Each episode will bring a new mystery to light.
Initial Report: This is a China-Japan production, so I'm intrigued by what this is all about it. The premise seems good enough. While the trailer's visuals didn't look too good, it had one moment where the camera was flipped while a girl was kicking someone's ass, so I think that's good enough to give it a look if it even gets streamed here.
11) New Game!
Studio: Doga Kobo
Director: Yoshiyuki Fujiwara
Series Composition: Fumihiko Shimo
Original Creator: Shoutarou Tokunou
Synopsis: The main character Suzukaze Aoba graduates from high school and joins a game company. The person who made the game that Aoba loved as a grade-schooler just happens to be Aoba's senior at the company. The story follows girls who work and aspire at the Eaglejump company.
Initial Report: The only thing that matters is Doga Kobo's adapting this. Doga Kobo's ok in my book.
It does look kind of fun from the trailer also.
12) Handa-Kun
Studio: Diomedea
Director: Yoshitaka Koyama
Series Composition, Script: Michiko Yokote
Script: Miharu Hirami
Synopsis: Set six years prior to the events of Barakamon, detailing the life of Seishuu Handa as a high school student—and a very interesting life it is.
In Handa-kun, Seishuu Handa is admired by his peers as a calligraphy genius and given the utmost respect, but Handa-kun himself is under the mistaken impression that the deference and attention he receives from the other students is actually bullying. Handa just wants to live a quiet life, but hilarity ensues as one character after another challenges his position as the school idol, and somehow comes away as a fan all while Handa is horrified and clueless.
Initial Report: Hey, did you guys watch Haven't You Heard? I'm Sakamoto? Handa-kun is like that, except it's protagonist is the opposite of Sakamoto. Also Handa-kun has the distinction of being a spinoff of Barakamon, so yeah, we get to see the protagonist of that series back in high school, and how annoyingly insecure he is. I say that like I've read it. I have, since Yen Press is releasing it…
13) Rewrite
Studio: 8bit
Director, Series Composition: Motoki Tanaka
Synopsis: Kazamatsuri, a modern, well-developed city renowned for its burgeoning greenery and rich Japanese culture, is home to Kotarou Tennouji, a high schooler least privy to the place's shared values. Content to fill his pockets with frivolity, the proud and nosey boy whiles away his time pestering the self-proclaimed delinquent Haruhiko, and indulging in his amorous feelings toward the oddball Kotori.
Equipped with the superhuman ability to permanently rewrite any part of his body to multiply his strength or speed, Kotarou is naturally drawn to the supernatural. One special meeting with the lone member and president of the Occult Research Club, the "Witch" Akane Senri, leads to Kotarou reviving the Occult Club by recruiting Kotori and three other members: the clumsy transfer student Chihaya, the strict class representative Lucia, and the unassuming Shizuru. As Kotarou unveils hidden secrets of each member of the Occult Club through their shared adventures, he will inevitably encounter a fate that only he might be able to rewrite.
Initial Report: The only thing that stands out with this title is how KyoAni refuses to animate more Key shows. Like, seriously, what's up with that?
On another note some of the characters look dated from what I saw in the trailer, but the actual synopsis and premise seem ok so…*shrugs*
14) Alderamin in The Sky
Studio: Madhouse
Director: Tetsuo Ichimura
Series Composition: Shogo Yasukawa
Original Creator: Bokuto Uno
Synopsis: The Katvarna Empire is at war with the neighboring Republic of Kioka. In the Katvarna Empire, the lazy, woman-admiring Ikuta hates war, but due to certain circumstances, he grudgingly takes the High Grade Military Officer Exam. No one would have expected that this 17-year-old young man would eventually become a soldier called a great commander by others. Ikuta survives this world engulfed in war with his superior intellect.
Initial Report: If you did a side by side comparison of the art from the LN to the anime, you'd wonder why the heck is Madhouse making this less anime than it should be.
I sort of jest, but it doesn't look quite that appealing to me. Well, the character designs at least. The premise seems ok, except is this supposed to be a harem since it has a women admiring protagonist or is this going to actually matter and succeed? We'll find out!
15) Qualidea Code
Studio: A-1 Pictures
Director: Kenichi Kawamura
Script, Original Creators: Wataru Watari, Koushi Tachibana, Sou Sagara
Synopsis: The story takes place in a world where people continue their war against the "unknown"—the enemy of humanity. Children who have been evacuated to a cold sleep facility during the invasion by the "unknown" several decades ago wake up from their slumber and learn that their bodies developed some supernatural forces. In order to protect the country from the "unknown" emerging from the Tokyo bay gate, the boys and girls wage battles in the defense the cities of Tokyo, Kanagawa, and Chiba.
Initial Report: Basically a big multi-media project in Japan, we finally get an anime out of it, and it's done by A-1 Pictures. Was kind of hoping to take a break from them, but this has Taku Iwasaki composing the music, so chances are this won't happen. Trailer does seem ok.
16) Kono Bijutsu-bu ni wa Mondai ga Aru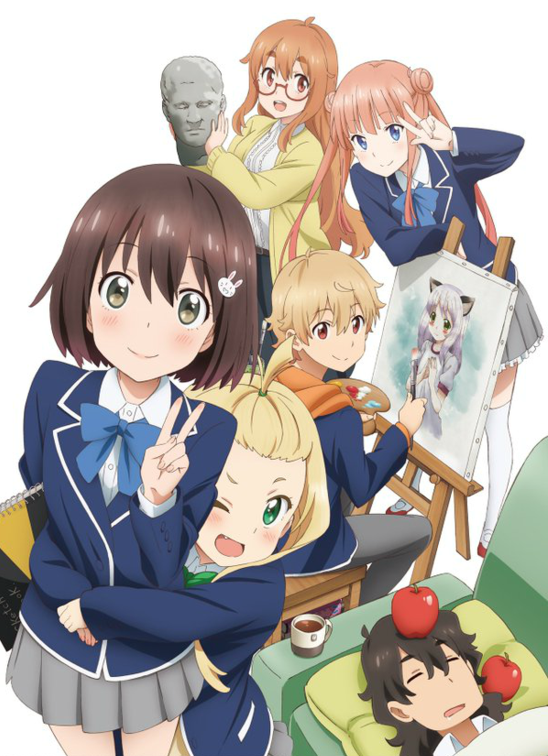 Studio: feel
Director: Kei Oikawa
Series Composition: Naruhisa Arawaka
Original Creator: Muru Imigi
Synopsis: Kono Bijutsubu ni wa Mondai ga Aru! focuses on an art club in a certain middle school, and its members: Subaru Uchimaki, who is a genius at drawing faces, but only wants to draw the perfect 2D wife; Colette, a rich troublemaker who never stops making mischief; and the club president, who sleeps through sessions and collects sleeping aids. Mizuki Usami is the only person in the club who wants to do art club-like activities, and constantly struggles to do so.
Initial Report: Nothing really offensive on this work aspires to be or on its trailer. It's more or less a case of interest, and I just find other things interesting than this. Probably could use a relaxing show if Amanchu! doesn't work out so well.
17) Regalia: The Three Sacred Stars
Studio: Actas
Director: Shin Tosaka
Series Composition: Keigo Koyanagi
Synopsis: Sisters Yui and Rena live a peaceful life in the kingdom of Enastoria, but they become involved in a vortex of destiny when a giant robot attacks Enastoria.
Initial Report: Mechs! Girls! You can't go wrong!…Well, you can, but whatever. I actually did not like its trailer. Nothing of real interest to me. But at least the name made me call it The Sacred Stones. (Based off of Fire Emblem 8)
18) Saiki Kusuo no Ψ Nan
Studios: J.C Staff, Egg Firm
Director: Hiroaki Sakurai
Series Composition: Michiko Yokote
Orginal Creator: Shuichi Asou
Synopsis: Saiki Kusuo, an otherwise normal teenager, has various super-powers, telepathy and telekinesis included. This should have been cool, but through experience, Saiki comes to realize that having powers while trying to lead an ordinary life is a bad mix.
Initial Report: The only time I ever heard of Saiki was when he crossed over with Koro Sensei in Assassination Classroom. So one, confirmed for being in the same universe. This isn't a Jump Universe, it's a teacher student universe. Or…something.
Two, based on the description, if it's just gags, then maybe it'll be worth my time. But there's no way of knowing how it'll be until I see a trailer…which it doesn't have…
19) Taboo Tattoo
Studio: J.C Staff
Director: Takashi Watanabe
Series Composition: Mayori Sekijima, Masamitsu Ootake
Original Creator: Shinjirou
Synopsis: Seigi, a martial arts trained middle schooler, often feels driven to protect the weaker people around him. One day, he defends a homeless man against some punks, and the man gives him a strange tattoo on his palm in return. The tattoo is a secret weapon produced in the arms race between America and the Serinistan Kingdom.
Seigi finds himself in over his head when a powerful girl, using the same secret weapon, violently pursues him in order to retrieve it. His skill at martial arts may not be enough to keep him alive, but will he be able to learn how to trigger the power of his tattoo in time?
Initial Report: Look at that. It's another manga turned into anime that's licensed here. Man, manga publishers back in the day could only hope the title that got licensed would turn into an anime. But it seems to be happening with a bit more regularly nowadays. That could be just me. It also makes me think I should work on a post–
*ahem* This is also a manga I've read. It's pretty average. It has some cool fights, but ruins itself by doing everything else poorly. I'm not confident this staff can change any of that, but I'll probably watch this anyway.
20) Time Travel Shoujo: Mari Waka to 8-nin no Kagakusha-tachi
Studio: WAO World
Director, Series Composition: Osamu Yamazaki
Synopsis: Time Travel Shoujo is based on a 1983 book titled Jishaku to Denki no Hatsumei Hakken Monogatari by Japanese educator Kiyonobu Itakura. It is part of the Hatsumei Hakken Monogatari Zenshuu series which describes the story of various scientific discoveries and inventions throughout history. The 1983 book focuses on discoveries related to magnetism and electricity.
Initial Report: I'm actually super curious as to why something so old is getting adapted and why one guy's directing and writing it but…I'm not super invested in checking it out. Yet I'm not looking to dismiss it. Will look to give this an episode or two.
21) Servamp
Studios: Brains Base
Director: Hideaki Nakano
Series Composition: Kenji Konuta
Original Creator: Strike Tanaka
Synopsis: When a stray black cat named Kuro crosses Mahiru Shirota's path, the high school freshman's life will never be the same again. Kuro is, in fact, no ordinary feline, but a servamp: a servant vampire. While Mahiru's personal philosophy is one of non-intervention, he soon becomes embroiled in an ancient, altogether surreal conflict between vampires and humans.
Initial Report: Says vampire in its name. Pass.
Ok, some more things: Seven Seas has licensed it. It can't be the normal human-vampire saga right?
…Yeah, I got nothing right now.
22) Mahou Shoujo? Naria☆Girls
Studio: Bouncy
Director, Series Composition: Koutarou Ishidate
Synopsis: Urara, Hanabi, and Inaho are three girls who aim to become nationally-renowned characters by creating animation of themselves! They chose the magical girl theme to catch the attention of everyone from children to adults! Can they safely become popular characters in a one-cours magical girl anime?
Initial Report: They gave the guy who did Boku no Imouto wa "Osaka Okan" and gdgd Fairies the chance to do a TV anime. What is wrong with these people? Well, no offense Naria Girls. I don't think you'll be terrible. I just don't find you any interesting to watch. Maybe if people say you're great and I dropped a few of these early shows, I'll get back to you.
23) Momokuri
Studio: ???
Director: ???
Series Composition: ???
Synopsis: Yuki Kurihara has finally been granted her wish of dating her crush Shinya Momotsuki, a.k.a. Momo. At first glance, she just looks like a normal but very cute girl. However, she is in fact a maniac over Momo, taking notes of his activities and never missing the chance to see him in a cute moment. Momo, on the other hand, is inexperienced in love, and just wants to make Yuki happy.
Initial Report: I did read this manga. I was not as impressed as I would've hoped I would when you have a really devoted girl trying to get all up in her man's grill. I don't think I'm prepped to go through this one again.
24) Scared Rider Xechs
Studio: Satelight
Director: Hideto Komori
Series Composition: Naruki Nagakawa
Synopsis: The Blue World, which symbolizes reason, is under constant attack by the creatures called the Nightfly O'Note originating from the Red World, symbolizing instinct. Akira Asagi, the 17-year-old protagonist who is a researcher at Blue World, is nominated to lead the war at Ryuukyuu LAG, a proud defense facility on the islands of Ishigaki and Iriomote. She meets the sixth combat unit "IS," which was formed four years after a fierce battle that annihilated the fifth unit. Akari must lead these six riders, also called the Scared Rider Xechs, to fight against the other world while at the same time deepening the relationship among them.
Initial Report: It's not you Scared Rider Xechs, it's your history. Well, the history you share. See, this is based off a game series, and last I checked, game series do very well…in that they're the first thing I skip on a chart. The last anime based off a game I liked was Persona 4. It's been a while since that one aired. And unless there's a lot of raving and stuff, I'm happy to go skip this one too.
25) Ange Vierge
Studio: Silver Link
Director: Masafumi Tamura
Series Composition: Katsuhiko Takayama
Synopsis: The story of the card game follows what happens when "Hairou" portals suddenly open, fusing three different worlds together. As a result, various mysterious "Exceed" powers are awakened in teenaged girls. An academy for these so-called "Progress" girls is built on the isolated Seiran Island in the Pacific.
Initial Report: Card games also fall in the good category of anime to skip immediately without a second thought. There's nothing too wrong with the trailer and synopsis. It's just nothing that gets me interested. And yeah, card games. That's gonna be tough to overcome.
…Then you add Silver Link to the process. Nope.
26) Cheer Danshi!!
Studio: Brains Base
Director: Ai Yoshimura
Series Composition: Reiko Yoshida
Synopsis: The story revolves around the "slightly odd and cute" members of a cheerleading squad at a men's university.
Initial Report: I will say this. The trailer was actually upbeat. I'm still thinking the premise is boring and I have little confidence in this being any good, but it might have some heart after all. Me, on the other hand, lost his heart ages ago. So, too bad for this one.
27) B-Project (Kodou* Ambitious)
Studio: A-1 Pictures
Director: Eiji Sugunama
Series Composition: Hitomi Mieno
Synopsis: The anime's story follows Tsubasa, a new hire in the A&R department of the major recording company Gandala Music. Tsubasa is immediately assigned to oversee the idol unit "B-PROJECT," which is made up of three idol groups: Kitakore, THRIVE, and MooNs. This is Tsubasa's first job, and she gets involved in various incidents and accidents as she deals with this group of young men who each have their own differing personalities.
Initial Report: Look at that. ANOTHER game. This one of the Otome variety. Unless it's as stupid as Uta No Prince Sama, or somehow manages to have the energy of the first episode of Bakumatsu Rock, this is a very good pass.
28) First Love Monster
Studio: DEEN
Director: Takayuki Inagaki
Series Composition
Original Creator: Akira Hiyoshimaru
Synopsis: Nikaidou Kaho is a daughter of a rich family and her whole life everyone's been nice to her. When moving to her new high school dormitory, she almost gets hit by a truck but is saved by a boy. It's love at first sight for Kaho but when asking him his name, he tells her she's weird. Kaho is shocked since it's the first time anyone's ever said mean things to her. Soon enough, she finds out that the boy who saved her lives in the same dormitory and so she bravely confesses her love. The boy says his name is Kanade and agrees to go out with her. Unfortunately, the following day Kaho finds out that her first boyfriend is a 5th grader.
Initial Report: I'm mainly just counting on this being the most controversial anime of the season. Because we can't go one with one anime being questionable.
Other than that, Yen Press has been releasing the manga to the public.
29) Puzzle & Dragons X
Studio: Pierrot
Director: ???
Series Composition: ???
Synopsis: ???
Initial Report: I dunno what this is gonna be about. I just know that I…don't really follow this game.
…Oh right this is based off a game!!! Gonna leave that as my only thoughts.
30) Tsukiuta The Animation
Studio: Pierrot
Director: Itsurou Kawasaki
Script: Sayaka Harada
Synopsis: In the anime series, the members of Six Gravity and Procellarum are all living in the same dorm building. Hajime Mutsuki and Haru Yayoi, the oldest members of Six Gravity, are first year university students. Each episode of the series will feature a different main character.
Initial Report: Just repeat what I said with B-Project. You can only hope that the best case scenario would be like Love Live. But I'm not hopeful.
31) Hybrid x Heart Magias Academy Ataraxia
Studio: Production IMS
Director: Hiroyuki Furukawa
Series Composition: Yasunori Yamada
Synopsis: Kizuna Hida visits the strategic defense academy Ataraxia at his big sister's request. There, he encounters Aine Chidorigafuchi, a girl piloting the magical armor Zerosu. A communique about a serious mission arrives from Kizuna's sister. The mission is to rub Aina's chest. Kizuna has the power to level up a girl through indecent acts. With a battle against another world, the future depends on this power.
Initial Reports: Based on the trailer, the only thing I have to say is that it better have an uncensored version that airs.
It's just not going to matter anyhow else.