The President of Pied Piper Inc talks about how working a Yoshitaka Amano event eventually got her start in the industry, and we can help it grow.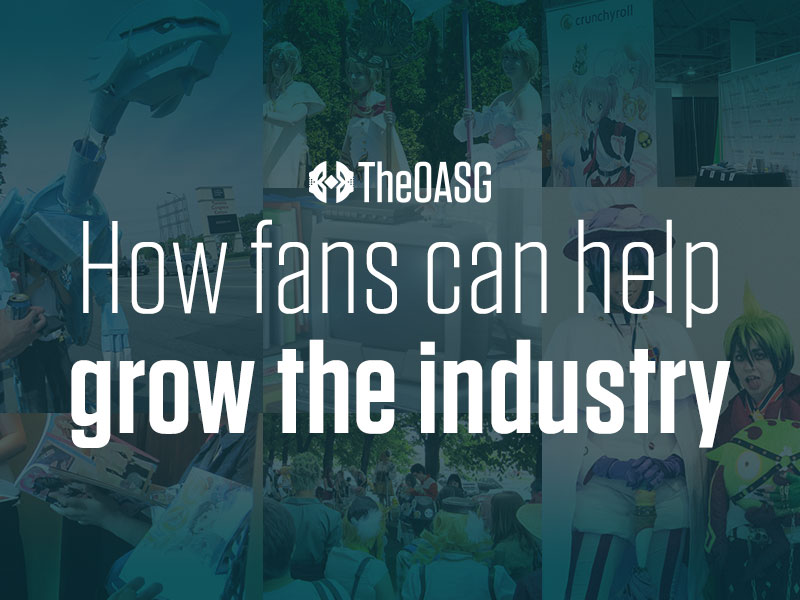 To kickoff 2017, it's time to get a sense of what we can do to help the anime and manga industry succeed. While the signs have trended up for both anime and manga success in the West over the past few years, piracy still exists, titles you'd think would get licensed still are unlicensed, and companies continue to navigate uncharted territories in a streaming future. So the best question is: how can we help?
Well, let's ask industry people!
From a long-time editor of a weekly Japanese magazine to a brand new shoujo and josei publisher, a few industry members took time to explain how fans can support the industry and help it continue to grow. So expect during the month of January you'll get to find out why these people decided they wanted to work in the industry, and share what fans can to do to help them out.
This week, the President of Pied Piper Inc found time in her busy schedule to join in this project. Ann Yamamoto's the one who helped bring Time of Eve over for many to have on their shelves, and in a few months we'll be getting Skip Beat on our shelves as well. She's a big part of that, but she explains how it all began before sharing what we can do.
---
I joined the industry because…hmmm…how to distill all of these years into a single sentence…I'd say, I'm in this industry because I love connecting people through stories and art. I got my first experience in the the anime industry at the New York office of Yoshitaka Amano (probably best known for his Final Fantasy character designs), where I got to work on his Hero art exhibition and his collaboration on Neil Gaiman's The Sandman: Dream Hunters.
The Hero project was Amano's original story world concept, which he was producing as an independent project. We held the exhibition at a 150-year-old synagogue the Lower East Side of Manhattan and brought together his Hero character designs and concept illustrations, a huge installation created with hand-painted Kyoto yuzen-style kimonos, gold-leaf paintings, ceramics, and original illustrations for The Sandman: Dream Hunters. The events included a screening of his film 1001 Nights, a reading by Neil Gaiman, and discussion with Square's Hironobu Sakaguchi. To pull off the project, we worked with designers for the exhibition space, lighting, sound, and advertising…it was massive. And it was powered by Amano's creativity and passion. His ultimate goal with the Hero exhibition was to bring his very personal vision directly to fans. It was humbling to be part of that effort, and taught me about the challenges that artists (even an artist of Amano's stature) face in creating independent projects.
I relocated to Tokyo, where once again I got to take part in connecting artists with audiences, this time via the medium of TV. From 2003-ish to 2010, I worked on the NHK TV program "Digital Stadium." The TV show was a kind of talent discovery project where up-and-coming artists submitted their visual artworks and curators (including Satoshi Kon, Koji Morimoto, and Takashi Yamazaki) selected pieces to present and critique on the show each week. "Digital Stadium" then went on to commission original pieces from the creators and showcase their work through awards and festivals. One of the creators that the TV program "discovered" was Yasuhiro Yoshiura, who caught the eye of "Digista" producer Tom Nagae. Tom produced Yoshiura's first works ("Aquatic Language," "Pale Cocoon," and Time of EVE), and he gave me the chance to do a Kickstarter for the international Blu-ray release of "Time of EVE: The Movie." That project turned out to be the most challenging project I'd ever undertaken, and also the most satisfying.
So when I look back at the work I've been able to do in the industry, somehow it always comes back to connecting creators with fans. My goal is to continue this work through bringing overlooked titles to anime fans, and building direct connections between creators and audiences. I am inspired to collaborate with fans to create products that embody the passion of both the audience and the creators. I'm in the midst of producing my second crowdfunding project for the shoujo anime series "Skip Beat!," and my dream is to continue connecting fans with Japanese creators.
I think the power of the industry comes from the fact that anime fans form strong communities, where people share information, hone tastes, have disagreements, and make peace again. I think the bonds among anime fans are the industry's biggest strength. So, I'd say if you want to help the industry grow, keep on sharing the anime that you love – online, offline, at conventions, whatever space you prefer.