The manga publisher's year is looking to be a busy one.
Seven Seas Entertainment may not be the biggest manga publisher in the U.S., but they seem to be on a roll lately. Let's just see what they've announced so far this month:
Manga: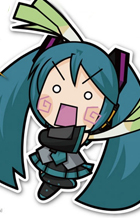 Absolute Duo
Alice & Zouroku
Captain Harlock: Dimensional Voyage
The Count of Monte Cristo
Cutie Honey a Go Go!
Devilman G
Dragon Half
Hatsune Miku: Bad∞End∞Night
Hatsune Miku Presents: Hachune Miku's Everyday Vocaloid Paradise
Magical Girl Special Ops Asuka
Sleeping Beauty
Spirit Circle
The Testament of Sister New Devil Storm!
Unmagical Girl
Wadanohara and the Great Blue Sea
Light Novels:
Grimgar of Fantasy and Ash
Occultic;Nine
Record of Lodoss War: The Grey Witch
Manga Illustrated Novels:
Anne of Green Gables
A Little Princess
Pollyanna
The Princess and the Goblin
The Secret Garden
Full-Color Edition:
Hollow Fields
That's quite a slew of acquisitions for one month, and it's not even convention season! So let's take a look at a couple of items of note.
First, I'm guessing Vocaloid manga is going to be the new Di Gi Charat. A lot of related series featuring the same characters spread across different publishers. Dark Horse has had a couple of titles make The New York Times' bestseller list, and Miku herself has even been on The Tonight Show. I can see all the publishers going after Vocaloid stuff due to the name recognition and series being fairly short. Seven Seas had previously picked up The Disappearance of Hatsune Miku, and I imagine more will follow.
It's also nice to see a couple of classic characters make their return. Dragon Half is a series from 1988, a rarity considering that most of the time publishers are scrambling to grab the latest hits. Captain Harlock and Cutie Honey are also from older series, but the titles Seven Seas picked up are from recent manga reboots or sequels. Perhaps if these releases are a hit, their original manga incarnations can be licensed. I am always advocating for more older manga, and Dragon Half is even being released in its second edition version with color pages and additional material. The first volume is only $19.99 for at least 350 pages? Sold.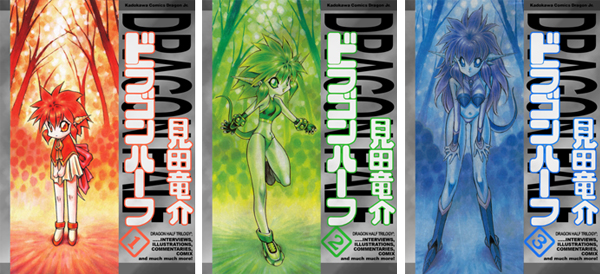 The other big news is the fact Seven Seas is teaming up with J-Novel Club. J-Novel Club releases new chapters of light novels every week for their members before collecting them into e-books. Two of their series, Grimgar of Fantasy and Ash and Occultic;Nine, will be given a physical release this summer from Seven Seas. The volumes will retail for $13.99, which puts it line with Yen On offerings. Seven Seas started publishing light novels in 2008 with series like Pita-Ten and Strawberry Panic, but founder Jason DeAngelis noted the section didn't take off back then. Seven Seas also licensed Record of Lodoss War: The Grey Witch, so perhaps they'll try again with their own light novels as well as J-Novel Club's releases. I prefer my books in physical format, so I am definitely hoping more J-Novel Club volumes will go to print.
Manga-illustrated novels also seem to be a big part of Seven Seas' gameplan. Well, anything that gets people to read is always a good thing! Although these are all female-oriented stories, I still hope Seven Seas taps into more shoujo series now that Alice in the Country of titles are slowing down. On the other hand, not too many companies are releasing as many girls' love titles as they are.
All in all, Seven Seas seems to be wanting to make a big splash this year. Heck, one of their first releases of the year, The Ancient Magus' Bride Volume 6, came with a bonus chapter. Now that's a way to celebrate the new year!
What are you most looking forward to from Seven Seas?