As LNs continue to become more prominent, let's keep track of how we can actually read all of them.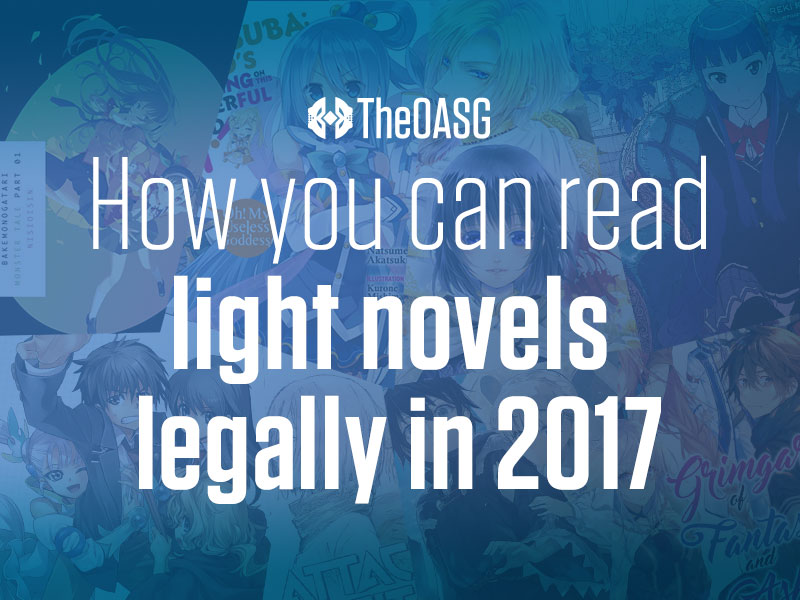 If you thought 10, 5, hell, maybe even 3 years ago that you could read light novels legally, you'd be lying to yourself. Despite its short history, it was hard to see LNs succeeding in the West. After all, from 2010 to 2013, only Yen Press published them, and that was Haruhi Suzumiya and Spice and Wolf.
The reasons why could be many, but the lack of anime adaptations of LNs might have been a factor. Before, most animation studios would adapt manga or novels, an original creation, or a game. This doesn't mean there weren't some LNs adapted into anime — think of Shakugan no Shana and Toradora to name a few. But with no legal streaming sites and not that many studios working on anime, LNs didn't have a chance.
In addition, most publishers who wanted to bring LNs over had to determine the best way to put it in bookstores. No better example of this was the very first volume of Spice of Wolf. It did not have the original JP cover, it had its own US cover, and boy were people mad. Then, where would it be stocked? In the manga section or the novel section? Needless to say, confusion reigned, and with seemingly no titles to localize and a lack of success with what did get published, you'd have to be really convinced to think LNs would eventually succeed. Like if it was 2011 and you thought LNs would be the next big thing.
Well, let's go to November 9, 2011 and see what Viz Media founder Seiji Horibuchi said before answering the intended question: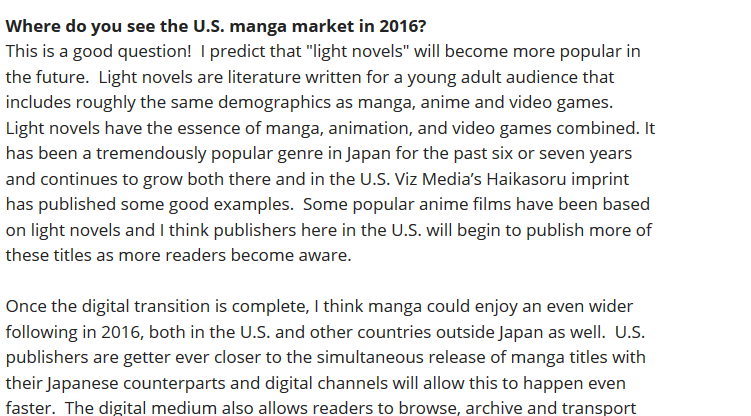 So it's 2017 and suffice to say he was onto something. But this is probably no coincidence. More people are now on the internet. Anime has adapted more light novels, and sites such as Crunchyroll and FUNimation licensed them. The trend of LNs coming to the West was more a possibility than ever. Even so, if it was going to come, a publisher would have to commit long term to that media.
I guess it makes sense that Yen Press was the one who decided to do so, and since they started their Yen On imprint, we've seen a number of LNs get licensed, and new sources of sites where we can obtain LNs.
Unlike the other two legal guides (anime and manga), this is a more general listing of where you can purchase and read LNs, know what's already licensed, and what's coming out in 2017. This is also a source of where you can get a bit more info on a title. Chances are there may be more LN services that get added as the year goes on, so if that does happen, A) expect this to get updated and B) Please email us (contact at theoasg dot com) or comment below if there is a new legal source.
Also, if you already know of legal listings in your country, or where you can purchase it, please let us know.
– Justin
Titles they're selling: Accel World, Sword Art Online, The Isolator, Baccano, Black Bullet, The Devil is a Part Timer!, Goblin Slayer, The Irregular at Magic High School, Is it Wrong To Try and Pick Up a Girl in a Dungeon?, Is it Wrong To Try and Pick Up a Girl in a Dungeon? On the Side: Sword Oratoria, No Game No Life, The Asterisk War, Psycome, A Certain Magical Index, Spice and Wolf, Durarara!!, Re:Zero, My Youth Romantic Comedy is Wrong as I Expected, Overlord, Kagerou Daze, Strike The Blood, Another

New titles incoming for 2017: Death March to The Parallel World (Pre-order link), Konosuba: God's Blessing On This Wonderful World (Pre-order link), Kingdom Hearts: The Novel (Pre-order link), Rokka: Braves of The Six Flowers (Pre-Order link), your name (Pre-order link), Sound!! Euphonium, Magical Girl Raising Project, The Empty Box and the Zeroth Maria
Social Media: Twitter, Facebook, Tumblr
Titles they're selling: Bakemonogatari, Kisemonogatari, Seraph of The End: Guren Ichinose: Catastrophe at 16, ENMA the Immortal, The Guin Saga, Attack on Titan (Before The Fall, Kuklo Unbound, Harsh Mistress of the City, Lost Girls, End of The World)
Titles incoming for 2017: Decapitation: Kubikiri Cycle (Pre-order link), Nisemonogatari (Pre-order link)
Social Media: Twitter
Who they are: a manga and light novel store where chances are you can find a collection of titles from US publishers and purchase them in eBook format. You may be able to get it cheaper than Amazon and B&N.
Additional Info: https://global.bookwalker.jp/info-corporate/
Social Media: Twitter, Facebook
Who they are: "J-Novel Club is a digital publishing company started by translators and fans like you! Our mission is to translate and release the coolest, funnest, and newest light novels from Japan to the world. We saw that the fans really want to check out the latest light novels, but very few of them were being officially released in English. So, founder Sam Pinansky decided to gather together the best group of Japanese to English translators and editors, and headed over to the Japanese publishers to license content. To his surprise, some of them actually said yes!
By focusing on digital releases, and providing a membership service to let people read the books as soon as they are translated, our goal is to build a community of light novel readers and to grow the market, so that more and more releases can be officially licensed and translated. We won't just publish the big hit light novels that get anime adaptations, but also newer titles or books from small publishers and web novels… as long as it's a blast to read, we'll bring it to you! So pull out your tablet or ereader, sit down in a comfy chair, and join the club!"
Current readable titles: Paying to Win in a VRMMO, How a Realist Hero Rebuilt The Kingdom, My Little Sister Can Read Kanji, Grimgar of Fantasy and Ash, I Saved Too Many Girls and Caused The Apocalypse, Mixed Bathing in Another Dimension, The Faraway Paladin, My Big Sister Lives in a Fantasy World, Occultic;Nine, Brave Chronicle: The Ruinmaker

Some additional information:
Social Media: Twitter, Facebook
Who they are: Your typical physical/online book chain. Ok, maybe not your typical one.
What you can do: Follow the release date of certain titles, pre-order or go to the store to buy some LNs.
Who they are: Who aren't they might be a better question, but yeah, your general online store to buy lots of stuff.
What you can do: Follow the release date of certain titles, pre-order or buy some LNs there, or find odd manga titles. But this is a LN guide so oh well.
Who they are: A longtime anime/manga seller that started in the late 80's. It's changed a lot since then.
What you can do: Follow the release date of certain titles, pre-order or buy some LNs there, and follow their social media.
Social Media: Twitter, Facebook, Instagram, Tumblr, Youtube, Pinterest
Who they are: "We are a publisher that specializes in visually compelling literature. Our publishing model is to provide contemporary and unseen Japanese literature to the western world. We possess a commitment to strong design and create highly visual work that we hope will help impact our world."
Why they're on this list: They have currently licensed a light novel, Rising of The Shield Hero.
Who they are: "Cross Infinite World is a California-based localization company specializing in the Japanese to English translation and publication of niche Japanese media. Our primary focus is bringing Japanese Light Novels and Manga to a wider English audience. We take pride in working directly with authors and artists to provide the best English-adaptation for fans.
Our books are not just products to be sold—we pick each title to localize out of love for the story, the characters, the setting, and the world that is so different from our own. Each work is filled with the passion of the author, the translator, the editors, and our company as a whole. We won't put out works that didn't enthrall us from the first words to the last. It is our utmost hope that readers will fall in as much love with the stories as we did."
Why they're on this list: They've licensed two web LNs so far: The Violet Knight and My Favorite Song: The Silver Siren. It's anticipated they'll bring in a few more LNs in 2017.
Additional Info: Here's two posts on Cross Infinite World: The Publisher Aiming to Publish Shoujo and Josei Light Novels and Crossing Into New Worlds With The Newest US Manga Publisher.
Social Media: Twitter, Facebook, Tumblr
Site's purpose: To highlight LNs published in the West, either current or upcoming. Includes descriptions of titles as well.
Pre-order page: In case you want to pre-order some LNs, here's a nice page with a list of titles.
Who are they: "With a small, elite list of award-winners, classics, and new work by the hottest young writers, Haikasoru is the first imprint dedicated to bringing Japanese science fiction to America and beyond. Featuring the action of anime and the thoughtfulness of the best speculative fiction, Haikasoru aims to truly be the "high castle" of science fiction and fantasy."
Why they're on this list: Technically, they've been a strict publisher of novels, not LNs. That said, a portion of the titles they've licensed happen to have anime/manga adaptations.
Books licensed that have been adapted: All You Need is Kill, Battle Royale, Harmony, Legend of The Galactic Heroes, Lopus=Garous, Mardock Scramble