What is Cross Infinite World? Well, here's your answer to that question.
There's a lack of light novels targeted towards young girls and older women, or the shoujo/josei crowd.
For Cross Infinite World, their aim is more broad than just that. But there's one thing I have been assured: If it's a title companies deem is risky, then they'll look to license it.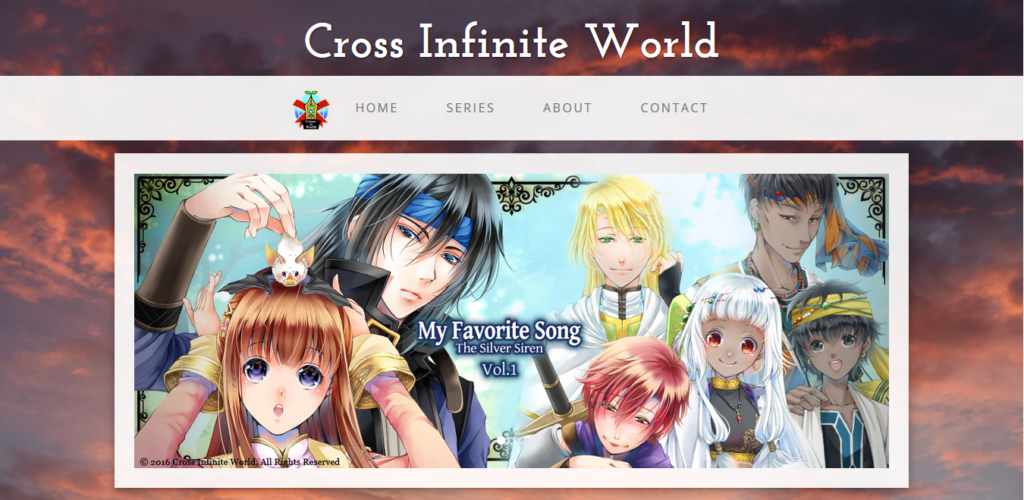 After learning about this from someone I know, then seeing articles from English Light Novels and Anime News Network, it was time to discover who Cross Infinite World is, and what they plan to accomplish.
What is Cross Infinite World?
From the website's about page:
"Cross∞World is a California-based localization company specializing in the Japanese to English translation and publication of niche Japanese media. Our primary focus is bringing Japanese novels to a wider English audience. We take pride in working directly with authors and artists to provide the best English-adaptation for fans.

Our books are not just products to be sold—we pick each title to localize out of love for the story, the characters, the setting, and the world that is so different from our own. Each work is filled with the passion of the author, the translator, the editors, and our company as a whole. We won't put out works that didn't enthrall us from the first words to the last. It is our utmost hope that readers will fall in as much love with the stories as we did."
Who decided to create Cross Infinite World?
Charis Messier is the Lead Translator and Cross Infinite World's Representative, so she may not be the creator, but she's a big part of the company's start as a serious LN publisher.
"Since I was around fourteen I wanted to be able to play visual novels and read light novels in Japanese," she said as we exchanged emails about the company. It was around that time that she discovered Yen Press's translation of Kieli, and she liked it. From there she became determined to learn Japanese.
It was when she wanted her friends to enjoy the Japanese mediums she enjoyed —  she's also into visual novels — that she took up translating for them. While at UC Davis, she applied to the MEXT (Monbukagakusho) Scholarship Program, and after studying Japanese at Kanazawa University, she spent her time translating medical documents, classical literature, and university websites. Then an opportunity to bring forth LNs from Cross Infinite World came up, and the rest, as they say, is history.
Why does Cross Infinite World exist?
From Charis herself:
"Cross Infinite World was created with the goal to license lesser-known series and genres—the ones other companies may deem too risky."
As they officially launched this year, their current focus is on finding Shoujo and Josei LNs. While they are currently working with authors, it doesn't mean they won't work with publishers. You may also notice a theme as we start talking about titles they're looking for: They're web novels.
"It's not just popular light novels that came from web novels," Charis said as I asked her what the publisher was focused on, "but lately it seems like the majority of light novels are taken from web novels.
"Every single one of the twenty-something lesser-known Japanese light novel series I own personally was taken from a web novel."
What's with the name?
So, what's in a name? Here's why they named Cross Infinite World such:
The name Cross Infinite World came from the concept that every story and culture is a world in and of itself. Stories offer readers an infinite amount of worlds to explore without leaving their homes. A translation allows readers from different cultures—worlds—to experience the new world of a story from another culture. Together, translated stories allow for the story world and cultures to intersect in an infinite amount of ways.
What do they have licensed now?
So far they have two titles, one that's published and ready to be read, the other scheduled to be released in the Fall. Kairi Aragusuku's My Favorite Song ~The Silver Siren tells the story of "Kanon, a shy everyday high school student preparing for her graduation day with a final tour of her school," and when she ends up singing a song from a weird music sheet, she is sent to a fantasy world. "My Favorite Song attracted us," Charis said as she explained the reason why they pursued the license, "because it's a cross world story where the main character isn't summoned to save the world, but destroy it! She's not revered as some sort of savior, but as the villain people flee screaming from!"
Violet Knight, by Yohna and Ako Tenma, is their recent acquisition. This will tell the story of a violet eyed girl who stopped aging at ten years old.
The Future of Infinite Cross World
While she didn't say how many people were working at the company, she made it known the staff is passionate, and the beta-readers who check out the titles at the end are devoted. While she anticipates there will be a need for more staff down the road, the company has been discussing possible internships. Other than that, when LNs become relevant, that could be when the company will take off. "You know light novels have really become relevant when you don't have to put them under manga and/or literature categories," she expressed, "To make sure they make it to the right crowd."
Until that time, we will have to see what Infinite Cross World will do to attract its audience.