Two people will have a chance to read the first volume of Kei Sanbe's mystery thriller manga. Read on to find out how you can enter and win.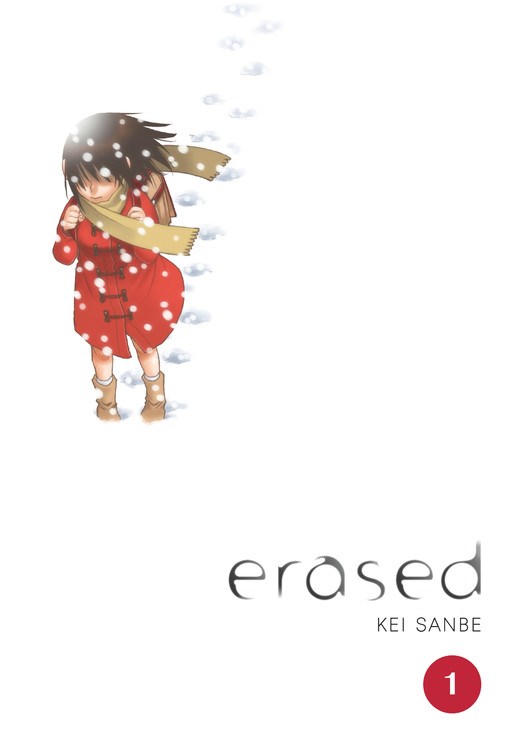 On Feb 21, Kei Sanbe's Erased will be making its debut on bookshelves.
Want a chance to read it a bit early? Here's your shot, as, thanks to Yen Press, we'll be doing a giveaway of the manga!
The official Erased Volume 1 giveaway rules
How do you enter?
#1: Comment on this post!
For additional or alternate entries:
#2: TheOASG Twitter. Retweet the Erased Volume 1 giveaway tweet (this link).
#3: TheOASG Facebook. Like and share the Erased Volume 1 giveaway post (this link).
So in total, you have 3 ways to enter to have a chance to get a copy of this manga. This giveaway is only for people that reside in North America.
The contest will last from today until February 6, 3PM EST. The winners will be announced February 7. The winners must respond within 48 hours of notification or we will draw again and choose a new winner.
Here's a synopsis of Erased on the official site:
Twenty-nine-year-old Satoru Fujinuma is floundering through life. Amid his daily drudgery, he finds himself in the grip of an incredible, inexplicable, and uncontrollable phenomenon that rewinds time, a condition that seems to only make his drab life worse. But then, one day, everything changes. A terrible incident forever changes Satoru's life as he knows it…and with it, comes a "Revival" that sends Satoru eighteen years into the past!

In the body of his boyhood self, Satoru encounters sights he never imagined he would see again–the smile of his mother, alive and well, his old friends, and Kayo Hinazuki, the girl who was kidnapped and murdered when he was a boy the first time around. To return to the present and prevent the tragedy that brought him back to his childhood in the first place, Satoru begins plotting a way to change Hinazuki's fate…But up against the clock and a faceless evil, does eleven-year-old Satoru even stand a chance?
Streaming on Crunchyroll, the manga comes not in paperback, but hardcover, clocking in at 384 pages. It will also release on Kindle.