Krystallina takes on Amazon, as this retail service gets an overview of its services, and how useful they are.

A recent BloomReach survey showed that 44% of customers start their online shopping at Amazon, beating even Google. In addition, 44% of digital retailers named Amazon as the biggest threat.
Yes, with Amazon being such a huge presence, it seems almost silly to introduce them. But the biggest online retailer has made some changes recently, and not all are for the better.
Shopping at Amazon
One of Amazon's biggest advantages over the competition is their selection. Amazon offers everything from basic necessities to high-end electronics. Anime and manga fans can find all the latest English-language releases, figures, jewelry, and everything in between. Third-party (independent) sellers add even more items, both new and used.  Some independent sellers offer original Japanese volumes and game imports, making Amazon a good option for people looking for titles not available in English. Products are regularly offered well in advance of release date for those who like to preorder. A banner will also appear on products you have purchased before, making it easy to keep track of what you have bought.
However, shoppers do need to be cautious of unofficial and pirated products. Any seller can create a new item listing, so unlicensed merchandise are widely available on Amazon. Jewelry and cosplay items are common bootleg merchandise. Look at the product. Does it include any logos? Does the price seem too good to be true? When in doubt, check stores like Right Stuf and Hot Topic, or even manufacturer's sites like Great Eastern Entertainment and see if the item is available there. If not, be suspicious.
Amazon also has quite a few reviews on their site. While a lot of reviews are garbage ("fast delivery, five stars!", "one star, just okay"), you can get a sense of trends. Amazon will also show you what other customers have bought in conjunction with an item. The reviews make Amazon a good place to research an item, and the recommendations help you consider other products. With these features, it's really no surprise almost half of Internet shoppers start at Amazon.
Prices
Amazon's prices can vary widely. Items can have a sudden price drop or price increase. I've seen items at one price and then go up twice in the course of a couple minutes! On the other hand, some items can suddenly drop from around 10% to 50% off or more. Anime titles are almost always below MSRP, often 30, 40, even 50+% off. Manga volumes can range from MSRP down to 40% off or more. One volume of a series can be around $7 and another $10. There just doesn't seem to be a rhyme or reason to their pricing sometimes. Manga Kindle e-book prices are pretty much the same as other e-book venues like Nook or publishers' own digital stores.
For sales, each day, they have at least one Deal of the Day with a product or group of products are marked down for 24 hours only. They go live at 12 AM PST. They also have Lightning Deals where select products are marked down for a limited time and in limited quantities. Anime was their Deal of the Day theme in December 2015, and they had titles like Cowboy Bebop and Attack on Titan at their lowest prices ever. A Sailor Moon Proplica was a Lightning Deal around then, too.
As for other items, Amazon often scours their competitor's sites to match their offers. Amazon often pricematches Barnes & Noble's Manga Monday sale titles, a good option for bargain hunters who don't have Barnes & Noble's Membership. While those sales at Barnes & Noble are only good for 24 hours, Amazon sometimes leaves the 50% off price for several days, even a week!
Amazon occasionally has coupons, especially on books. If an item is eligible for a promotion, it will usually be listed right on the item page.
Finally, while Amazon has lots of third-party offerings, the fact that they group all prices on one page makes it easier to compare prices between sellers. eBay sometimes has hundreds of the same item, and you need to click on each individual listing for more information. Amazon organizes their site by items, and then you can browse both new and used offers and their descriptions.
I recommend Camel Camel Camel or its browser extensions to see if you are getting a good deal. This will show you the lowest prices ever, and you can also sign up for alerts when the price drops.
Warehouse Deals
Ever been to a store and found the "manager's special" section? Well, Warehouse Deals is Amazon's version of it. They sell items that were either damaged upon arrival or returned.
As you would expect, stock varies. They may have several dozen of one item, but most products are limited to one or two. Warehouse Deals rank their items from acceptable to like new condition. Most items will have a generic description like "packaging damaged," "small cosmetic damage," "missing accessories," etc. So be sure to check before ordering.
Prices at Warehouse Deals are as crazy as Amazon's. One product listed in acceptable condition and missing accessories may only be a dollar or two off a brand-new item, but a different like new item may be 50% off retail. Check the next day, and the price may have gone up or down. Items in better condition will cost more, but sometimes the difference in condition is almost negligible.
All items are sold and fulfilled by Amazon, but any promotions or coupons may not apply. (Although Warehouse Deals has had their own specials, like a $10 off $50 code.)
While anime and manga are available through Warehouse Deals, the better deals are on video games and figures. I recently got a Sailor Moon S.H.Figuarts figure for $6.27. MSRP is $33.99, and the lowest it's ever been on Amazon is $25.54. The item was described as: "Used – Very Good – Item will come in original packaging. Packaging will be damaged." As you can see below, the box had very minor damage on it, and the figure had never been removed from the box.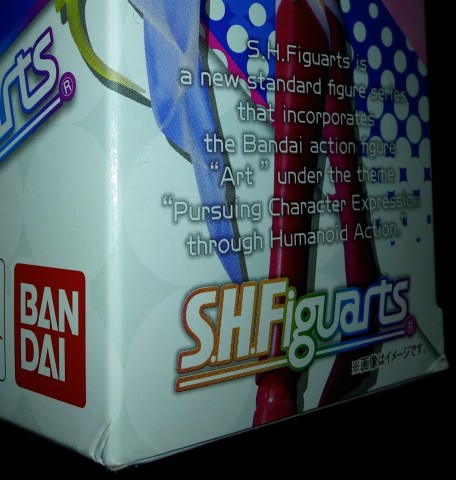 The damage is even less noticeable when you just look at the box normally and not zoom in with a camera. So I got a practically pristine anime figure for about 75% off its lowest ever price. (The figure was about $27 on Amazon when I ordered it.) I've picked up quite a few games at low prices as well. You just have to keep checking for stock and then wait for a good price.
Shipping, Returns, & Customer Service
Amazon changed their free shipping thresholds as of February 21, 2016. While shipping used to be free on orders of $35 or more, now it's free shipping on $49 or more. Book orders are eligible for free shipping on $25 or more. For free super saver shipping, Amazon estimates items will be delivered five to eight days after all items are in stock, but delivery may take longer during peak periods. If you don't reach the minimum, shipping cost varies depending on product time. Prime members get free two-day shipping on most items. (More on Prime later.) Some products (usually small grocery, household, and clothing items) are "add-on" items which require $25 or more no matter if you have Prime or not. If you do not have Prime, your items will not ship until all products are in stock.
Many of third-party items are fulfilled by Amazon, which means the items are shipped from Amazon themselves and follow their shipping guidelines. Shipping for third-party items not fulfilled by Amazon can range widely. One seller can offer free shipping, another wants $30+ for a single game from Japan. Items sold by third-party sellers are protected by Amazon's A-to-Z Guarantee, meaning you are covered if your item arrives damaged or is never delivered. I have only had to file a claim once for a game I imported never being delivered, and I received a refund immediately.
Amazon offers a 30 day return policy. They pay for shipping if the item was damaged or incorrect. If you want to return an item for another reason, you can either pay for shipping upfront or print off a label and deduct it from your refund. Most clothing has free returns.
Customer service can be contacted through email, phone, or chat. Personally, I prefer the chat because you can send yourself a copy for your records and also get a quick response to your inquiry. I've almost always had excellent customer service from Amazon.
I find the orders page really well-organized and user-friendly. You can easily search previous orders from years back, and you can easily alter or cancel an order if you need to without having to contact customer service. This is a huge plus in my book.
Amazon Prime
Of course, it's hard to talk about Amazon without mentioning their Amazon Prime program.
There are actually three levels of Prime: Amazon Prime, Amazon Prime Family for parents, grandparents, and guardians, and Amazon Prime Student. Prime membership is normally $99 a year. Amazon Prime Family is the same price as regular Prime, but they offer additional discounts and offers (mostly on baby products). Students registered in college can get six months of Prime free, and then they can renew up to 4 years at half off regular price. (Students do not get streaming benefits during their trial.)
So what do you get with a Prime membership?
Free two-day shipping on most items (or same day or two-hour delivery in select cities)
Video streaming
Music streaming
Up to two free Kindle e-books per month
20% off video game preorders and new releases
Prime-only pricing on some items
And other benefits
For anime fans, titles like The World God Only Knows and Princess Tutu are available to stream for free. Products like The Last: Naruto the Movie Blu-ray was available for $14.99 for Prime members. Their Prime Music selection includes some video game and Vocaloid music. The 20% off new-releases and preorders on video games is a recent addition. This means you can get games on release day cheaper than some stores' sale prices. The 20% off also works on exclusives and limited-edition releases.
But here is the big question: is Prime worth it?
Well, not for everyone. Personally, I like to think of Prime as more of a membership club a la Sam's Club or Costco. If you break it down, many of Amazon's Prime benefits are beaten by their competitors. Amazon's video and music streaming offerings isn't as large as some of their competitors' sites like Netflix. As for pricing, stores like Walmart, Target, and Best Buy will pricematch Amazon in-store and online. Shoppers who need items in a hurry can just pricematch in-store. If you want free shipping, Target requires only $25 for free shipping or free on all orders with their Red Card, and Best Buy offers free shipping on $35. Walmart offers free shipping with no minimum on book preorders. This means you can get some items shipped to home for free while you would need to buy more from Amazon. The 20% off game preorders and recent releases is a nice new benefit. However, Best Buy's Gamers Club Unlocked offers 20% on all games (new and used) and stacks with sale prices for $30 for two years. Finally, if you're like me and live in a rural area, Prime Now is worthless.
In short, the individual benefits don't beat the competition, but as a package, Prime is a solid value. I like being able to order a $6 Sailor Moon figure without putting together a large order and worrying about it being snatched up by someone else. If you are interested in Prime, you can sign up for a free 30-day trial. If you pay for Prime but change your mind, Amazon will send you a pro-rated refund.
Other Amazon Programs
Some manga titles are part of their Kindle Unlimited program, which means you can read as many of them as you want for $9.99 a month. Don't expect any releases from the major publishers though.
They also have an Allowance program where you can add a send a gift card to a person every so often. If you want to set limits for yourself, you can automatically reload your own gift card balance .
Finally, here's something else to consider: you can donate a small portion of your purchases to charity. Just shop at Amazon Smile, choose an organization, and then shop as normal. All prices and benefits are the same as "normal" Amazon, but you also support a charity. For more information, go here.
Common Amazon Complaints
Some customers feel as though they are second-class if not a Prime member. The increased free shipping threshold is seen as further proof of this. While $49 is not an uncommon threshold for free shipping (Walmart is $50), it does mean an additional $14 an order for those who don't want to pay for shipping. That can really add up. Preorders being held until all items are shipped is a big disappointment. Competitor currently Best Buy sends items out as they are released. Some people also say the free shipping is slow, but I really cannot comment on that since I have Prime. When I choose no-rush shipping for free credits, items can easily take a week or more. Most items do arrive by their original estimation date, so make sure you double-check the delivery estimates at checkout.
I've notice a lot of people saying Amazon's prices are not as good as they used to be. I tend to agree, but I have seen a lot of items in stores going up as well. Some of Amazon's price increases reflect general inflation in the economy. For those items where Amazon is cheaper, most of the major chains (Walmart, Target, Best Buy, and others) will pricematch, both in-store and online. This has put a dent in Amazon's biggest advantage, and pricematching in-store means you can get the item the same day instead of waiting. A lot of Amazon's deals are also their own matching of competitor's prices rather than their own sales. It is often easier to order from a competitor than waiting for Amazon to lower the price. Personally, I think stores go through cycles. Lots of manga preorders were hovering about 10-20% off MSRP a couple of months ago, but I've notice more and more in the 30-40% now. Again, it goes in cycles.
Some people have mentioned the quality of Amazon's customer service has decreased lately. I've had to contact them a couple of times recently, and I was happy with both of the results. I really haven't noticed it, but this could be another example of Prime members being prioritized over regular members. Some people's definition of "going downhill" could also be just a one-time bad experience. It's just something to keep in mind.
Final Thoughts
With anime and manga being a niche market, fans will often need to shop online to find products. Amazon certainly has a range of Japanese-related products, often at low prices. Anime and manga shoppers also have the added bonus of buying anything from a bottle of shampoo to a high-end TV in their order.
However, Amazon seems to be pushing Prime more and more, and for good reason: according to a recent study, Prime members spend an average of $1,500 a year versus $625 for non-Prime members. With the free shipping minimum threshold increase, many customers will turn to Amazon's competitors, but obviously Amazon is hoping more people will join Prime.
So, are you one of the 44% who starts their shopping at Amazon? Are you a Prime member? Why or why not?