Shoujo has made it back onto The New York Times Best Seller list! What does this mean for the future of shoujo in the US?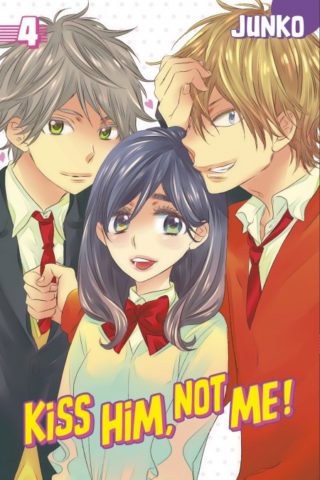 I was wondering recently: where have all the shoujo gone? For a good six months, not a single shoujo or josei title made it on The New York Times' Manga Best Sellers List.
Well, the drought is over: for the week ending April 12th, Kodansha Comics' first omnibus of the josei series Princess Jellyfish ranked #3 on the Times' chart. The following week, shoujo comedy Kiss Him, Not Me! Vol. 4, pictured on the left, hit #9 on the chart.
Anime shoujo fans also received some good news: the Skip Beat! anime crowdfunding campaign was a success. The Kickstarter had a target of $155,000; the fundraising period ended with over $224,00, more than the original Indiegogo goal of $210,000. This means Skip Beat! will be getting both a DVD and a Blu-ray release as well as an English dub.
In my original article, I talked about various theories why shoujo hasn't been selling as well recently: are the current shoujo series terrible, are the shounen titles awesome, do companies need to license better series, etc. So what made Princess Jellyfish and Kiss Him, Not Me! break the streak for two weeks in a row? And, to a lesser extent what does Skip Beat!'s Kickstarter mean for shoujo anime fans?
The Rise of Princess Jellyfish and Kiss Him, Not Me!
Reason #1: Anime.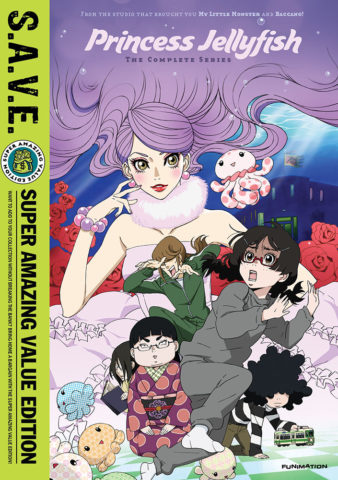 An anime almost always drives up manga sales. I mentioned in my original article that a lot of shoujo anime currently being released in the U.S. don't have their original manga inspirations available here. While the manga incarnations of Attack on Titan and Tokyo Ghoul are readily available alongside the DVDs and Blu-rays, manga series like The World is Still Beautiful, Snow White with the Red Hair, and Nijiro Days are unlicensed in the U.S.; Princess Jellyfish not only has an anime, but it is already available to own from FUNimation. (See picture to the right.) That gives Kodansha Comics' manga a nice boost. Last month, it was announced that Kiss Him, Not Me! will be getting an anime. While it won't be available for the U.S. for a while (or possibly ever, but I doubt that), I imagine the news sparked additional interest in the series.
Reason #2: Market saturation.
All anime and manga lovers would love to bring in new fans. However, everything has a cap on popularity. Take smartphones and refrigerators for example. Most people who want one already have one. Most growth in these departments comes from old versions breaking down and from stealing competitors' customers.
Since most of the big shounen and seinen hits have been available for months, sales will slide. While series like Attack on Titan and One-Punch Man can bring (and have brought) in many fans, those who really want to read it will have already bought copies, and those who haven't purchased volumes are probably just not interested. "Fans and potential fans of Attack on Titan" is a bigger market than just "fans of Attack on Titan." Eventually, even the biggest shounen and seinen hits will lose ground to other volumes. This creates room for titles to climb the weekly charts even if total sales are much lower.
Reason #3: Series progression.
Earlier volumes sell better than later ones. Interest in a manga wanes the longer it goes on. It's easier for someone to play catch-up on a series that's only two, three, seven volumes long than a series in the double digits. So you have new fans getting into the next big thing as well as those already interested in a series. I doubt many people have picked up Attack on Titan Vol. 18 as their first Attack on Titan manga. Princess Jellyfish is only on the first omnibus, so it's new for everyone. Kiss Him, Not Me! is on volume 4, so it's still pretty easy to go back later and pick up the first three volumes if you haven't already.
In addition, while all three are simulpubs, the aforementioned josei and shoujo titles are behind the Japanese releases. The two being further behind means volumes are going to be released in a shorter timeframe in the U.S. It's easy to miss the latest volume of a series when it's been several months since the last one was published, but seeing several volumes of a new series makes it easier to attract and keep attention in bookstores or on sites' preorder lists. In addition, readers may feel more pressure to keep up if volumes are coming out quickly but feel like they have plenty of time if volumes are spread further apart. Attack on Titan Vol. 18 was released about four months after the Japanese version. Volume four of Kiss Him, Not Me! was published in Japan back in September of 2014, and the two volumes of Princess Jellyfish were published in Japan in 2009. A buyer has about four months before the next volume of Attack on Titan comes out, but they have only two months before the next Kiss Him, Not Me! and Princess Jellyfish volumes; two months after that, volumes 6 and 3 respectively will come out.
Reason #4: Crunchyroll.
Yes, it's the whole debate about a series being available on the Internet versus sales. But both Princess Jellyfish and Kiss Him, Not Me! are on Crunchyroll along with the anime Skip Beat! While we will never know if sales for these series would be greater, lesser, or equal to current sales without Crunchyroll, I'm sure at least some people sampled a bit of these series on Crunchyroll and decided to pick up a physical copy.
Reason #5: Popularity.
Both Princess Jellyfish and Kiss Him, Not Me! have had recent volumes chart on the Japanese Oricon charts. So are these the best manga that targets females in recent months? Debatable. "The best" is subjective. Of course, a hit in Japan does not make for a hit in the U.S., but good hype certainly helps. The Skip Beat! anime is several years old at this point, but the manga is still going strong. With all three manga titles still running in Japan, companies are still promoting the series, and Japanese readers also help raise awareness about these manga.
Shoujo in the Near Future
So, is this a start of a new shoujo boom? Probably not. I do think the market is going through a little correction. I still expect series like Attack on Titan along with Tokyo Ghoul, Noragami, and My Hero Academia to do well. As the U.S. releases catch up to the Japanese versions, other series have an opportunity to do well as readers look for something to satisfy their manga fix. This summer will feature two big shoujo titles in Fruits Basket and Yona of the Dawn. I think these series have the potential to do well; they have established fanbases and have wide-spread potential with their fantasy storylines. However, Fruits Basket is a re-release, and Yona of the Dawn is big in the scanlation market. These two points could mean lower sales for both manga.
Am I surprised that Princess Jellyfish and Kiss Him, Not Me! broke the streak? A little. One is a josei title targeting older female readers, and series targeting older readers generally don't do as well as ones aimed at tweens and teens. Kiss Him, Not Me! focuses on a girl who loves boys' love manga, a situation many manga fangirls can relate to but doesn't exactly have wide, crossover appeal. Neither manga (nor Skip Beat! for that matter) is a fantasy story, and fantasy stories tend to do better than slice-of-life or comedy stories.
The Skip Beat! campaign also shows that shoujo anime fans are out there. As a comparison, The Vision of Escaflowne Kickstarter had over 400 more backers and raised about $100,000 more. As I've discussed previously, while many fans weren't happy that a big company like FUNimation turned to crowdfunding, the campaign had the advantages of being a 20-year-old series with lots of fans as well as sci-fi and romance elements to appeal to a wide audience. When you consider the fact that no one was willing to dub Skip Beat! in order to acquire the home video rights, the Kickstarter should be seen as a success. In the Kickstarter comments and across the Internet, many fans hope that companies take more chances with shoujo series by not only releasing good shoujo series but also including dubs. Anime bestsellers are harder to track (there's no Times Anime Best Seller list), but good sales are important for the industry as a whole.
It's also important to remember we're still waiting on the next number one shoujo bestseller. The last #1 title that wasn't a shounen or seinen was a boys' love manga, and that was back in July 2015. Can Princess Jellyfish or Kiss Him, Not Me! rise to the top of the charts? Will it be the former bestseller Fruits Basket or the current Japanese hit Yona of the Dawn? Or will another series make it to #1?
Final Thoughts
The Great Shoujo Drought may be over, but it doesn't mean a new drought can't start. In fact, just as a day of rain can't erase months of no precipitation, these two weeks could just be oddities. However, two stories about geek girls have become bestsellers and a showbiz shoujo anime has surpassed its target goal, proving shoujo is still a viable market. And yes, it would be nice if companies licensed shoujo manga that have their anime available in the U.S. or picked up more series that isn't just about a girl and the most popular boy in school. However, more shoujo series can only be licensed if current ones sell. If you don't want to see shoujo anime and manga dry up again, make sure to buy shoujo series!
So do you think the drought is officially over? What shoujo or josei title do you think will next appear in the The New York Times' Manga Best Seller list? Which title will be the first to reach number one for the week? Place your bets below!