Two different projects, two different websites, and two different goals. But what does these projects mean for the community? It's time to look at anime crowdfunding!
What are you spending on your money on this month? Some of you will be heading somewhere for spring break. Others will be attending a big St. Patrick's Day blowout or watching basketball tournaments. Some families will be waiting for a visit from the Easter Bunny. For anime and manga fans, titles like Goodnight Punpun and Monthly Girls' Nozaki-kun will debut, and hit series like One Piece and Noragami: Stray God will release their next installments.
But there are two companies who are also hoping for some of your disposable income this month: FUNimation and Pied Piper, Inc. Both have launched fundraising campaigns for the classic anime The Vision of Escaflowne and shoujo anime Skip Beat! Should you gogo and kickstart money into these ventures? Is this the start of a new trend? Or is crowdfunding a bad use of your dollars? Let's take a look!
Crowdfunding
The concept of crowdfunding is rather simple: an individual or organization has an idea and tries to gather contributions from individuals. The band Marillion pioneered the concept back in 1997 when fans raised money for their tour. Today, the U.S. alone has almost 200 crowdfunding sites, and the number of sites worldwide is estimated to reach 2,000 in 2016. People can request and donate to a number of ventures, from lending other individuals money to charitable contributions to mass-marketing new electronics.
Among the thousands of crowdfunding sites are Kickstarter and Indiegogo. Both basically operate the same way: a person(s) posts about a venture and requests money to reach a target goal to make that venture a reality. Most projects have reward tiers ranging from a simple thanks with a dollar pledge to once-in-a-lifetime experiences when someone donates several thousands of dollars. Both sites take a small percentage of donations, and most campaigns include several levels of goals in case they reach their initial target.
There are several differences between the two. Project creators on Kickstarter will only collect money if the initial goal is reached while Indiegogo campaigns can choose to collect the money regardless. Indiegogo terms state that creators must fulfill all perks (rewards), but there is no guarantee for Kickstarter. Indiegogo also allows a wider range of proposed projects. However, according to Adweek's SocialTimes, Indiegogo projects are much less likely to reach their goals (only about 10% successful versus over 40% for Kickstarter). The two sites also differ on fees, payment methods, length of campaigns, and countries allowed.
Like anything, crowdfunding has its supporters and its opposers. Some individuals and organizations would have no other way to bring their ideas to life without others putting money toward a project. Even large companies use crowdfunding. They say it's a way to gauge interest and prevent them from losing money on a product. Others say it's a glorified preorder system, wanting people to pay for a product before it's even developed, let alone before any reviews are available. Getting items can be a long, drawn-out process…if the item is even produced. Some people also say while crowdfunding was intended for small organizations and individuals, large businesses who have the capital are now wanting its customers to pay for what the company is supposed to do.
Anime & Manga Crowdfunding Campaigns
In the past few years, several anime- and manga-related campaigns have launched. Digital Manga has created several Kickstarters for Tezuka and yaoi manga. The creator of Sugar Sugar Rune had her The Diary of Ochibi turned into a short film thanks to crowdfunding. The Kickstarter for the game Muv-Luv, created by the author of Rumbling Hearts, collected $1.2 million, well over its original goal of $250,000.
However, there have been several projects that have failed to reach their goal. The campaign to publish Osamu Tezuka's remaining works into English collected almost $27,000, far below its goal of $380,000. An OVA anime called Chuya-Den would have been created if it had raised $100,000; it collected about 80% of its goal, so the OVA has not been made. Even when a company successfully raises money, there may be issues. Mighty No. 9, a game spearheaded by the creator of Mega Man, has been delayed to spring 2016, well behind its original estimate of spring 2015.
But two new campaigns are hoping to be very successful: FUNimation's objective of doing a new English dub for their Blu-ray release of The Vision of Escaflowne and Pied Piper, Inc.'s goal of giving Skip Beat! a physical release and an English dub for the first time ever.
Let's take a look at both of these projects.
FUNimation and The Vision of Escaflowne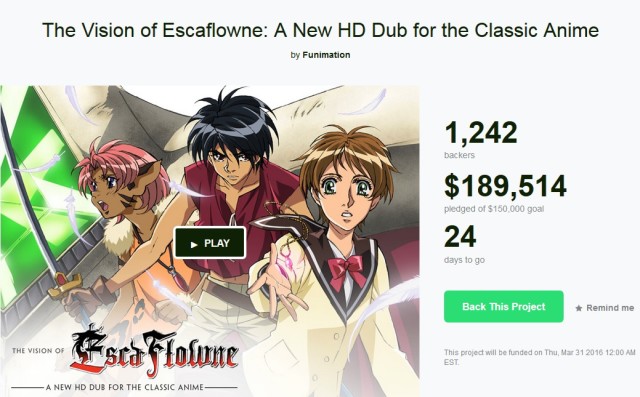 FUNimation is one of the largest anime distributors in the U.S. Over the years, they have released major hits like Dragon Ball and its sequel Dragon Ball Z, Full Metal Alchemist and its remake Full Metal Alchemist Brotherhood, and One Piece. They've also rescued titles like Trigun and Code Geass: Lelouch of the Rebellion. FUNimation also has a streaming service, allowing subscribers to watch both subtitled and dubbed versions of their titles for a monthly fee.
The Vision of Escaflowne is about a girl named Hitomi who is transported to another world. Van is a prince whose kingdom is attacked by the Zaibach Empire. The two's fates are intertwined, connected by the legendary mecha Escaflowne, the key to stopping the war.
Bandai Entertainment previously released the subbed version of The Vision of Escaflowne on VHS tapes. An edited English dub was later made for TV, and its VHS release was suspended due to low sales. Bandai Entertainment eventually released the series on uncut DVD with both subs and the English dub. The last DVD release of The Vision of Escaflowne was in 2006, and Bandai Entertainment closed in 2012. In 2013, FUNimation announced it had licensed The Vision of Escaflowne. News about the series was scarce until February 2016, when the company launched a Kickstarter for The Vision of Escaflowne.
According to the Kickstarter page, a new English dub is needed because the HD version of The Vision of Escaflowne includes new scenes; the old English dub would be out-of-sync at points. As of this writing, the project has collected almost $190,000. The initial goal was $150,000, which means the series will be getting a new dub and a Blu-ray/DVD release. The campaign hopes to raise additional funds to add extra features to the release, bonus items, and a backer-exclusive party.
Fan Reactions
Reactions to FUNimation's campaign can be divided into four groups:
Those who love the series and see this as a way to support a classic;
Those preordering for the extras;
Those hoping for similar projects;
Those who are at least a bit disturbed a large company is turning to Kickstarter and worried about FUNimation starting a trend.
Here are some reactions from forums around the Internet:
"Not gonna lie…I find the idea of bigger companies launching Kickstarters to gauge interest kinda gross." – bobbychalkers
"I have no interest in the dub personally. Nothing against them, but I'm supporting this for the exclusive release and extras, not the dub." – relyat08
"No, everybody wins. Funi gets to release an older series with little up-front risk, I get a great classic on my shelf in a sexy new format and the fence riders can hang on for six months until retail prices (and better) to get a better deal for a great classic in a sexy new format. Everyone comes out ahead." – Desslok
"It's had to believe that this whole Kickstarter has happened, instead of a normal Blu-Ray release like most people wanted. So they could re-dub an entire 26 episode show for less than 9 minutes of footage. They didn't feel the need to dub the deleted scenes from Rebuild of Evangelion, and I doubt they would this if it had not been put back in." – MarshalBanana
"Dubs cost money. And Funi has had dubbed projects flop before. They could have just packed up a sub only and called it a day but instead they asked if WE would like a redub. If your answer is no. Don't pledge and wait for the sub only media. Yet can we please stop trying to make it look like Funi is doing something wrong with this idea?" – AbhChallenger
"Other anime companies are going to be looking very closely at this. Hopefully this goes more in the direction of getting dubs and releases for series we never would have otherwise, and not just having every dub paid for via crowdfunding." – Razor/Edge
"Kickstarters for companies who have funds is pure laziness. If you don't think a product can make you money, don't beg your fans to fund it for you. That's all a Kickstarter is for a company like Funimation." – razisgosu
"…I'll gladly throw a ton of money to help support said shows getting a dub as there's no price I'm not willing to pay to get an anime made in the audio format I greatly prefer/enjoy." – DuchessBianca
For their part, FUNimation stated in an interview their $150,000 does not cover the entire production. They admit the Kickstarter is basically a preorder system to see if the requests for a new dub actually matches the demand. The reps interviewed also stated they don' t know if they'll do similar Kickstarters in the future.
Pied Piper, Inc. & Skip Beat!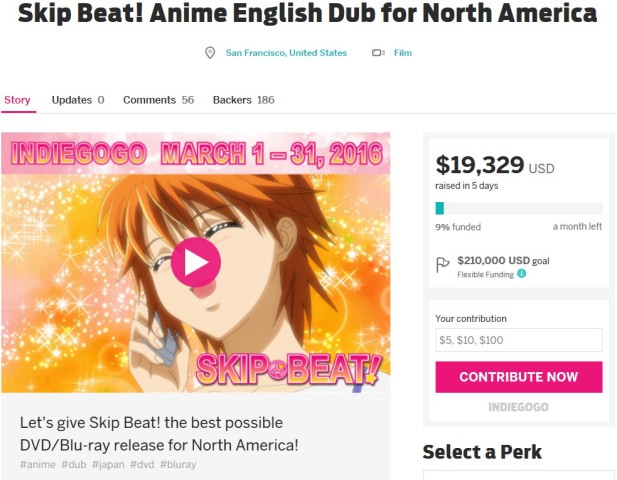 The Skip Beat! Indiegogo campaign is almost the opposite of The Vision of Escaflowne's Kickstarter except for one point: the goal of raising money for dubbing the series.
Skip Beat! is a much more recent anime, airing in 2008-2009. It is based on the shoujo manga by Yoshiki Nakamura, currently being published by Viz Media. The protagonist of Skip Beat! is a Kyoko, a girl who supports her crush Sho as he works as an idol. But when she learns Sho thinks of her as a pretty dull-looking maid and has been taking advantage of her, Kyoko enters show business to get revenge on Sho by becoming an even bigger celebrity than him.
Skip Beat! has been available to stream on Crunchyroll, but it has never been released on home video. The company behind Skip Beat!'s proposed North American release, Pied Piper, Inc., has run one crowdfunding attempt before, successfully releasing Time of EVE: The Movie on Kickstarter. The English dub will be the first for the series. According to Ann Yamamoto, the owner/founder of Pied Piper, Inc., an English dub was required by TV Tokyo in order to license Skip Beat! The initial goal is $210,000; as of this writing, the project has raised about $19,000.
Fan Reactions
Unlike The Vision of Escaflowne campaign, the Internet has, overall, been much more positive about Skip Beat!'s crowdfunding attempt. Even those who have no interest in the series appreciate Pied Piper, Inc. picking up good titles without English releases and hope their second endeavor will succeed.
"This campaign makes me so happy! Skip Beat has always been a favorite show of mine and I always hoped that it would eventually be dubbed." – rosebrook11
"Sadly, I have absolutely no interest in Skip Beat! at all, so I more than likely won't be putting any money down on this, but I do hope that it succeeds." – Lord Geo
"This is a lot cooler than Funny's Escaflowne mess- a lot more things spelled out, no desired material held out at extortion levels and you can quite literally get what you pay for, an 80 dollar BD set or 2 30 dollar DVD sets. That's, well, cool.
I don't know if they can pull it off but yeah, I will be doing it." – Animegomaniac
"There's something unsettling about a $200k project that could potentially only raise $80k in funds, and still be able to walk away with the money they raised despite not necessarily having the funds to go through with the project. I'm also not all that familiar with Pied Piper Inc., which makes me additionally hesitant to support." – Kikaioh
"If this ends up funding they will likely continue to try to rescue stuff that hasn't been brought over before, thus why I am hoping even if people aren't directly interested in this title they will tell their friends as people using crowdfunding to bring over overlooked anime gems has been my hopes for kickstarter and the like for years now, just figured it was being held up by the japanese companies." – zulux21
"Hell no. I backed Escaflowne, but a full-on shojo title like this? Naw, man. I'll let the chicks pay for this one. Looking forward to seeing more well known shonen / seinen titles up on these crowdfunding sites." – Ulinox
"And this is different then then the Funimation crap going on.
This is a company that ask for the license to distribute here in the US. They aren't a big company like Funi or Sentai." – neoz
Current Progress for the Campaigns
As I mentioned, The Vision of Escaflowne has already reached its initial goal, but Skip Beat! hasn't yet. Why, despite both campaigns having been launched about the same time, is the fundraising so different?
First, FUNimation is a long-running, established company. While some people are not happy such a large business is using Kickstarter, backers know what to expect in quality and know they will almost certainly get their reward. Some people are worried about not getting their perks if the Skip Beat! Indiegogo is unsuccessful, but Yamamoto promises, "I will not leave rewards unfulfilled."
Secondly, shoujo series generally do not sell as well as male-oriented ones. While The Vision of Escaflowne is more of a shounen-shoujo mix, fantasy and action-adventure do generally do better than slice-of-life romantic comedies. Both anime and manga charts are dominated by titles like Attack on Titan, Tokyo Ghoul, and One-Punch Man. If you take a look at The New York Times' manga bestsellers list, a single shoujo title hasn't made the top 10 list in months…many, many months. While older series are also seen as a risky move, The Vision of Escaflowne has had several releases (and even a TV broadcast) and gained many fans over the years thanks to the exposure.
In addition, Skip Beat! is already legal to stream in North America on Crunchyroll. The Vision of Escaflowne is an older series, so a transfer to Blu-ray will likely show much more improvement than Skip Beat! on a Blu-ray release.
Finally, Kickstarter projects just seem to attract more attention. While Indiegogo has more campaigns, Kickstarter raised $1.2 billion last year compared to $378 million for Indiegogo and had three times as many pledges as Indiegogo according to SocialTimes.
Nevertheless, with almost the full month to go, Skip Beat! has plenty of time to be successful. Yamamoto admits she lost money during the Time of EVE: The Movie Kickstarter, but she says she learned a lot from it. She firmly believes in the project, filling the shoujo anime void. In fact, Skip Beat! is rated higher than The Vision of Escaflowne on both MyAnimeList and Anime News Network. As the Indiegogo page states, "My gut told me Skip Beat! fans will support a fabulous DVD and Blu-ray release with English dub. And not just any dub. An amazing dub. A dub to make Kyoko proud."
Final Thoughts
Crowdfunding can be risky for both patrons and companies. Consumers may end up with a worthless product (if they even get one!). Companies run the risk of embarrassment or negative feedback from a bad or unnecessary campaign. Some see crowdfunding as a way to get products that otherwise couldn't be created; other individuals see it as a way to blackmail fans into preordering.
If you have been waiting for the updated version of The Vision of Escaflowne or were one of those people who have been clamoring for Skip Beat! to be available on Blu-ray/DVD, then both crowdfunding projects have some nice bonuses for essentially preordering the titles. The Vision of Escaflowne fans have spoken: they want their new dub. Will Skip Beat! fans also answer the call? You hold the power!
So, will you be supporting either of these campaigns? Why or why not? Do you want to see more crowdfunding for anime and manga, or do you think these ventures are nothing but ways to extract money from fans while saving businesses money?