This week's Please Save My Money has Krystallina wondering if it'll be worth it to sign up to experience SDCC.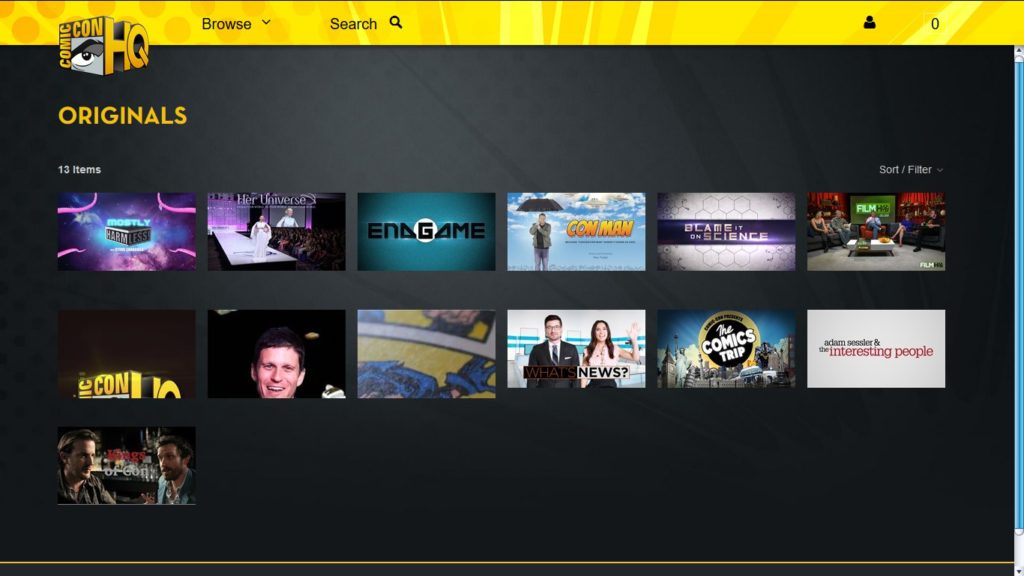 San Diego Comic-Con is just around the corner. Are you excited? Whether you are going or not, would you like to experience Comic-Con every day? That's the idea behind the new digital-on-demand channel Comic-Con HQ.
Comic-Con HQ Overview
Comic-Con HQ is a joint project between Comic-Con International and Lionsgate. Comic-Con International runs San Diego Comic-Con, WonderCon, and Alternative Press Expo. Lions Gate Entertainment Corporation (a.k.a. Lionsgate) deals mainly in movie and television production and are behind hits like Mad Men and The Hunger Games. Users started gaining beta access to Comic-Con HQ in May. It features Comic-Con panels, current and past TV shows and movies, and original programming.
Subscriptions cost $5 or $50 a year. This allows you to watch the channel on your computer, phone, tablet, or smart devices like TVs, game devices, and Roku. New users can sign up for a free trial until July 24th, the last day of Comic-Con. At the Comic-Con HQ website, they accept Visa, MasterCard, and Discover only.
Content
Of course, the main selling point of any channel is the content. So what is available on Comic-Con HQ?
Currently, shows are divided into three categories: originals, movies, and TV. Panels and BTS are listed as coming soon. You can also jump to collections like "Captain America & CO." and "These Villains Suck" or genres like "action", "adventure", and "comic book". As of this writing, Comic-Con has 143 movies and 17 TV shows.
For movies, Comic-Con HQ has a mixture of entertainment films and documentaries. There's older titles like This is Spinal Tap to recent releases (GTFU). There are no anime series, but there are several titles of interest to fans like:
100 Yen: The Japanese Arcade Experience
Astro Boy (2009 movie)
My Other Me: A Film About Cosplayers
World 1-1
The TV shows are mostly originals. The non-exclusive series include ALF and Sabrina: Secrets of a Teenage Witch. A lot of the original shows are news and interviews, but there are also sitcoms set in the world of comic conventions. Hosts include Kevin Pereira and Adam Sessler of the former cable channel G4. New shows are also promised, like the upcoming Mark Hamill's Pop Culture Quest, hosted by the aforementioned Mark Hamill of Star Wars fame.
The "originals" section is mostly made up of the titles in the TV section. A few new items are added like a 30-minute recap of the 2015 Eisner Awards and an announcement of Comic-Con streaming. Panels will not be streamed live; according to this article, they will hopefully be up within 24 hours.
Is It Worth It?
If you have a lot of time in these next few weeks, you can probably watch most of Comic-Con's content before the paid subscription starts.
You won't be able to see all of Comic-Con before the trial ends, but otherwise, the content is a little shallow right now. I like the idea of Comic-Con HQ, but perhaps they should supplement their originals with other comic- and geek-related shows and movies. While I imagine series and movies involving hot properties like The Avengers, Batman, or even Attack on Titan has quite a premium, there are a lot of shows I think could be added. Archie Comics, for instance, has quite a backlog of shows from The Archies to Josie and the Pussycats (TV show and movies) to all the other Sabrina the Teenage Witch media. Comic-Con HQ also has a bit of a science edge with the Blame It on Science series and, according to this interview, the prospects of interviewing people going to Mars. It's not something I would normally associate with Comic-Con. Then again, neither is The Blair Witch Project.
The fact that there will be no free membership (i.e. viewing with ads) may also hurt them, and I hope they will have a basic level for those who are interested. A lot of the shows seem interesting, but I don't think it's worth $4 to $5 a month for me right now. Many people pay this for access to channels on Twitch and other services, so I wish Comic-Con HQ well. Maybe someday it will be a part of the channels you get when you sign up for Starz…
Are you interested in Comic-Con HQ? Have any of you signed up? What do you think of it? If not, why not?