Walmart is beginning to offer a wider range of anime titles for purchase! Will this affect your shopping habits?
A while back, I wrote about Walmart agreeing to stock more Viz Media titles (including manga). But are they expanding their anime selection as well?
Over the years, Walmart has stocked some of the biggest anime releases, mostly Viz Media releases like Naruto, Inuyasha, and, more recently, Sailor Moon.
Last week, I was visiting my nearby bigger Walmart store and began browsing their movie section. In the New Releases section, I spotted Assassination Classroom, Sailor Moon Crystal, and Naruto Shippuden DVDs. The last two were not a surprise, but I haven't seen too many FUNimation titles available in stores. (It turns out the Assassination Classroom DVD is a Walmart-exclusive.)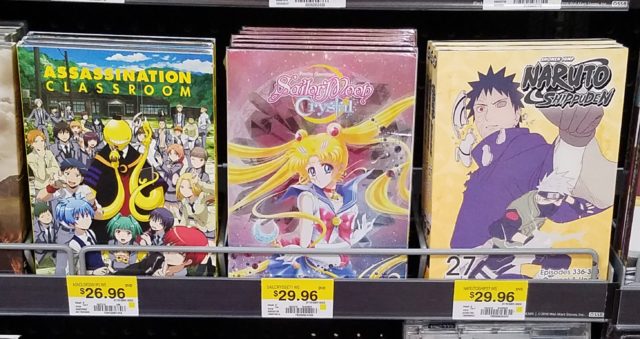 Then as I looked at a nearby rack, I could see more Naruto and Sailor Moon, but also Tokyo Ghoul and Vampire Knight. One of the displays on top showed a picture of Dragon Ball Z.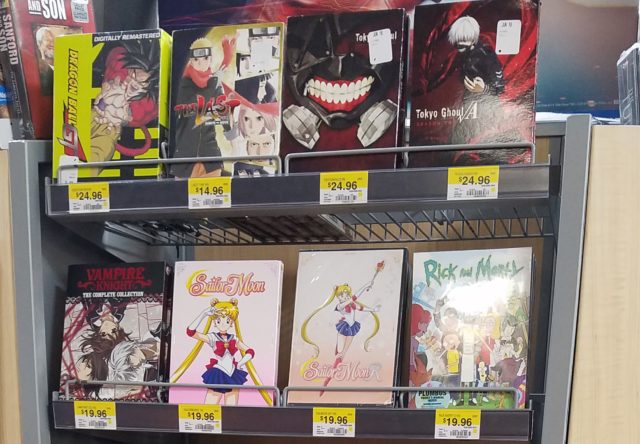 Dragon Ball Z: Resurrection F and Ghost in the Shell were stocked in the "regular" (alphabetized) section.
But the real surprise for me was this: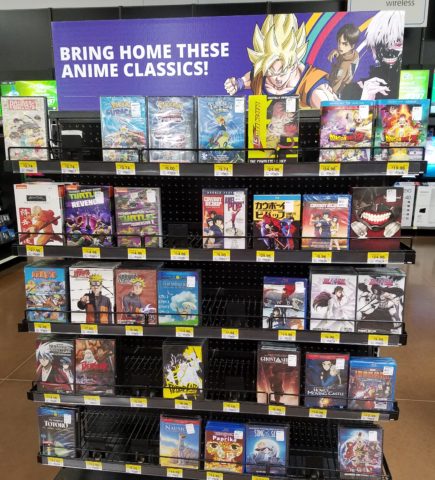 While the display was still obviously in progress (lots of holes yet to fill and tags to update), the fact that Walmart is creating a whole endcap dedicated to anime is impressive. There's the anime inspired and/or crossovers like Avatar: The Last Airbender and Iron Man: Rise of Technovore, kid-oriented releases like Pokemon and Yu-Gi-Oh!, Studio Ghibli movies, and, of course, anime box sets, including Ranma ½, Nura: Rise of the Yokai Clan, and Blood Lad.
Now, maybe some of you have had such displays for a while. But in my area, when the only other stores to stock anime is Best Buy and the tending-to-be-expensive F.Y.E. (and the occasional Naruto/Sailor Moon at Target), this is pretty impressive. My Best Buy's anime section is down to about a single rack, so Walmart could catch up at this rate.
I haven't seen this display at my nearby smaller Walmart, so I don't know if this Walmart is just deciding to push anime or if this is a test store for an expanded selection.
What Does This Mean?
Walmart sees a potential for growth in this area. They are also teaming up with FUNimation to release DVD-only exclusives, providing an option for those who don't want or need to spring for the Blu-ray/DVD combo packs. Again, as I've mentioned before, this could lead to even more anime titles or even manga or other merchandise.
How are the Prices?
They're pretty average. Sailor Moon Crystal Box Set 1, for instance, retails for about the cheapest it's ever been on Amazon, but it's cheaper than Amazon's current price. The Last: Naruto the Movie has been about $15 for the Blu-ray at Best Buy. Vampire Knight is currently cheaper at Amazon by $2. Sales like Right Stuf's studio sales will under Walmart's prices even further, but their Ranma ½ DVD is cheaper than during a Viz Media studio sale at Right Stuf.
Also, Walmart will price match the big retailers like Amazon and Best Buy, providing another option for anime fans. However, the exclusives will only be discounted with a rollback, and a lot of the combo packs with the Blu-rays have been cheaper than Walmart's price.
The biggest advantage, especially for younger fans, is that you can pay in cash and not worry about credit cards or PayPal. You may also get the Walmart anime titles cheaper on sale, but you may have to wait months to beat their pricing. In addition, are you happy with $30 for a DVD only release, or do you want to pay $15, $20+ more to get the Blu-rays? That's up to you.
Final Thoughts
I don't see much for me personally right now, but that's also because I a) mostly buy Blu-rays and b) am a cheapskate. I am looking forward to see their selection grow even more.
But what do you think? Have yo purchased any anime recently at Walmart? Have you noticed more anime there? Are you interested in DVD-only releases?