Can the retail store expand beyond just video games?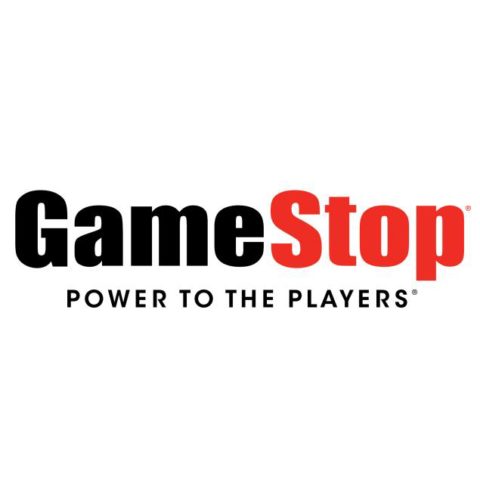 How many of you have visited a GameStop store or their online store recently? Some of you may be like, " I don't play video games, so why would I go there?"
Well, you might be surprised.
GameStop is, of course, known for selling video games. However, the chain has been trying to include more geek and trend merchandise. In fact, they want to become the "global leader" in this market, challenging other stores like Hot Topic, F.Y.E., and Barnes & Noble. They even have purchased ThinkGeek recently, a site dedicated to geek merchandise.
GameStop themselves now has figures, board games, shirts, lanyards, and more. Anime fans will recognize merchandise from series like Naruto, Attack on Titan, and Dragon Ball Z. In fact, Sailor Moon has its own link under "Cool Stuff" at GameStop.com: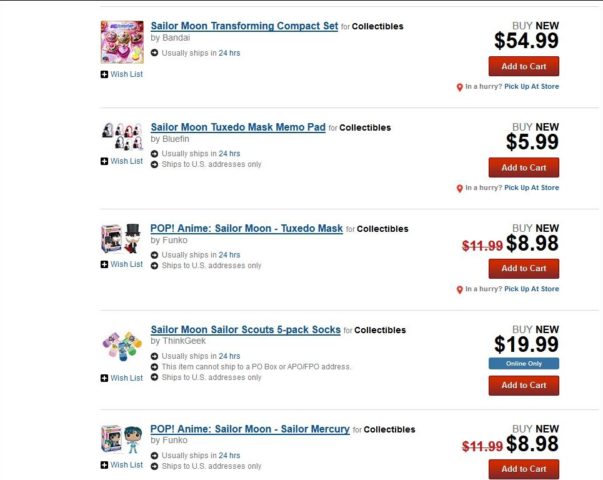 They are even interested in some of Viz Media's video game-related titles like books from Pokemon and The Legend of Zelda. Most of the prices are MSRP, but a lot of collectibles don't really go on sale anywhere. I have picked up a Sailor Moon memo tin that was marked down to half off.
The GameStop Store Reboot
So why is GameStop suddenly stocking so much more merchandise?
First, as I alluded to earlier, they see an opening. As GameStop's Chief Financial Officer said:
"There's no single player that has more than probably 10% or so share in this category. And it's split up… various kinds of players from mass merch especially to retail to online, a lot of one man shops and so on."
A lot of people may have a go-to place for board games, for video games, for books, etc., but no one store has really emerged as the one-stop shop for collectibles. Second, a lot of this type of merchandise also thrives on impulse purchases. Someone who wanders into GameStop may not pick up a $40, $60 game, but there's a good chance they will pick up a $5, $10 tribute item of their favorite show or game.
Along those lines, video game sales at GameStop are falling. In the second quarter of this year, video game hardware sales fell 33% while software was down 18%. Third quarter sales, which will be announced on November 22nd, are reportedly going to be down 6%  to 7%, and same-store sales are expected to fall between 6.5 and 9.5%. GameStop's CEO says their technology and trend sections are growing, but video games sales — especially for new releases — are still declining.
The Need for Expansion
In an article recently, ICv2 wondered, "Is GameStop's Pivot to Tabletop Games, Merch Too Late?" With the increased competition from Amazon and Best Buy for video games and plenty of competition for other merchandise, can the increased sales on collectibles really balance out the declining sales on their biggest product type?
I'm not really surprised video game sales are falling at GameStop. I personally only buy a couple games a year from there, and those are usually on sale. Amazon Prime members get 20% off list price on video game preorders, and $30 at Best Buy gets you 20% off all software purchases for two years (plus a few other perks). I am a member of both, and that savings adds up.
Even without those programs, GameStop is often not a good deal. Pokemon Sun and Moon, for instance, is available at Toys R Us and Amazon for $31.99. GameStop is full price with a free poster. Is a double-sided poster (which, according to the site, are "extremely limited" and not guaranteed) worth $8? The upcoming Final Fantasy XV at GameStop comes with a bonus story, but you have to pay full MSRP. It's been $53.99 at Amazon, and Gamers Club Unlocked members can get it for $48 plus a $10 reward at Best Buy. GameStop's biggest way to reduce a game's cost, trading in games, can be done at most of their competitors. So that 40% bonus towards the latest Pokemon games may not be that exciting if other places have higher trade-in values.
Is It Too Late?
So, back to the question at hands: is it too late for them to start branching out from video games? I don't think so. I do think GameStop has a challenge ahead of itself. GameStop may be interested in Viz Media books, but chains like Walmart and even Best Buy are already stocking manga. Target is expanding their board game sections by adding exclusives, and stores like Barnes & Noble are already struggling despite expanding their trend merchandise sections. But it's always nice to have another option for anime-related (and trend-related in general) merchandise. GameStop also has enough name and brand-recognition that they could possibly get some exclusive items.
Rather, I think GameStop's bigger issue is reversing the decline on video game purchases. I doubt GameStop is interesting in a 20% off games program, as it would compete with their used game section. (Which, in my opinion, is usually a rip-off unless it's a buy two, get one free situation or something.) If they're going to charge full MSRP on video games, they need to make their preorder bonus items really amazing and worth the cost difference. With their new focus on trend merchandise, GameStop could include some neat trinkets with preorders. What if they could threw in, say, a Funko POP! figure with the next Naruto game? An exclusive CD with the next Project Diva game? Discounts on Disney merchandise with the purchase of the next Kingdom Hearts game! I think there's a lot of crossover potential between the gaming side of GameStop and trend merchandise. Otherwise, without better incentives to buy your games at GameStop, the geek section is not going to be able to counteract the gaming decline.
Final Thoughts
GameStop's increase in trend merchandise — including anime — is awesome. I always look forward to seeing anime products in stores, and a lot of figures and stuff are more attention-grabbing than when you see hundreds of listings on Amazon or other websites. I will be keeping a closer eye on GameStop now since I had little interest in their main product. However, if they can't start getting my (and others') attention in what they specialize in, then it will be too late.
So, how often do you shop at GameStop? Are you interested in buying Japanese culture items at your local store? Do you think GameStop should focus on trend merchandise, or should they just stick to gaming?