In this week's feature, let's just say you should be careful on all those sales you see when advertised!
Not all sales are created equal. Here are some that are not that good.
Barnes & Noble: Buy 3, Get 4th Free on Manga Sales
A lot of stores like Barnes & Noble calculate "buy x amount of items, get next one free" off of regular price. A buy 3, get 4th free sale means that you are getting four items for the price of three, which is like getting 25% off retail if you are buying four titles at the same price point. While manga hardly ever is below MSRP in the bookstores, most manga volumes are discounted online. If you found some at 30% or more, you would end up paying more! For manga, I think 30% off is the minimum you should pay; I personally don't buy anything under 35% off. Members' bonus 10% off will be able to beat the 30% threshold during one of these sales at brick-and-mortar stores, but all shoppers can do better.
Hot Topic: 20% Off Sitewide
A lot of Hot Topic's items are priced higher than MSRP. Well, they do so for a reason: they have discounts constantly. They can have promotions that last weeks or flash sales which barely last a day. However, Hot Topic sales occur so frequently that you should pretty much be able to buy what you want at 40% to 50% off. They regularly have coupons like $30 off $75 or 40% off sitewide. They also offer Hot Cash events where you can earn 50% off coupons for a future order. Some select items may be excluded from promotions, but for everything else, wait. In fact, as of this writing, Hot Topic is having a 20% off sale. Yawn. I bought what I wanted a few days ago at 40% off.
Nintendo eShop/Microsoft Store/PSN: 20% Off Digital Games
Most digital games retail for the same amount as physical copies. Best Buy and Amazon can offer games 20% off with their memberships, and Best Buy's Gamers Club Unlocked stacks with sales and applies to all physical games. Even at 25, 30% off, these digital game sales are just not that impressive. Buy a physical copy and trade it in after you're done if you want to reduce your cost. You are likely to recoup a good amount of money back. Heck, even a couple of dollars is more than you'll get once you are done with a digital copy. Wait for a sale when digital copies are significantly below the physical copy price.
GoHastings/SecondSpin: Buy 1, Get 1 50% Off Used Products Sales
Both GoHastings and SecondSpin deal in used merchandise. A lot of times, you can find like-new media for a fraction of the cost of a new product. Coupons can drop the price even further. However, buy-one-get-one sales are tricky, and they're even trickier when used prices can vary widely. Two manga, for instance, can be from the same series, but depending on print run, amount of sales, and outright randomness, one volume of a manga can be around $6, yet another only $3. Anime releases that retail for the same amount from the same company can range from under $20 to $40!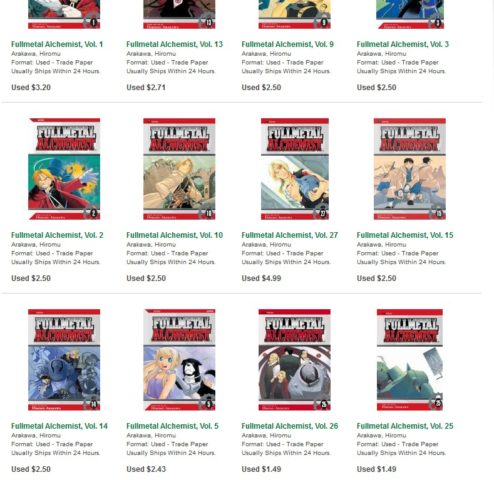 That being said, it can be hard to find two discs or books that cost around the same. In addition, to take advantage of the discount, you need to buy in multiples of two. If you are interested in an odd number of products, you'll either have to pass on one or buy something else. Since you have to worry about shipping when shopping online, you can't split up orders easily to make sure you are getting the best discount. It's easier to wait for a 25% off everything sale, and they both regularly offer 30% off (or higher!) on used products.
Final Thoughts
When you see something you want, it can be really hard to wait for a good sale to come around. Still, if you keep up with the sales, you will surely have some good titles in your backlog. I think it's foolish to pay full price for just about anything, but that doesn't mean you should fall into the "it's on sale!" trap.
So, what sales get a hold of your wallet? What are some not-so-impressive deals you've seen?