Find out how AKIRA got her start into the industry, what inspired her to sing, and what anime she's gotten addicted to in this interview.
At this year's Castle Point Anime Convention, I was able to do a couple of interviews — one of them happened to be a vocalist/model/crossdresser/big anime fan. AKIRA grew up on anime songs and was thinking about becoming a singer. When an opportunity arose for her to make it in the industry, she took it, and hasn't looked back since. She explains what she's up to now, and what she'll be doing after the convention with her band, DISACODE.
(Disclaimer: Parts of the interview have been edited for clarity.)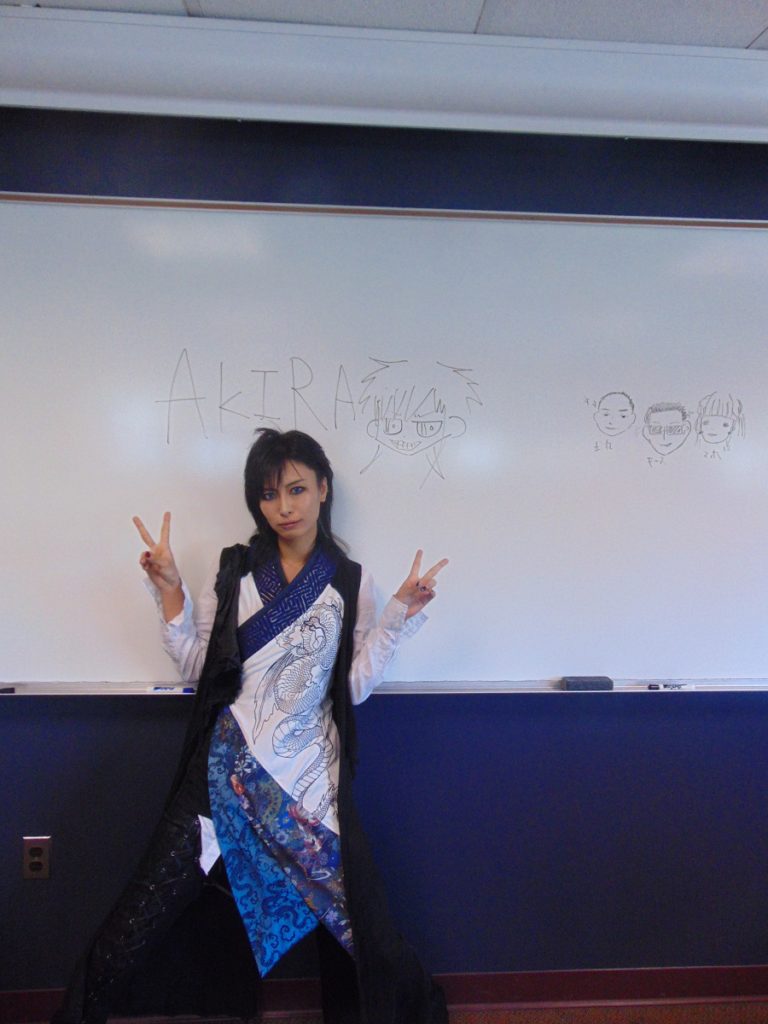 TheOASG: So this isn't your first time in the U.S, correct? What would you say is the biggest difference between Japan compared to here?
AKIRA: The reactions of the audience is different.
When you were growing up, did becoming a fashion model and vocalist ever enter your mind?
I did like singing when I was little, so I did want to become a singer.
What turned out to be the big break in your career?
When I was 12, I started doing both live band work and modeling at the same time, and that became the turning point of my career.
And then someone discovered you, correct?
I was scouted by somebody who might have taken pictures and decided they wanted me to be their model.
Was there something or someone that influenced your style today?
AHHH! *laughs, then thinks* I really liked anime songs when I was little.
Any favorites?
I really liked Shaman King & Revolutionary Girl Utena's a lot! I like anime where the main girl is a very cool person, not all girly, etc.
Have you watched Kuragehime (Princess Jellyfish)?
Yes!
I read the manga recently.
You've read the manga?
Is it fun for an American person to read it?
I find it fun. Just seeing this rich, politically savvy boy using his crossdressing habits as his weapon to help these 4 girls who are struggling in society, and they need all the help they can get…it's very interesting.
*translator explains to AKIRA what I said*
So, what's the biggest challenge in being a model for KERA?
The hardest for KERA modeling in particular is always dressing up in boys fashion. I don't look good in Lolita, girly fashion.
You also do singing. How do you approach a song? Do you set a theme before writing or it depends?
The very first thing I do is I put a rough outline over the keyboard so I can play it over the piano. After I finish a rough arrangement of everything then I add the X in.
How long does it take for you to work on a song?
It depends. If I have a clear idea it'll only take 3 or 4 hours, but if I can't come up with an idea, it takes weeks.
Was that the case for Black Butler: Book of Circus?
Someone else wrote the song for Black Butler.
Ah, so someone from A-1 Pictures, Aniplex…?
The Japanese composer.
Your latest release was Waltz of Vanitas. What turned out to be the major theme people should take away from it?
Do you know of Vampire Knight? That became a theater production that I'm a part of, so I wanted people to take away from it the atmosphere of Vampire Knight, or the embodiment pretty much.
After the concert at CPAC, what do you have planned for the next couple of months?
I have a lot of visits to foreign countries this year. I also will be looking to push more of my efforts into the DISACODE band than my solo career, and even uploading videos on YouTube and trying to do more things in foreign countries.
Finally, what anime has caught your attention in the past year or so?
Himouto! Umaru-Chan and Idolm@aster. I love Anastasia a lot.
---
You can listen to a few of her songs on her official YouTube channel.