Krystallina explores what Walmart, Best Buy, Amazon, and other big box stores have been doing to provide a clear go-to option for buyers.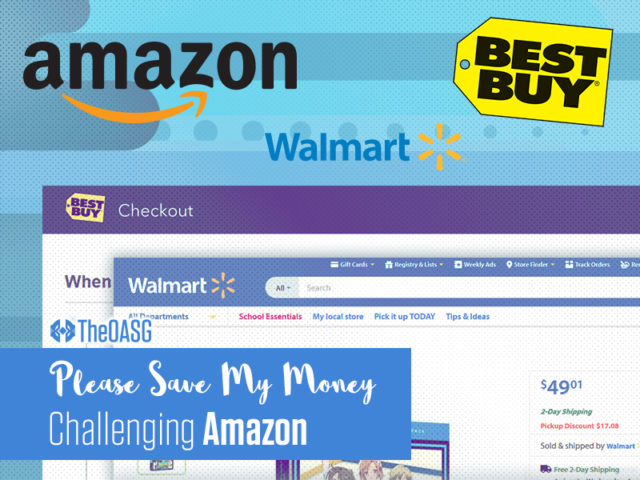 For years Walmart, Best Buy, and the other big box stores have been chasing Amazon. The online giant had no retail stores, so they could avoid a lot of the expenses traditional brick-and-mortar stores had. No cashiers, no registers, no janitors to clean the customer restrooms — the savings online stores have can be passed on to customers. Eventually, tired of being treated as Amazon's showroom, stores started pricematching Amazon. "Better we get some money than losing out on a sale completely!" they figured.
Well, now, the situation has reversed.
Amazon Tries to be Walmart Who is Trying to be Amazon
Amazon has started opening up bookstores and pop-up stores to get customers to actually see their products. They've even bought Whole Foods in order to take on Walmart and grocery store chain Kroger. Walmart, meanwhile, purchased Internet store Jet, which started to take on Amazon. But with Amazon muscling in on the traditional retail business, the stores know that their locations and physical displays are benefits Amazon can not easily replicate.
So stores have been kicking it up a notch: they'll give you a financial incentive if you come and pick it up in the store.
In many cases, the stores already have the item, so they save on shipping charges. If they don't, a lot of places can just toss it into their normal delivery truck instead of paying USPS, UPS, or FedEx for home delivery. In addition, by luring you into the store, you may also be tempted to grab some other items that either catch your eye or you suddenly remember you need.
Amazon has been trying to match some of these discounts (most notably Walmart's), but they can't always catch them all, and Amazon will not match items that are out-of-stock. But if you catch them at the right time, you can get the going to the store price delivered to your door!
So what are these pickup discounts that are available?
Walmart

Walmart has started this trend. With their aptly named Pickup Discount, users can get their items to their local store in two days (same day in some cases). Not every item is eligible for a discount, the amount can vary, and the pickup discounts can end at any time. Sailor Moon S Volume 1 Limited Edition, for instance, had a discount of about $19 for a while, but now you don't save anything if you choose pickup. Air has been as low as $7.50 after discount, but other series like Attack on Titan and Wolf's Rain have little to no bonus savings.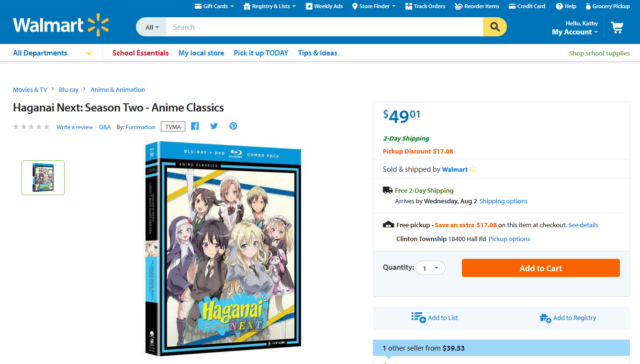 I know I've mentioned this before, but one advantage for choosing Walmart over Amazon is the price drop policy. You can contact them if the item price is lowered during the return period, but be warned that you will not be refunded the tax difference. Considering once you buy from Amazon you're stuck (unless you can cancel before the item ships), it's at least nice you get something back rather than nothing. Plus, many stores have towers or lockers where you don't even need to wait for someone to get you your item.
Best Buy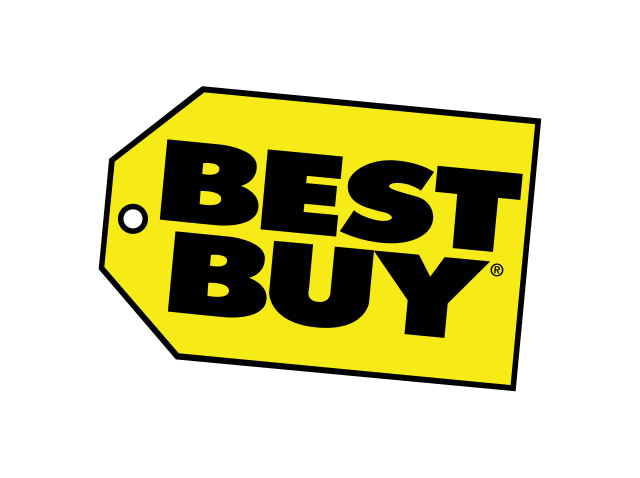 Best Buy's discount is still rather new and a bit inconsistent. I've seen the savings between $1 and $3, but discount notifications only seem to appear when start to checking out with shipping. The mobile site also reportedly get this discount more easily. Besides the fact the discount is unreliable, $1 is hardly worth the effort on a $700 laptop, and $3 isn't much savings on a heavy microwave. You were either going to pick it up anyway or, if you live more than a few miles from the store, are not going to make a special trip for a single Washington. Most couches probably have that much change in them!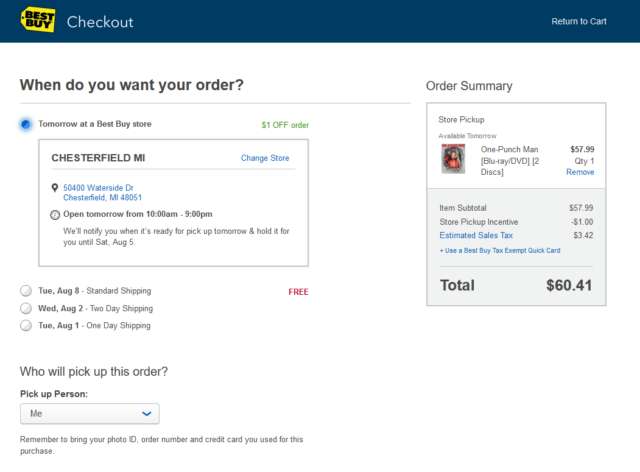 Yes, Best Buy does have a lot more sales and promotions, so I can imagine the company doesn't want a lot of double- and triple-dipping. But hopefully once their program is in full swing, the savings will be easier to see and a bit more practical.
Final Comments
Stores were once like, "If you can't beat 'em, join 'em!" in regards to Amazon. Now two chains are using their retail space to their full advantage. Walmart may not be the first place you think of for anime-related merchandise, but their pickup discounts have pushed many series to their lowest price point anywhere. With Best Buy now joining the ring, perhaps Target isn't too far behind? Target currently has a promotion for 10% off with store pickup on kitchen items, so perhaps this is a precursor to a site-wide discount? Most manga there are 25, 30% off, so any more off would be amazing..
Have you used Walmart's pickup service? Have you gotten something at a really good price thanks to Pickup Discount? Are you hoping other stores will follow suit? How else can brick-and-mortar stores take on Amazon?