Here's the story of one young fan's attempt at recreating a staple in the romance anime, Tsukigakirei.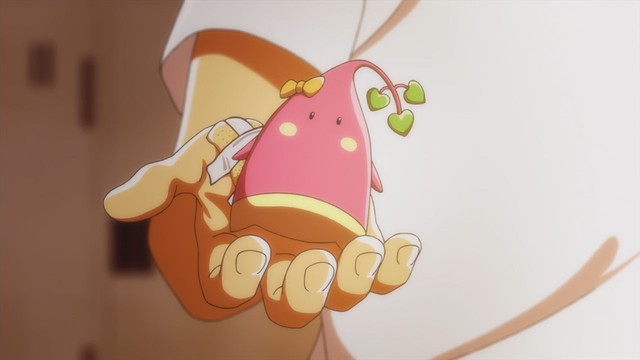 Anime can make you do creative things — like recreate a potato plushie from one of the spring season's standouts.
…And spend all night doing it.
Living in Washington State, 16-year-old Nova (goes by NovaBlue412 on reddit) checked out the upcoming spring anime on MyAnimeList. Coming across Tsukigakirei, something about it was familiar to her despite only the visuals being a factor. "The synopsis seemed vague," Nova mentioned, "but it reminded me of 5 Centimeters per Second, which was an emotional romance anime film that I really enjoyed."
As Nova watched Tsukigakirei and the love blossom between Akane and Kota, it all started to feel a bit familiar. "It was a bumpy, clumsy relationship," she said as she recalled an experience she had with love, "and I didn't know how to talk with him after we told each other how we felt." So in watching Akane and Kota be indecisive when sending texts and how shy they were around each other made Nova feel a bit nostalgic. But from the number of challenges the two of them faced with family and friends to the little moments with each characters, all of that stood out in a good way.
Which is why at 3 in the morning, making Akane's plushie seemed like a good idea at the time.
"Yeah I surprised myself too, haha," Especially since she wondered what in the world that was initially. But as the anime continued and Akane's usage of the plushie, it grew on Nova. She then thought, 'Wouldn't it be fun to make Akane's potato plushie?'"
From there, she looked up pictures of the plushie, then began sketching the pattern for it. Armed with a pen, sewing material, and other necessary items plus enough energy to ignore needing sleep, she spent the night making the potato plushie.

It was not easy. "Making the "pattern" was one of the more difficult parts for me," Nova recalled, despite the sewing portion taking much of her time. "It's designing the pattern that made me the most nervous." But in the end, she finished it. Still, why Tsukigakirei? And why Akane's plushie? "When I get really excited for a project–" she talked about a project she did involving Noragami's ED for example, "I just find it hard to stop in the middle of the process. I also related to Akane and her anxiety, and I wanted something to remind me of the anime."
Though, she did later learn that despite her efforts, the production staff would be supplying those in Japan who buy the Tsukigakirei box with a plushie of their own. That didn't disappoint her though, and she anticipates this won't be the last plushie she'll work on. "There are so many anime that I love and I would enjoy making something to remember them by.
"But I probably won't be making another potato plushie for a couple of years, because when I make the "second edition", I'd like to have more experience with hand-making plushies. And maybe by then I might have someone to give a potato plushie to, like how Akane gave a plushie to Kotarou."
For those who checked out Tsukigakirei, what did you think of it? Feel free to give your thoughts in the comments below.