Seven Seas made one announcement that's got Krystallina wondering what this does for manga licensing as a whole.
One of my biggest peeves is when fans waste their votes on those licensing surveys. I admit it can be hard to keep up with all the different magazines and their relationships with US licensors. But still, Google is your friend. Just a quick search for the name of the Japanese publisher of the series you want and the name of a North American company will usually get you results on whether they do have a working relationship. Like this: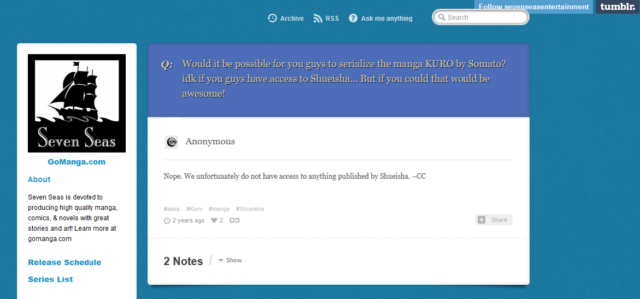 So what should I talk about this week? Oh, I know! Let's discuss —
Oh, pardon me, we have a breaking news update.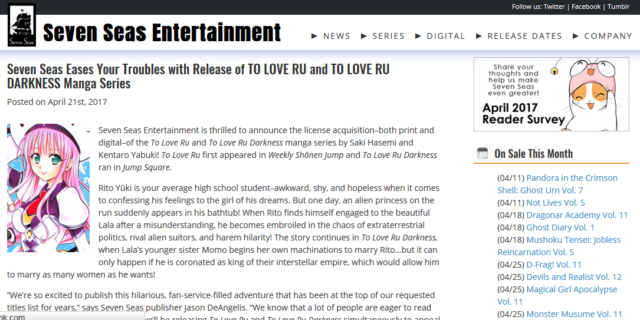 Wait, can we zoom in on that?

Yes, as Justin and Helen talked about in the recent podcast, not only did Seven Seas Entertainment manage to get a Shueisha title, but they got a Jump title. Plus they also licensed Yokai Girls (originally serialized in Young Jump).
Under Lock and Key
First, a little background. Years ago, manga licensing was more of a "free-for-all" bidding war. Sure, certain Japanese companies had extensive relationships with some publishers, but there was fewer titles considered "off limits" to them. TOKYOPOP, for instance, once published series like Sailor Moon (Kodansha), Sgt. Frog (Kadokawa Shoten), and Marmalade Boy (Shueisha). It would be much harder to find a company who had access to all three of these publishers. Kodansha Comics USA is — surprise! — a subsidiary of Kodansha Japan, Kadokawa owns a majority stake in Yen Press, and Shueisha co-owns VIZ Media. Yet back in the late 90s and early 2000s it wasn't to uncommon for even a younger company like CMX Manga to license Kamikaze Kaito Jeanne, a Shueisha manga written by popular artist Arina Tanemura. (It would later be rescued by VIZ Media and released under the title Phantom Thief Jeanne.)
In addition, VIZ Media is also co-owned by Shogakukan. Shogakukan originally founded Shueisha before spinning it off. They (along with Hakusensha, the publisher behind series like Fruits Basket) are all under the umbrella of the Hitotsubashi Group.
Japanese companies (co-)owning a stake in English publishers definitely has led to some welcome changes. Many titles are published practically simultaneously with Japan, and this direct relationship means the team working on the English version have less hoops to jump through if they need assistance.
Unfortunately, as many fans have learned, this also means a lot of good manga languish without an English release. The publishers seem to taunt us with, "I don't want it, but I also don't want anyone else to have it either!" In particular, Shogakukan and Shueisha has been on almost all the other publishers' "do not ask" list.
Of course, it hasn't been completely impossible for Shogakukan and Shueisha manga to be licensed by other companies:
Battle Angel Alita (Shueisha) – Kodansha Comics
Dreamin' Sun (Shueisha) – Seven Seas
Gantz (Shueisha) – Dark Horse
I am a Hero (Shogakukan) – Dark Horse
Kimagure Orange Road (Shueisha) – Digital Manga Guild
Prophecy (Shueisha) – Vertical
I'm sure there are others, as this list is less impressive when you pick it apart. Battle Angel Alita's sequel was published in a Kodansha magazine, so it shouldn't be a surprise that Kodansha could acquire the original series. (Although it was a nice surprise when the news broke about a week ago.) Dreamin' Sun's author left Shueisha in the middle of her manga Orange, and I find it hard to believe that it wasn't because of an incident. 80's manga Kimagure Orange Road had to turn to crowdfunding to get published, and Vertical licensed Prophecy directly from the author.
So, yeah. If VIZ Media didn't want a Shogakukan or Shueisha title, it was pretty much DOA.
Exceptions or Opening of the Floodgates?
The big question is whether it's just a coincidence Seven Seas happened to get two normally "no way" manga right off the heels of Kodansha Comics licensing Battle Angel Alita. By all accounts, To Love Ru does fit better with Seven Seas' niche and harem/ecchi-centered strategy while VIZ Media continues to push into the mass market. Did the creators directly negotiate with Seven Seas, or has VIZ Media (or rather, Shueisha) start to officially turn down rights in order to let other companies license them?
Ideally, it would be #2, and not just for Shueisha manga either. While I doubt certain titles like Sket Dance would be licensed by anyone else, there are a whole slew of manga that I'm sure other companies wouldn't mind taking a chance on. Shoujo titles like Blue Spring Ride. Psychological or sports manga like Liar Game. Other ecchi series like B Gata H Kei (aka Yamada's First Time). Josei like Otoko no Isshou. Silver Spoon. Ai Yazawa's back catalog. The list goes on and on!
If VIZ Media doesn't want to license these series — and in some cases, I can't blame them — let the other companies have a chance. I'm sure many artists and writers won't know how to approach an English publisher like the author of Prophecy did, but maybe now US manga licensors will make some more offers. I don't think anybody wants to see bidding wars, but, hey, licensors compete over other series quite often. (Evidently, a lot of publishers really wanted Children of the Whales.) I have no idea if To Love Ru was just an exception or the beginning of a trend, but even if this is a one-time exception, that leaves the door open for a two-time, three-time, four-time (or more!) exception. How wonderful would it be for fans and creators to know that Jump, Ribon, and all the other manga magazines' series at least have a second option in English? We have some wish lists we'd like to fulfill!
Were you surprised by the news To Love Ru was licensed — let alone by Seven Seas? Do you think we'll see more Shueisha and Shogakukan manga acquired by other companies? What titles would you love to see someone pick up?